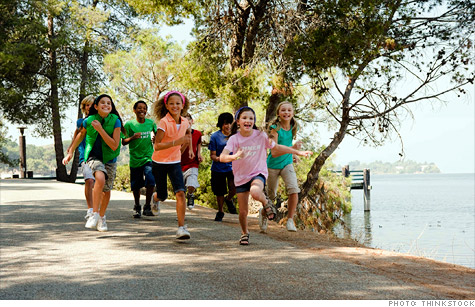 NEW YORK (CNNMoney) -- Families are paying a pretty penny to keep their children busy this summer.
The average American family expects to dole out an average of $601 per child this summer, according to data released Wednesday by American Express, based on a random sample of 2,008 adults.
And affluent families, with annual household incomes of more than $100,000, are dishing out double that amount -- at an average of $1,116 per kid.
"Between sleep-away camps, swim clubs, and sports that ramp up between June and September, summer expenses can add up," Claire Bennett, executive vice president of Loyalty & Membership Benefits at American Express, said in a statement.
About 28 million families with children under 18 plan to spend hundreds of dollars on their kids this summer -- adding up to more than $16.6 billion. About 29% of Americans expect to spend more money than they did last summer, while 47% expect to spend the same amount.
The majority of families, or 63%, said they will take their children on day trips -- to theme parks like Disney World or Six Flags, for example -- and these excursions are expected to ring in at an average of $208 per child.
Another 34% of families are enrolling their children in sports, costing an average $180 per child, while 26% are signing their kids up for educational activities costing $139 for each kid.