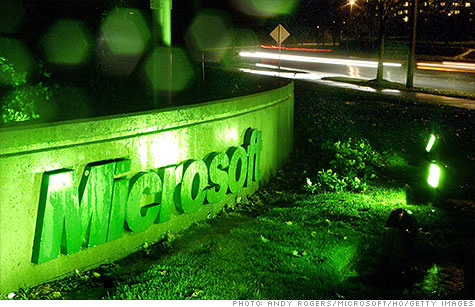 NEW YORK (CNNMoney) -- Some business deals just don't work out -- and sometimes they really don't work out.
Microsoft spent $6.3 billion in cash buying online display advertising company aQuantive in 2007. On Monday, the company wrote off almost the entire value of the acquisition, taking a $6.2 billion writedown.
Microsoft's online advertising business has remained wildly unprofitable in the five years since it bought aQuantive. In Microsoft's most recent quarter, the company said its online services division lost nearly half a billion dollars. Over the past 12 months, the division's losses reached nearly $2 billion.
"While the aQuantive acquisition continues to provide tools for Microsoft's online advertising efforts, the acquisition did not accelerate growth to the degree anticipated," Microsoft said in its understated press release.
Microsoft (MSFT, Fortune 500) said Monday that its advertising business has been "improving," but the company also said that it had lowered its expectations about the unit's ability to grow and turn a profit.
The software giant has never made money on its online services division, and it has lost roughly $10.4 billion since Microsoft began breaking out the unit's finances five years ago.
That means Microsoft is nowhere near being the "industry leading, Internet-wide advertising platform" that then-president of Microsoft services Kevin Johnson predicted it would become when it bought aQuantive. Microsoft paid an 85% premium for the company's stock after most of aQuantive's rivals had already been gobbled up by competitors.
Johnson is now the CEO of Juniper Networks (JNPR).
Though aQuantive didn't turn out to be a good fit for Microsoft, a large part of the company's advertising business struggle stems from Microsoft's inability to catch up with Google (GOOG, Fortune 500) in the online search race.
Bing, Microsoft's search engine, currently maintains a 15.4% share of the search market, up from 8.4% when Bing launched, according to online data tracker comScore (SCOR). That's a nice jump, but Google still commands 66.7% of the market -- up 1.7 percentage points from the 65% it held when Bing debuted.
Most of the share that Bing has gained has actually come from third-place Yahoo (YHOO, Fortune 500). The rest has come from search cellar-dwellers Ask.com and AOL (AOL).
There's usually no such thing as "bad" market share growth, but Yahoo's search is now powered by Bing. That means more than half of Microsoft's share growth has come from cannibalizing its search partner.
To capture the attention of a critical mass of advertisers -- enough to turn a profit -- search market analysts say that Bing will need at least 25% to 30% of the market. That's double Microsoft's current share.