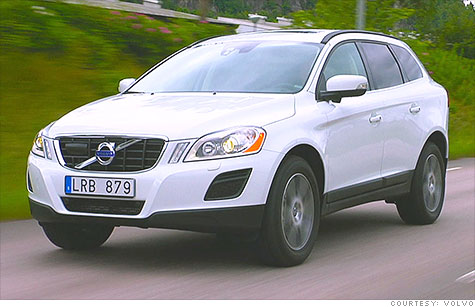 The Volvo XC60 features a forward collision avoidance system, which a new study says improves safety.
NEW YORK (CNNMoney) -- There are a host of new technologies that promise to keep drivers safe, and at least a few look like they're delivering.
That's according to a study released Tuesday by the Highway Loss Data Institute, a non-profit research group supported by the insurance industry, that analyzed insurance claim data in connection with crash avoidance technologies.
Particularly effective, the study said, are "forward collision avoidance systems," which alert drivers when they are quickly gaining on objects in their path and may crash. Some of these systems feature automatic braking if the driver fails to respond.
Car models available with this feature include the Mercedes-Benz CL Class sedan, the Volvo XC60 and the Acura MDX SUVs.
The Highway Loss Data Institute found that property damage liability claims were 14% lower for models from Acura and Mercedes-Benz featuring forward collision avoidance systems, including automatic braking, than in models without them. Property damage liability claims include damage to other vehicles caused by the insured vehicle.
The Volvo autonomous braking system reduced crashes by 10%, though that finding wasn't deemed statistically significant.
Injury claims also dipped slightly for most vehicles with forward collision avoidance systems, though not by a statistically significant amount in most cases.
"So far, forward collision technology is reducing claims, particularly for damage to other vehicles, and adaptive headlights are having an even bigger impact than we had anticipated," said HLDI vice president Matt Moore.
Adaptive headlights, which shift direction as the driver steers, reduced property damage claims by as much as 10%. The data on injury claims varied, but they fell significantly in most cases, including by close to 30% among Mazda models.
Blind-spot-detection and parking-assist systems have yet to show any clear effect on crash rates yet, the study said.
Lane departure warnings, which alert drivers when they appear to be drifting on the road, actually appeared to increase insurance claim rates, though not by a statistically significant extent. HLDI said it would need to study the issue further to explain this finding.
"Lane departure prevention systems that don't rely on a driver's response may hold more promise," said David Zuby, chief research officer at the Insurance Institute for Highway Safety.
The HLDI report said it is gathering data on other high-tech crash avoidance features like blind spot detection, park assist and backup cameras.
"All these systems are beginning to make their way into mainstream vehicles, beyond the luxury models where they started out," HLDI said in its report.
The report also cited a list of other high-tech crash avoidance features coming to the market but didn't provide statistics on their effectiveness.
Those include:
Cross traffic alerts, which warn drivers their vehicle is about to cross into the path of another vehicle.
Curve speed warning, which relies on GPS and speed information to determine if the vehicle is going too fast.
Fatigue warning, which tracks driver behavior.
Night vision assist, which uses infra-red imaging to look at the road ahead and project objects on a display before they are visible through the windshield.
Once these other features have been around long enough and in enough vehicles, HLDI said it may be able to examine their effect on claims, too.
CNN Senior Producer Jim Barnett contributed to this report.