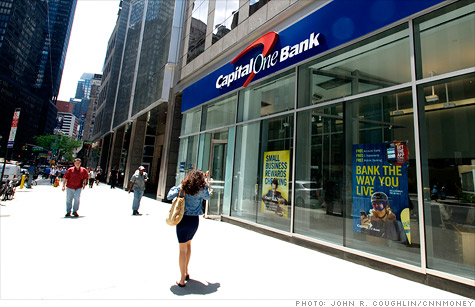 Capital One Bank will pay $140 million to refund two million customers who were misled, according to the Consumer Financial Protection Bureau.
NEW YORK (CNNMoney) -- In its first public enforcement action, the Consumer Financial Protection Bureau announced it is fining Capital One Bank for pressuring and misleading two million customers into buying additional products when they opened their credit card accounts.
The bank will refund roughly $140 million to customers and pay an additional $25 million penalty to the CFPB for using deceptive marketing tactics, the government's consumer watchdog said Wednesday.
Capital One (COF, Fortune 500) will also pay the Office of the Comptroller of the Currency a $35 million penalty and refund an additional $10 million to customers for failing to put progams in place that would prevent unfair and deceptive practices in place and for unfair billing practices. The two actions combined bring the bank's total payout to $210 million.
The CFPB said that Capital One, one of the nation's largest credit card lenders, pressured and misled consumers into paying for "add-on products" like payment protection and credit monitoring when they activated their credit cards.
The CFPB said that consumers with low credit scores or low credit limits were sometimes led to believe that the product would improve their credit scores, were misinformed about the cost and were told that purchasing the product was required. Some were even enrolled without their consent.
Cardholders who enrolled in a payment protection or credit monitoring product -- or who tried to cancel one of these products but were persuaded by a call center representative to keep it -- on or after August 1, 2010, will be refunded the money they paid for the product, as well as any finance charges, over-the-limit fees or interest paid, the CFPB said.
Capital One will also stop marketing all of these products until it submits a compliance plan that is approved by the CFPB.
Capital One leads the pack on the CFPB's new online database devoted to cataloging consumer complaints against credit card companies, which was launched last month.
Of the 1,749 complaints registered on the website, 393 were lodged about Capital One. Citibank (C, Fortune 500) and JPMorgan Chase (JPM, Fortune 500) came in second and third, with 301 and 279 complaints, respectively.
The latest action marks the first enforcement for the bureau since it began regulating credit cards, mortgages and consumer reporting agencies as part of the Dodd-Frank regulatory reform last year.
"Today's action puts $140 million back in the pockets of two million Capital One customers who were pressured or misled into buying credit card products they didn't understand, didn't want, or in some cases, couldn't even use," said CFPB director Richard Cordray."We are putting companies on notice that these deceptive practices are against the law and will not be tolerated."