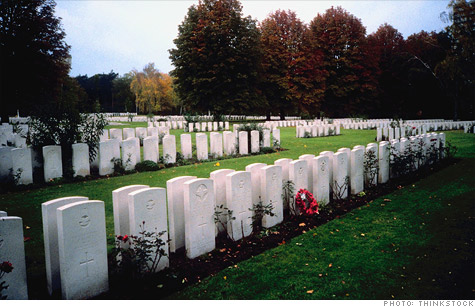 Senator Bob Casey is calling on the Social Security Administration to limit public access to its Death Master File, which he says identity thieves are using to commit tax fraud.
NEW YORK (CNNMoney) -- For $10, identity thieves can access the full name, Social Security number and other personal information of a dead person through a list of millions of deceased Americans, known as the Death Master File.
The Social Security Administration created the file to help financial institutions and businesses prevent identity theft, by using the file to cross-reference applicants or customers to make sure they are not using a deceased person's identity. But Senator Bob Casey, a Pennsylvania Democrat, said the agency is "inadvertently facilitating tax fraud" by allowing any member of the general public to look up personal details about anyone who has passed away and potentially steal their identity.
In a letter to the commissioner of the Social Security Administration and the acting director of the Office of Management and Budget on Thursday, Casey called for restrictions to be placed on access to the Death Master File.
"Identity theft creates a significant hardship for many American families, and robs our Nation of taxpayer dollars at a time when we face serious fiscal challenges," Casey wrote. "Preventing the widespread publication of deceased citizens' vital records is an important first step."
Currently, the Social Security Administration provides the file to the Department of Commerce's National Technical Information Service (NTIS), which then distributes it to more than 450 entities including state and local governments, hospitals, universities, financial institutions, insurance companies, and genealogy services. However, anyone can access the information through the NTIS website. To obtain records for one person, it costs $10. For an annual subscription with unlimited access to all of the files of deceased individuals, the price tag is $995.
The IRS has been adding protections -- like special coding that allows the agency to identify deceased taxpayers whose Social Security numbers were previously stolen -- to make it harder for identity thieves to slip through the cracks. But the agency is struggling to keep up with a surge in tax fraud, and the Treasury Inspector General said in May that the IRS could end up doling out $26 billion in fraudulent refunds over the next five years.
In a congressional hearing in May, IRS deputy commissioner Steven Miller said that as of mid-April, his agency had already flagged 91,000 tax returns that were filed under the names of recently deceased individuals.
In his testimony, Miller cited an example of a Tennessee woman who was fined $110,000 and sentenced to 108 months in prison this year for obtaining names from the Death Master File and preparing fraudulent tax returns to get undeserved refunds deposited into her bank account.
"This fraud not only takes revenue from the government, but it also forces families that have just lost a loved one to confront the ordeal of resolving this identity theft," Casey's letter states. "These families often have no idea that their loved ones' personal information had been put on sale by the federal government."
And the identities of dead people aren't just being stolen for tax-related fraud. A recent report from fraud prevention firm ID Analytics showed that identity thieves also steal the personal information to apply for credit cards, cell phones and anything else requiring a credit check. About 2.4 million deceased Americans each year get their identities stolen each year -- amounting to a rate of more than 2,000 thefts per day.
The Social Security Administration makes the contents of the Death Master File accessible to the public as a result of Freedom of Information Act lawsuits. Legislation would therefore need to be passed in order for the agency to restrict access to the file, Casey wrote in his letter.
The Social Security Administration did not immediately respond to a request for comment.
Casey said that the Social Security Administration submitted a proposal to the Office of Management and Budget that would limit public access to the Death Master File, and the OMB now has the authority to approve the proposal and put protections in place. The OMB did not immediately respond to a request for comment.
The Taxpayer Advocate Service, the watchdog arm of the IRS, has also recommended that Social Security limit access to its file.
"We strongly support legislation to restrict public access to the [Death Master File]," TAS said in its annual report released last month. "By waiting for legislation that may or may not pass, we unnecessarily expose taxpayers to potential harm."