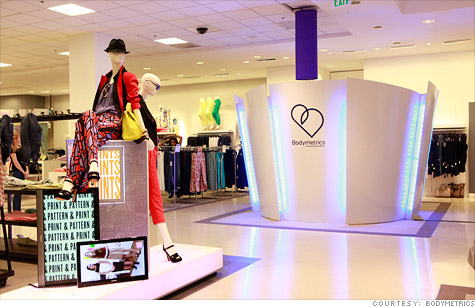 The Bodymetrics pod in Bloomingdale's measures shoppers to find the perfect-fitting jeans.
NEW YORK (CNNMoney) -- Ever find yourself frustrated buttoning up those darn jeans?
To solve the eternal quest for the perfect-fitting denim, a company called Bodymetrics uses some innovative body-scanning technology to help shoppers find the ideal fit without even trying the pants on.
"The body is the last piece of information to go digital," Bodymetrics CEO and founder Suran Goonatilake said. "We use technology to enable a new retail format, and we believe this is the next generation of apparel e-commerce."
Bodymetrics has been matching London shoppers with their jeans since the company's 2003 launch. Later this year, Bodymetrics will be making its U.S. debut -- not in fashion-savvy New York or trendy Los Angeles, but in Silicon Valley, the heart of the tech world. Customers of the Bloomingdale's in Palo Alto, Calif., will soon get to try Bodymetrics' tech out "for size."
How does it work? Customers enter the "pod," which is essentially a circular dressing room, where 16 Microsoft (MSFT, Fortune 500) Kinect devices scan the shopper's body (clad only in underwear or tight gym clothes). In five seconds, the Kinects take more than 100 different measurements to make a 3D rendering of the buyer's shape and size.
As for privacy issues? It's not really a bodyscan like you might be asked to do at an airport. The voluntary measurement simply maps the shopper's body shape by essentially making an outline with Kinect sensors.
Once customers get their precise measurements, they can go off and find the exact right pair of jeans for their body type. The Bloomingdale's in Century City, Calif., ran a pilot test in March for its Denim Days promotion.
"Bloomingdale's is always looking for new ways to excite our customers," a department store spokeswoman said. "Merging technology with fashion by partnering with Bodymetrics brings a new experience to our shoppers that brings ease to shopping."
Bodymetrics' Goonatilake says the technology isn't just for in-store purchases either. Later this year, the company says it will make it possible for shoppers to scan their bodies from the comfort of their own homes, as the software will be available for Kinect users.
That could help solve the well known problem of finding the right fit online. A number of fashion designers participate in what's known as "vanity sizing," with actual sizes differing widely from store to store. Since there are no set standards for what constitutes a size, "small," "8" or "XXL" are essentially meaningless.
Soon, Bodymetrics will let you "try on" the clothes before you buy them online.
The company has been working with Selfridges -- a department store on London's famed Oxford Street -- for years now, and Goonatilake says the technology has helped increase sales for women's premium denim.
Bodymetrics, a privately held company that has raised funding from the TAL Group, a Hong Kong garment manufacturer, isn't the only company that's using body scans to better dress the world.
Brooks Brothers has used a bodyscanner in its Manhattan flagship store on Madison Avenue since 2001. It allows customers to purchase made-to-order suits, dress shirts, trousers and sports coats.
Me-Ality offers a body-scanning service in almost 70 malls across America. The scanner uses the measurements to recommend articles of clothing from partnered brands at the shopping centers, including J. Crew, Banana Republic and Levi's. Lori Coulter Made-to-Order Swimwear also uses bodyscanning technology to find beach-goers the perfect swimsuit.
Analysts see this technology as a revenue boost for retailers. Jerry Sheldon, a retail technology analyst with IHL Consulting Group, said because the bodyscanner indicates which items would fit well, it would further encourage shoppers to make purchases -- even if the item is out of stock.
"You now give yourself another opportunity to make sure that consumer does not walk out of the store without completing a transaction of some form," Sheldon said. "It allows them to see what the actual fit of the item is going to be on them."
Greg Girard, an analyst at IDC Retail Insights, says this kind of technology can drive loyalty in addition to revenue. Shoppers will feel more assured of finding the right fit at that brand, and will continue to return.
As for Bodymetrics, Goonatilake initially wanted to make custom jeans based on the body scan. However, he realized that it served too few people and the costs would be too high. Instead, it made more sense to use the data to help more shoppers.
After all. Goonatilake said that finding properly-fitting clothes is a problem that most of the world has.