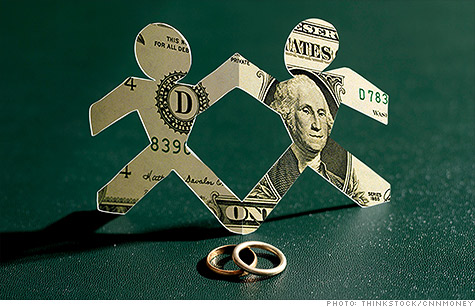 NEW YORK (CNNMoney) -- Amazon founder and CEO Jeff Bezos is backing same-sex marriage.
Bezos and his wife, MacKenzie, donated $2.5 million to Washington United for Marriage, a coalition to uphold the state's same-sex marriage law. It is believed to be the largest individual donation to protect same-sex marriage.
The couple has doubled the organization's funds for the campaign to approve Referendum 74 in November. The measure will determine whether or not to legalize same-sex civil unions in Washington state.
"The extraordinary contribution from Jeff and MacKenzie Bezos will make an enormous difference for our campaign to defend Washington's marriage law," said WUM campaign manager Zach Silk in a statement.
Regarding the contribution, an Amazon (AMZN, Fortune 500) spokesman said the couple feels strongly about the issue and made a personal decision.
The donation by Bezos follows the launch of a same-sex marriage campaign by Google (GOOG, Fortune 500) earlier this month. "Legalize Love" focuses on regions where homosexual activities are considered illegal.
Electronic Arts (EA), which publishes popular games like "Madden NFL" and "The Sims," also joined the movement. A couple weeks ago, the company announced it signed a document opposing the Defense of Marriage Act, which defines a legal union as between a man and woman.