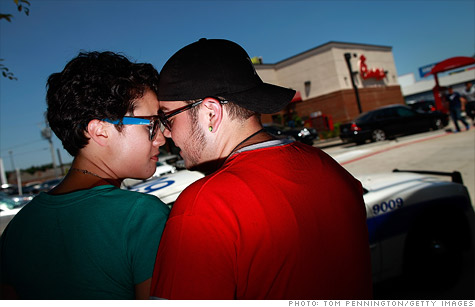 Friday's Chick-fil-A "kiss day" was a protest of the company CEO's comments against gay marriage. Franchise owners are staying quiet, though.
NEW YORK (CNNMoney) -- It's been a wild week for Chick-fil-A restaurant owners.
On Wednesday, business surged after customers lined up at restaurants in a show of support for the company's CEO, who recently stated his opposition to gay marriage.
The company reported "an unprecedented day" of sales but wouldn't release figures. Many locations nearly ran out of food.
And on Friday, gay couples staged a Chick-fil-A "kiss day" in protest.
Throughout it, franchise owners and managers were trying to stay focused on business. CNNMoney this week reached more than two dozen of them, and nearly all politely -- but curtly -- made clear they'd rather not talk about CEO Dan Cathy and his views on same-sex marriage.
One owner, asking to remain anonymous, said most owners would stay silent out of fear that anything said would be taken out of context. Anger one side, or anger them both. It's a no-win scenario.
The corporate parent, which closes restaurants on Sunday and often speaks about Christian values, has since stated it will avoid further comments on the hot-button issue.
Franchise owners are in a tight spot, said Jeff Johnson, a Lincoln, Neb., consultant in the franchise business who hasn't worked with Chick-fil-A before.
"All of a sudden it's not about the product," said Johnson. "They are held hostage by what someone at corporate does."
It's still unclear what the long term effect will be for sales at the 1,600-plus restaurants nationwide.
But on Thursday, business was booming during the grand opening of Brandon LaMarque's second Chick-fil-A, located in Fairview Heights, Ill. When asked about the controversial issue facing the company, he focused solely on the enterprise.
"We just want to serve everyone that comes in through our doors," he said.
Franchise owners also might feel the wrath of politicians in Boston; Chicago; Philadelphia and Washington, D.C., who have spoken out against the company. Some leaders have said Chick-fil-A is no longer welcome in their cities.
San Francisco Mayor Edwin Lee used Twitter to warn the company.
"Closest #ChickFilA to San Francisco is 40 miles away & I strongly recommend that they not try to come any closer," read one tweet.
Nearly 300 people have already signed up to protest "homophobic views" at a Chick-fil-A opening next month in the nearby city of Walnut Creek. The owner of that restaurant could not be reached.
In attempt to move past the issue, the company released the following statement this week.
"Going forward, our intent is to leave the policy debate over same-sex marriage to the government and political arena," it said.