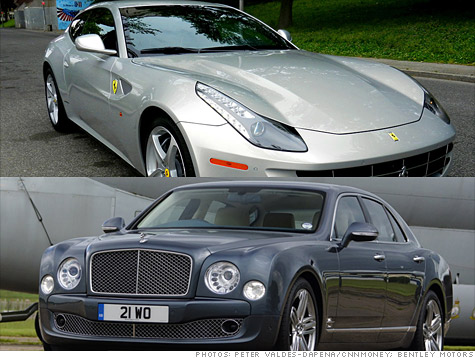 The Ferrari FF (top) and the Bentley Mulsanne
FORTUNE -- This summer, I have spent some extended time in the company of two of the most desirable automobiles on the planet. What's not to like about being entrusted with such valuable machinery, causing commotion on routine shopping trips, and inciting envy among your friends?
Problem was, I couldn't stop thinking about the money.
One of the cars was a Ferrari FF, and the other was a Bentley Mulsanne. Add their sticker prices together, and it gets pretty close to three-quarters of a million dollars.
I felt like a neophyte in the presence of greatness. Possessing these automobiles, if only for a few days, was like looking at a Klimt painting or sipping a Chateau Mouton Rothschild Pauillac without knowing exactly how to appraise the experience.
The Ferrari FF is like a rolling piece of industrial art -- albeit one capable of going 208 miles per hour -- while the Bentley Mulsanne made me feel like the Earl of Grantham in Downton Abbey. Yet the outlay involved seemed completely foreign to my concept of value for production automobiles.
The Ferrari FF starts at a base price of $302,450 including delivery and dealer prep. My car carried another $75,000 for options like cruise control and privacy rear windows. To put those numbers in some perspective, you could buy two Porsche Panamera Turbos along with a Boxster S for the same money and still have enough change sloshing around for lunch.
At $296,295 -- stripped -- the Bentley Mulsanne is a relative bargain. But the price quickly rose to $346,300 with add-ons like $1,500 seat piping, $1,355 floor mats, and $640 for a veneered gear level. If the price of the Bentley seems out of proportion, you could park three Mercedes S-class cars in your garage instead.
More: The 2013 new model smackdown
Talk about sticker shock! Yes, I know that even though a $10 drug store watch tells time as well as an Audemars Piguet Jules Audemars Grande Complication with a price of $780,600, the existence of the former doesn't depreciate the value of the latter. But cars are supposed to primarily be about transportation. Since I don't live surrounded by other zillionaires in Palm Beach or Rancho Mirage, it is hard to feel comfortable dueling taxis in traffic or parking on a busy street in one of these conveyances.
All right, enough kvetching. Apparently, I'm not destined to think like a one-percenter. What about the cars?
The Ferrari arrived in a covered van and was unloaded by Scott the driver with the care that might be accorded a Fabergé egg -- and with good reason. A suave sculpture in steel, it immediately impresses four of your five senses with its curved aluminum body, the feel of the race-bred switches, the aroma of Italian leather, and the raspy rumble of the 12-cylinder engine.
The FF is an historic model for Ferrari -- its first car with all-wheel drive. It also seats four, with the rear seat passengers gaining access via a fast-sliding front seat. By some counts, this is Ferrari's ninth four-seater, but I'm willing to wager that it is the first in which four adults can ride comfortably.
For an exotic, the FF is surprisingly approachable. Stalks for the headlamps, wipers, and turn signals have been relocated to the steering wheel, giving it the imposing look of a Formula One racer, but the controls are now much easier to find. Moving them clears the way for access to the paddle shifters, which turn out to be unnecessary since the software takes you through the gears more smoothly than your fingers can. Turn the key, push the starter button, and you are off. Takeoff from a standing start is smooth -- there is no clutch or gearshift to worry about. The FF feels more planted and steers more sharply than any car I've driven, but attention must be paid lest the thrust from the 12-cylinder engine cause the car to run away from you.
By contrast, the Mulsanne invites a lighter touch. Grace and style are its first priorities, so its length -- more than 18 feet -- and heft -- three tons -- are devoted to wafting you and your passengers at speeds of up to 187 mph. Just as the Ferrari evokes its racing heritage, the Bentley pays homage to W.O. Bentley's glory days in the 1920s: stainless-steel vent fixtures, organ-stop valve controls, all those handcrafted wood veneers and leather surfaces.
The press-fleet Bentley cane equipped with Tony the driver, who spent six hours patiently chauffeuring my wife and I around the Massachusetts Berkshires. But Mulsanne is really a driver's car, as I later discovered. A silver button on the center console ignites an eight-cylinder engine with enormous six-and-three-quarter displacement in the Bentley tradition. The Mulsanne wears its heft gracefully, never feeling heavy or sloppy. In a nod to modernity, it is equipped with cylinder deactivation that takes four of them out of service when they are not needed and helps raise its mileage to 11 mpg/city, 18 mpg/highway.
It seems churlish to point out that both Ferrari and Bentley are pieces of larger corporate parents, which can result in mixed blessings. A product of the Fiat Chrysler Group, the FF is equipped with the same unwieldy touch screen controls you find on a Jeep Grand Cherokee. At the same time, the lane departure warning and blind-spot detection devices available on the Audi A6 are nowhere to be seen on the Bentley, which shares its parentage with the Volkswagen Group.
The reason why the price of these cars looms so large for me is that it is impossible to access even a fraction of their value in the course of a weekend. Local roads are hardly the venue with which to evaluate automobiles that depend for some of their appeal on their ability to comfortably attain speeds well into three digits. And absent a graduate degree in mechanical engineering or automotive history, it is impossible to fully appreciate the level of sophistication or elegance.
Still, I wouldn't mind trying -- and I can be patient. Just a three-to-four month wait is required for the FF, while a properly bespoke Bentley takes just two months longer. But like 99% of us, I just can't stop thinking about the money.