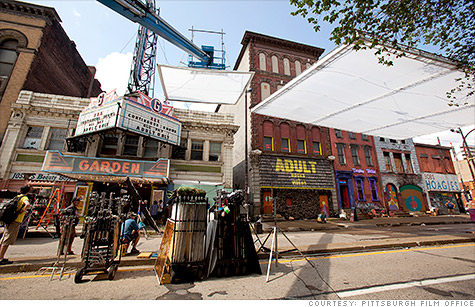 Pittsburgh has become a hot destination for film productions and the firms that cater to them.
PITTSBURGH (CNNMoney) -- Once known for its steel mills and smog, Pittsburgh is fast becoming the Tinseltown of the East. A generous film tax credit, coupled with the region's diverse landscape and skilled labor unions, have made the city a hot destination for recent productions -- and the firms that cater to them.
In the last three years alone, 24 movies have filmed in Western Pennsylvania, including "The Dark Knight Rises" and "Promised Land," which stars Matt Damon and will be released next year. These films have infused the region's economy with $300 million since 2009 and helped small businesses to thrive, according to Pittsburgh Film Office Director Dawn Keezer.
Since 2004, Pennsylvania has offered a 25% tax credit for films that spend at least 60% of their total production budget in Pennsylvania. Krista Salera, an accountant with the McQuillan Group who works on film production expenditures, said film companies used to have trouble hitting the 60% mark. Now, she said, in-state expenses regularly top 80%.
"There are a lot more businesses that support the film industry here than there were four years ago, so they can utilize those resources instead of having to bring them in from elsewhere," Salera said.
One of those local resources is 31st Street Studios, a sound stage and production company located on the site of a former steel mill in Pittsburgh's Strip District. Founded in 2011 by investment banker and native Pittsburgher Chris Breakwell, the facility is 300,000 square feet, making it the largest production facility outside of New York or Los Angeles.
In March, the company upped Pittsburgh's appeal by announcing a partnership with entertainment powerhouses Paramount On Location and Knight Vision. The deal gives Paramount a permanent regional base for the lights, rigging and equipment necessary for movie shoots and brings Knight Vision's motion-capture technology, used in the blockbuster movie "Avatar," to the region.
"We're trying to change the game by having some of these ancillary services here," Breakwell said.
While all of Pennsylvania has seen filming increase due to the tax credit, the Pittsburgh area is particularly unique in its labor situation. Both Keezer and Breakwell cited the skilled and inexpensive local unions as being an important part of the recent boom.
And when location scouts are looking for their next space, they'd be hard-pressed to find more diverse offerings.
"There was an excellent opportunity to do film here because of the talent, the infrastructure and the diversity of the landscape. You can shoot a farm in Ireland 15 minutes south of here or you can shoot a scene in New York City. And everything is less expensive," said Mike Dolan, who founded Smithfield Street Productions with partners Benjamin Barton and Brian Hartman in 2007.
Recognizing the need for indoor filming space, the trio launched Island Studios, a professional soundstage, in 2008. Scenes from "She's Out of My League" were shot there.
It's not just sound studios and production companies that thrive. Their success trickles down to ancillary businesses as well: Coffee companies, transportation firms and souvenir shops have all seen a major uptick because of the film industry.
Peak Security, which provides security services to film productions like "The Dark Knight Rises" and stars like Katherine Heigl, receives 25% of its revenue from the film industry and has doubled its full-time staff in the last five years.
During the two months that "Dark Knight" filmed, Tyler Mountain Water & Coffee, based in a Pittsburgh suburb, kept the cast and crew hydrated by supplying beverage cases and water bottles twice a week. In the last three years, the company has supplied water to more than a dozen film sets, including "Out of the Furnace," starring Christian Bale, and "Promised Land," with Matt Damon.
Keezer said it's all evidence that the film tax credit works.
"The film tax credit has proven that if you build the right incentive program you can get the work, and the work means more jobs for local Pennsylvanians," she said.