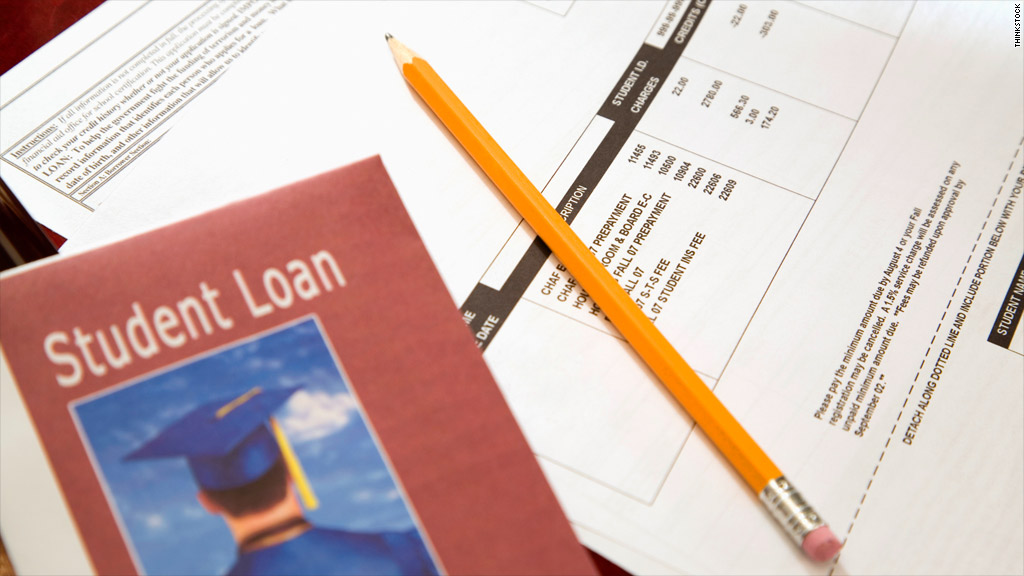 Borrowers are having a harder time repaying their student loans.
The percentage of borrowers who defaulted on their federal student loans within two years of their first payment jumped to 9.1% in fiscal year 2011, up from 8.8% the previous year, according to U.S. Department of Education data released Friday.
That represents 375,000 of the more than 4.1 million borrowers who were required to start making payments on their student loans in the 12 months prior to October 2010 and defaulted before September 2011.
Borrower are considered in default when they miss payments for 270 consecutive days.
The percentage of borrowers who defaulted within three years of their first payments was 13.4%, down slightly from 13.8%. The report marks the first year the Department of Education published the three-year default rate, and it will make public only three-year rates starting in 2014.
Related: Extreme ways to pay for college
In terms of schools, those with two-year default rates above 25% for three consecutive years can lose eligibility for federal aid, including Pell grants. Two schools fell into that category: Centro de Estudios Mutidisciplinarios in San Juan, Puerto Rico, and Tidewater Tech in Norfolk, Virginia.
In addition, the agency said 218 colleges and universities had three-year default rates of 30% or more.
The department said it would not yet sanction any schools based on the three-year default rates. But it will require those schools to submit default management plans and create default prevention task forces.
Default rates have been increasing since 2007, an upward trend that's directly correlated to the economy, said Justin Draeger, president of the National Association of Student Financial Aid Administrators.
Related: Colleges with the highest-paid grads
"Clearly those with a college education are better able to get jobs than those without one, but the unemployment rate even for college graduates has been sluggish," said Draeger. "People say 'I don't have a job, how am I ever going to be able to make payments?' "
For-profit schools had average three-year default rates of 22.7% -- the highest among all the schools. Public schools came next, with an average three-year default rate of 11%. And private, non-profit institutions recorded a 7.5% rate.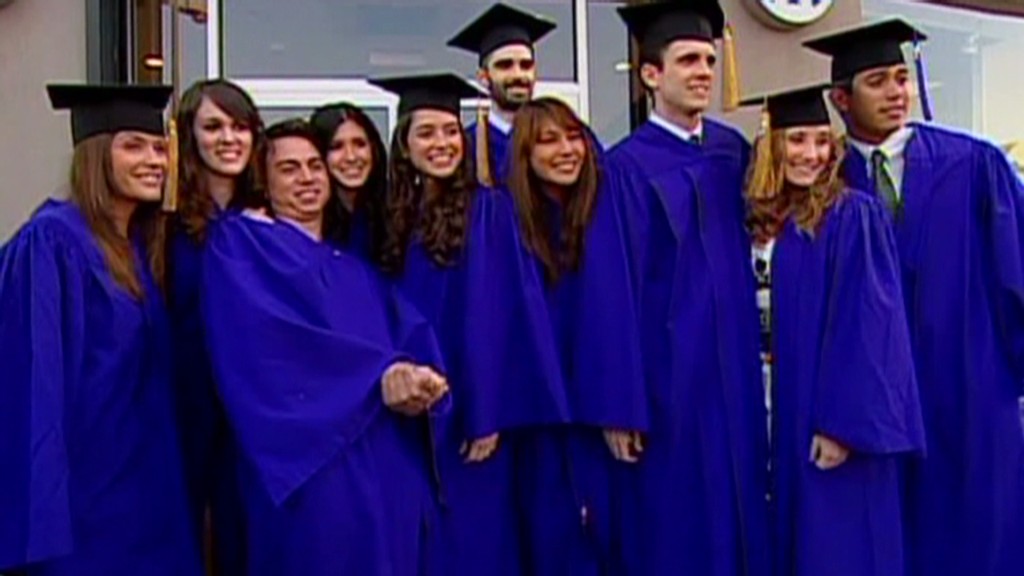 Default levels are typically worst at for-profit schools, which are significantly more expensive than public institutions and have higher drop-out rates, according to a recent Congressional investigation.
The probe, conducted by the Senate education committee, found that 54% of for-profit students dropped out without a degree during the 2008-2009 school year. It also found that bachelor's programs at for-profits cost 20% more than at public schools, while associate's degrees cost four times more.
Deferment and forbearance plans allow borrowers to postpone payments in certain situations. And under a 2009 federal repayment plan for some borrowers with unaffordably high debt, monthly payments can be capped at 15% of discretionary income, and any remaining balance is forgiven after 25 years.
Related: 'How I'm surviving the jobs crisis'
But many borrowers are so stressed about finding work or earning enough to make their payments that they fail to look into these options, said Draeger.
"It's [often] someone who has student loan debt who didn't complete school and falls off the face of the earth or puts their head in the sand and doesn't deal with any of the payments," he said.
That's a huge mistake, said Draeger. Federal student loans can't be discharged in bankruptcy and, when in default, will only accumulate fees and ruin your credit.