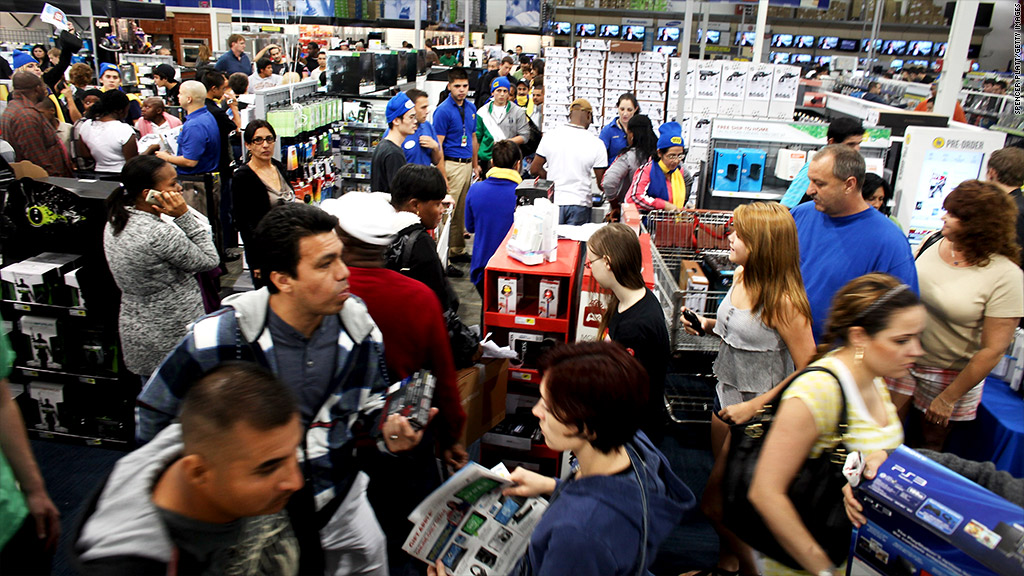 Despite stores falling over themselves with incentives and earlier openings than ever this Thanksgiving, fewer people are expected to turn up for Black Friday sales.
An estimated 147 million shoppers plan to shop this coming weekend, down from 220 million last year, according to the industry trade group the National Retail Federation.
For many Americans, it's hard to make holiday shopping a priority in a year when the "fiscal cliff" and slow economic recovery are causing worry lines. They are less willing to spend freely with the looming specter of having to pay higher taxes after the end of the year, when the Bush-era tax cuts expire.
Many shoppers in the Northeast are also still dealing with the aftermath of of Superstorm Sandy, which has distracted residents and retailers alike from holiday preparation.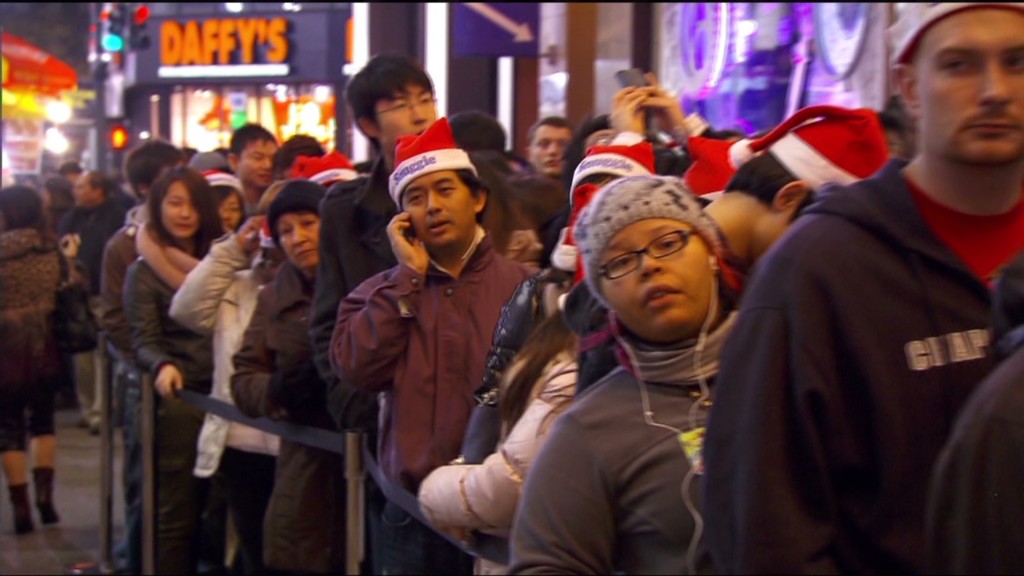 With the state of the economy and holiday budgets hanging in the balance, experts say it's hard to entice people with Black Friday deals. Others may be holding off for better deals later in the season.
"Consumers are continuing to put off purchases until they absolutely have to buy or they feel there are no better deals to be had," Robert Passikoff, founder and president of brand research consultancy Brand Keys. "People are waiting longer and longer for better sales, for the economy to turn, for electronic coupons."
But the more trepidation shoppers seem to have, the more retailers are pulling out all the stops to reel them in.
The holiday deal blitz started as early as September, with stores like Toys R Us, Wal-Mart (WMT), Kmart, Target (TGT) and Best Buy (BBY) offering incentives like layaway plans, price matching and apps.
Stores have also been gunning to be the first to open for the big annual holiday sales. As it stands now, Toys R Us and Wal-Mart will be the first to open their doors for bargain hunters at 8 p.m. on Thursday, Nov. 22, just as some people are tucking into desserts after their turkey dinners.
That's even earlier than last year, when the toy store opened at 9 p.m. and Wal-Mart at 10 p.m. Target will open at 9 p.m. compared to midnight last year. Macy's (M) stores will open at midnight and JC Penney (JCP) at 6 a.m on Friday.
Related: Black Thursday is the new Black Friday
Black Friday traditionally marks the start of the holiday shopping season each year. Stores consider it the most important time of the year, because they can make up to 40% of their annual sales in the November-December period.
Even with fewer shoppers headed to stores, some experts are predicting that sales will be strong. According to MasterCard Advisors SpendingPulse, which estimates total U.S. retail sales across all payment forms including cash and check, Black Friday 2012 could exceed $21 billion in sales, up from $19.3 billion in 2011.
Also, the retail trade group NRF has been woefully wrong with its estimates before. Last year, it expected 152 million shoppers and 220 million showed up.
While people are more cautious about their spending, they are more confident than they have been over the last several years, some say.
"We could go back to pre-recession level retail sales this year," said Hana Ben-Shabat, a retail partner at consultant A.T. Kearney. "There's more comparison and sensitivity about prices, but eventually, they do buy what they want to buy. That's a very different reality than in 2008."
Many retailers are taking heat for their early opening times, since it means that workers have to miss out on Thanksgiving celebrations with their families. More than 40 petitions have been launched on Change.org asking retailers including Sears, Target, Wal-Mart and Kohl's to "give Thanksgiving back to families."
Related: Why is sucks to work Black Friday
At Wal-Mart, a group of workers are planning a protest on Black Friday, which could make for an unpleasant shopping experience for people headed to the stores of the nation's biggest retailer. Wal-Mart says that the protesters make up just a handful of its 1.3 million workforce, but organizers of the expected protests say more than 1,000 activities have been planned nationwide.
Support for the demonstrations have swelled as Black Friday approaches. More than 30,000 people "like" the organization's Facebook page and they have collected more than $60,000 to support workers who participate in the walk offs.
For extreme Black Friday shoppers like Joni Crothers, nothing will get in the way of her shopping mission. Last year, Crothers came away with $10,000 worth of goods for just $2,000. She donated everything she bought to local families in need.
"We need a way to stretch our money as quickly and as best as we can, and it's amazing how much money you can save," Crothers said.
Toys and electronics are usually the biggest draw for Black Friday shoppers. Toys R Us says it has already seen a shortage of this season's hot toys like the Hasbro's Furby and Hot Wheel's Power Wheels Dune Racer.
Related: Black Friday deals to avoid
Best Buy, Target and Wal-Mart are offering steep discounts on electronics like iPads and LCD HDTVs.
If the possibility of scoring a deal isn't enough of a draw, for many people it's a tradition they are not willing to give up, says Trae Bodge, senior editor of RetailMeNot.com Insider. She said that for some people there's something compelling about waiting in long lines after Thanksgiving.
"Despite the rise of online shopping and the economy, there is still a strong interest to do that whole Black Friday thing," she said. "There's a weird tradition that goes on."