Stock futures experienced a sudden uplift Friday, after a representative of the Cyprus government said a bailout deal could be reached in the next few hours.
The announcement helped alleviate a cloud of uncertainty that's been looming over Wall Street.
"People like to have a definitive answer, rather than something lurking in the darkness," said Anthony Conroy, head trader at ConvergEx Group.
All eyes are on Cyprus, where lawmakers are discussing new proposals to raise the money the country needs to qualify for its European Union bailout.
"In a few hours, we will be called upon to take the big decisions and reply to the hard dilemmas," said Christos Stylianides, spokesman for the Cypriot government.
U.S. stock futures made gains after Stylianides' comments. Before that, they were flat.
Talks between Russian officials and the Cyprus government broke up early Friday, with no agreement on a cash infusion that could help the island nation secure a €10 billion bailout. Nearly a third of the money in Cyprus' outsized banking sector is from Russian depositors.
"After several days of meeting with Russian officials, Cypriots have come back empty handed," said Marc Chandler, strategist for Brown Brothers Harriman, in an early note to investors, though he added, "One must be impressed with how well the markets have absorbed the still unresolved Cyprus situation."
The clock is ticking and the pressure is on. The European Central Bank told the troubled nation Thursday that it had until Monday to find a solution.
Related: Russia bails on Cyprus
Cyprus's exit from the euro, while potentially disastrous for the island nation, wouldn't likely destabilize the European economy on its own. But investors are watching to see how the situation is resolved and if it could set a precedent for larger economies that may face similarly dire straits in the future.
U.S. stocks fell Thursday, with technology stocks weighing on the broader market following lackluster earnings from Oracle (ORCL).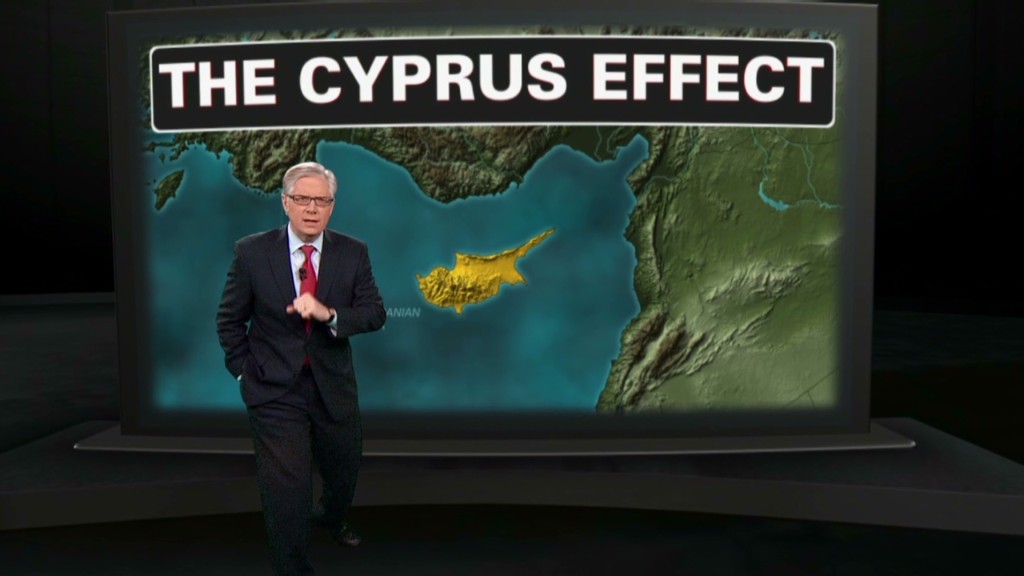 Early Friday, shares of Micron Technology (MU) spiked higher after the company's earnings blew past estimates, sparking a slew of analyst upgrades.
Shares of BP (BP) rose nearly 3% in premarket trading after the firm said it was moving ahead with plans to buy back up to $8 billion of stock after completing the sale of its 50% stake in TNK-BP to Rosneft.
Nike (NKE) shares surged 8% in premarket trading Friday after the apparel giant reported quarterly earnings on Thursday that beat expectations.
Tiffany's (TIF) stock jumped 5% in premarket trading after the jewelry retailer reported a jump in quarterly profit.
Related: Fear & Greed Index slips back to greed
European markets were mostly higher in midday trading, reversing some of their losses as investors reacted to developments in Cyprus. Asian markets ended mixed. The Shanghai Composite added 0.2%, while the Hang Seng lost 0.5% and the Nikkei declined 2.4%.
The Ifo Business Climate Index for German manufacturing and trade slipped in March, as companies lost enthusiasm about their business outlook compared to February. But the index also showed that Germany -- Europe's strongest economy -- continues to prevail, buoyed by domestic spending. Construction is at its strongest point since reunification of East and West Germany, more than 20 years ago.