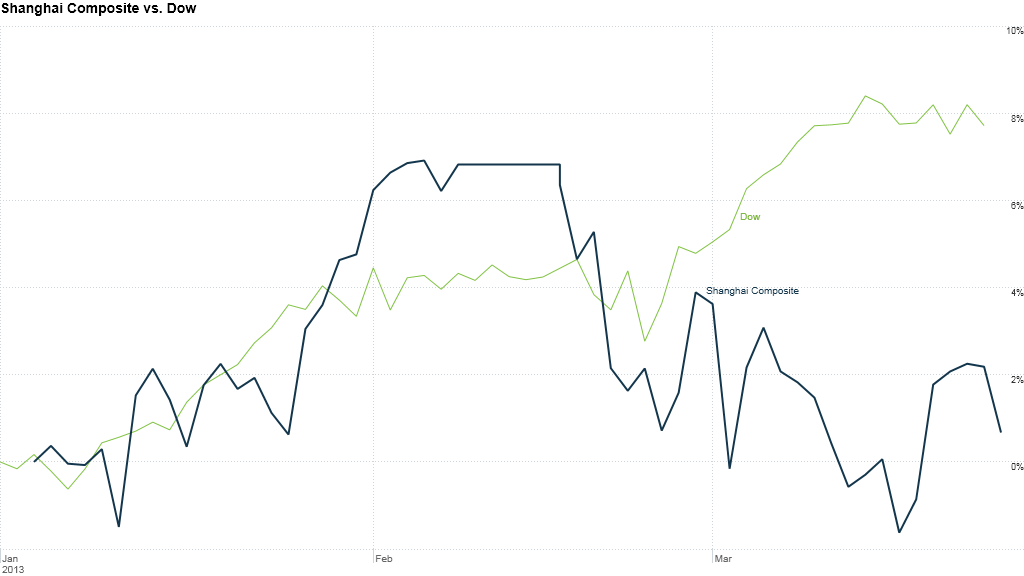 China stocks are missing out on this year's global markets rally.
Worries over attempts to contain runaway housing prices and the pace of growth in the world's second biggest economy have left benchmark indices lagging other exchanges.
The Shanghai Composite has added only 2.5% this year, after giving up substantial gains made in January and February. Hong Kong's Hang Seng has lost 1.4% over the same period.
The numbers are not apocalyptic at first glance, but the two indices are falling far behind other major markets.
The Dow Jones Industrial Average is up 11% since the start of January, and is hovering near all-time highs. Japan's Nikkei has benefited greatly from stimulus measures, rising 21% this year as the yen tumbles. Markets in Europe have also done better than China, shrugging off concerns over Cyprus' banking crisis and political turmoil in Italy.
"The falls in the two indices reflect concerns about China's policy outlook and the sustainability of its economic rebound," said Qinwei Wang, a China analyst at Capital Economics.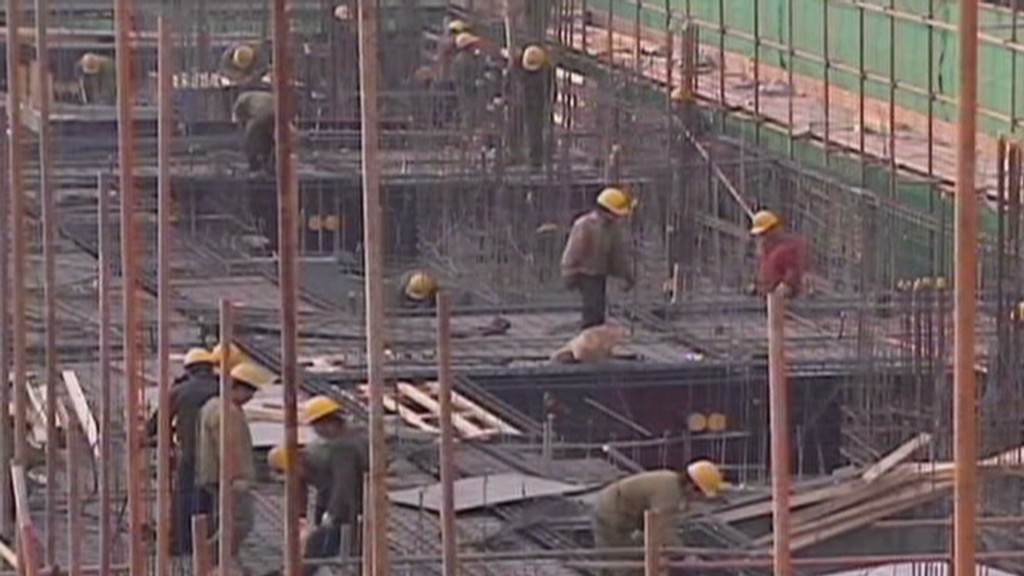 Property and financial stocks have led the decline after Beijing stepped up efforts to rein in China's red-hot property market.
The new measures, announced in early March, include an elevated income tax on homeowners who profit from the sale of a property. Higher interest rates and down payments will be demanded for the purchase of a second home in cities with rapidly rising real estate prices.
The government actions have taken a toll. The Shanghai Stock Exchange Property Index, a broader measure of property developer performance, is down 9.4% on the year.
China's economy is still expanding at 7% to 8% a year, but the rate of growth has slowed from pre-recession levels often in excess of 10%. Even with relatively strong growth, there is some unease about weakness in the broader economy. Inflation indicators have spiked in recent months, contributing to investors' worries.
Related story: World's biggest mall a China 'ghost town'
Analysts have also noted that retail investors in China have largely abandoned stocks in recent years, and are instead seeking out higher returns in alternative investments.
Among the top choices are physical property, wealth management and trust products that sometimes offer more lucrative returns. Anecdotal evidence suggests retail investors are also diverting funds to unregulated lending outlets and foreign real estate.