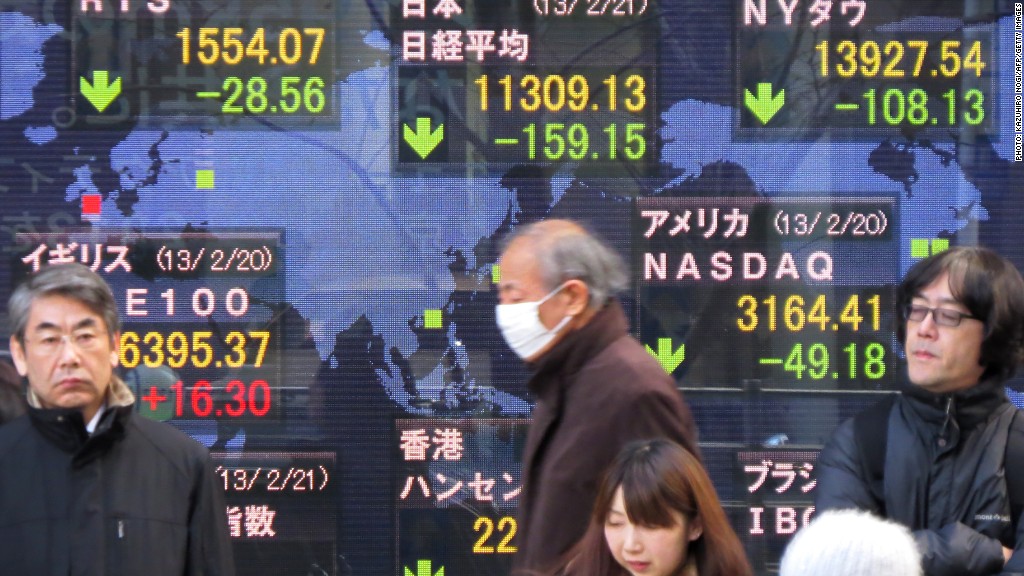 World markets fell Tuesday on renewed concerns about the pace of economic growth and after U.S. stocks slumped in the wake of the Boston bombing.
All major European stock market indices closed in negative territory, though they recovered from earlier lows as U.S. markets staged a modest rebound. The Euronext 100 index and the FTSE 100 in London both edged down by 0.6%.
Stocks in Japan and Hong Kong also fell as investors worried that weaker than expected growth in China could weigh on the global economy.
US stocks, which suffered their biggest one-day sell-off of the year Monday, got a boost from a batch of better than expected corporate earnings results and a positive housing market report.
The mood in Europe was subdued after the International Monetary Fund cut its global growth forecast. In another blow, Germany's ZEW indicator of economic sentiment fell more sharply than expected in April.
"Basically, the surveyed financial market experts remain confident, but are less optimistic than they have been in the previous month," said ZEW president Clemens Fuest.
The Nikkei in Tokyo closed 0.4% lower while the Hang Seng in Hong Kong lost 0.5%.
The unsteady trading in Asia followed a selloff in U.S. markets that accelerated after a terrorist attack in Boston late in the trading day.
Two bombs struck near the finish line of the Boston Marathon on Monday. The investigation is still in its preliminary stages, and scores of victims remain hospitalized. The death toll stands at three.
Related story: Full coverage of terror attack
Few details about the source of the attack have been confirmed by authorities, leaving investors to focus on other issues.
"It's a shocking event and a tragedy," said Kerry Series, chief investment officer at 8IP in Sydney. "But I don't think it will have much of an effect at all on markets."
Driving the markets were concerns over slower global growth -- more pronounced in the wake of soft economic data in China and the United States.
China reported Monday that its economy grew at a 7.7% annual rate in the first quarter, much weaker than the 8% most economists were expecting. A separate report also showed industrial production growth has slowed sharply in the country.
China's slump could mean reduced demand for commodities from the world's second-biggest economy and subdued inflationary pressures.
Mining stocks in Australia, which rely heavily on China as an importer of their raw materials, were particularly hard hit.
Gold prices staged a modest recovery Tuesday in the wake of a massive one-day sell-off which saw the precious metal hit its lowest level in over two years.
Other commodities such as silver and copper also nudged higher, while oil regained some poise after Monday's global tumble.