U.S. stocks ended in the red Tuesday as lawmakers in Washington continued to wrangle over a budget deal.
The major indexes started the day slightly lower and a sell-off accelerated in afternoon trading. The Dow Jones Industrial Average dropped more than 100 points, or nearly 1%, and the S&P 500 fell 0.7%. It was the first decline in five days for both indexes. The Nasdaq declined 0.6% following three straight days of gains.
Senate leaders had said earlier Tuesday they made "tremendous progress" toward an agreement to end the partial government shutdown and raise the debt limit, but hopes were starting to evaporate following reports that talks to boost the debt ceiling may be falling apart.
Even if the Senate makes a deal, it still needs to win support in the House of Representatives, which is far from certain. Plus, the House is working on its own proposal that would include provisions to make changes to Obamacare.
Though Washington still seems to be divided, most investors are still expecting a resolution before the Thursday deadline when Treasury has said it will start to run out of money to pay all its bills on time.
"Every time [the debt ceiling debate] approaches a crisis phase, a temporary measure has been implemented to postpone it into the future," said Doug Roberts, chief investment strategist at Channel Capital Research. " Both sides do not seem to want a crisis to develop because of the dire consequences. There is no reason to believe that a similar postponement will not being enacted at this juncture."
Related: Fear & Greed Index continues to show investor fear
Investors avoid short-term government bonds: Meanwhile, there was weak demand for short-term Treasury bills during two closely-watched auctions Tuesday. That could be a troubling sign.
Three-month bills were sold at a yield of 0.13%, the highest since February 2011. That's even higher than the 0.09% at which existing 3-month Treasury bills are trading. The bid-to-cover ratio, which a is a measure of demand, was the lowest since July 2009.
Investors demanded a 0.15% yield, the highest in almost a year, on 6-month Treasury bills. The bid-to-cover ratio was the lowest since October 2009.
Yields on short-term Treasury bills have spiked recently as investors avoid debt that could be impacted by a U.S. default.
Earnings kick into high gear: Citigroup (C) was the latest big bank to disappoint investors. The company reported third quarter profits and revenues that fell short of analysts' expectations. The bank noted that the spike in interest rates over the summer caused a slowdown in new mortgages and refinancings, as well as bond trading.
Coca-Cola (KO)reported an increase in its third-quarter profit, as global sales volume rose 2%. Johnson & Johnson (JNJ) shares moved higher after the company reported gains in quarterly sales and profit.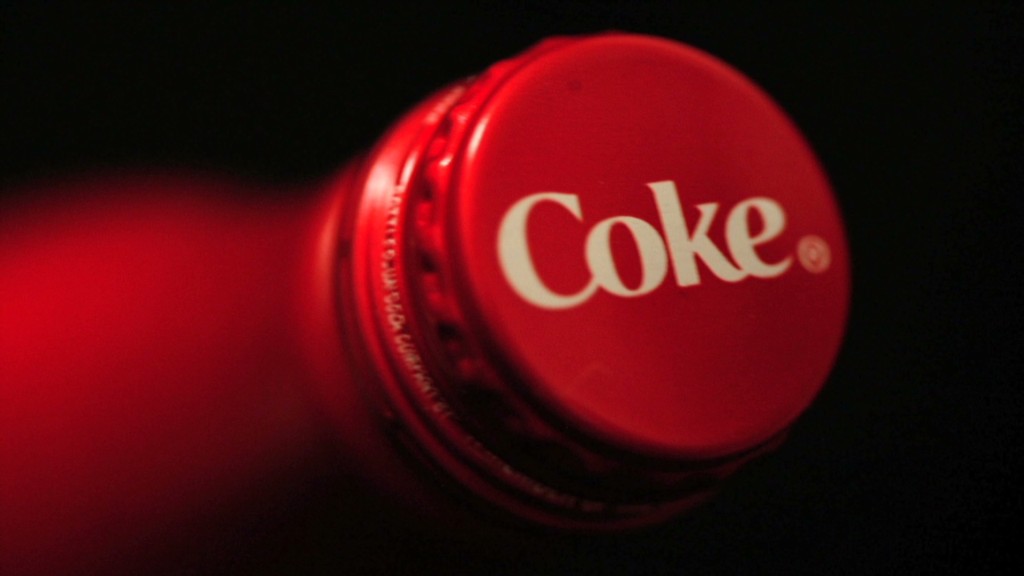 Intel (INTC) shares rose in after-hours trading after topping earnings and revenue forecasts.
Yahoo (YHOO) shares also edged higher in after-hours trading. The company reported revenue in line with estimates, and beat earnings expectations.
Yahoo also announced positive news related to Alibaba, the hot Chinese e-commerce company of which Yahoo owns a 24% stake. Alibaba is preparing for an initial public offering, and Yahoo revealed that it will have to sell fewer of its Alibaba shares in the IPO than previously planned.
J.C. Penney (JCP) shares slid sharply as the struggling retailer continues to face doubts about its future. Shares dropped almost 9% to a 30-year low.
FedEx (FDX) shares rose sharply after the shipping giant announced plans to buy back 32 million shares, bolstering its existing share repurchase program.
"$FDX the government may be shut down, but retail and corporate america is not!" said howardlindzon on StockTwits.
Tesla (TSLA) and Microsoft (MSFT) gained ground after Wall Street analysts upgraded their ratings on the stocks.
Meanwhile, Facebook (FB) shares jumped after Evercore analysts said they believe the social media company's stock will rise to $60 and reiterated their overweight rating. The stock shaved some gains as the broader market slipped into the red. But StockTwits traders seemed optimistic.
"$FB unless something COMPANY RELATED comes out, all of these macro dips are just noise," said AllEyesOnEd. "This name has conviction, use your opportunities. Bullish."
Related: Most world markets rise despite debt ceiling drama
Apple (AAPL) shares moved higher, briefly crossing $500 a share for the first time in over a month. The company sent invitations Tuesday to a special event on October 22. The new iterations of the iPad and iPad mini are expected to be the focus.
The text of the invite read, "We still have a lot to cover." StockTwits users speculated what the company might be hinting.
"$AAPL "We still have a lot to cover" They have to still cover China, is China Mobile announcement coming?" asked ibargain.
StockTwits user bittercheaperfaster wondered if the comment could mean "a bigger screen iPad."
Trader coterotie had another thought, and joked about how there are still some short sellers betting against the stock: "$AAPL "we still have a lot to cover" your shorts!!"
Meanwhile, Apple poached high-profile Burberry CEO Angela Ahrendts to take charge of retail and online stores. The move comes as Apple attempts to improve its fortunes in China, a market in which Ahrendts has had great success in the past. Burberry (BBRYF) shares fell almost 9% in London following the news.