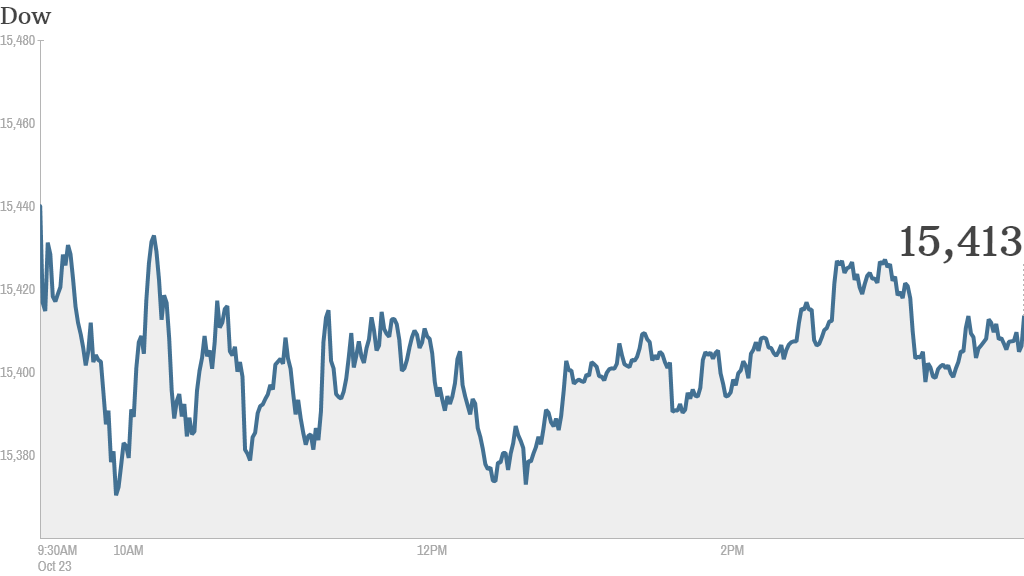 Stocks retreated from record highs Wednesday as investors focused on corporate earnings, including a dour outlook from economic bellwether Caterpillar.
The Dow Jones industrial average, the S&P 500 and the Nasdaq all fell modestly.
The S&P 500 hit a new peak Tuesday after a disappointing jobs report for September fueled expectations that the Federal Reserve will delay plans to scale back its massive bond-buying program until 2014.
But the momentum faded Wednesday as investors sifted through a raft of mixed reports from Corporate America.
"Earnings are certainly the focus," said Art Hogan, managing director at Lazard Capital Markets. "On balance, we've had more bad news than good news over the last 24 hours."
Investors were also grappling with "global macro issues," he added. Chinese stocks fell sharply on concerns about rising money market rates and risky bank lending. European markets were under pressure after the European Central Bank said banks would be subjected to more stringent stress tests.
However, Hogan said the retreat was not surprising given the recent rally. Stocks had gained for the past five days in a row.
Related: More banks in the crosshairs after JPM deal
A mixed bag of earnings: Dow component Caterpillar (CAT) reported a slump in sales and earnings, noting that a slowdown in the mining sector has taken a bite out of heavy equipment manufacturing. Caterpillar shares were down 6%.
"$CAT so this means i should be able to get a great deal on that bulldozer i've had my eye on!?" quipped StockTwits user Captain_Hindsight.
But Boeing (BA), which is also in the Dow, rose 5% after the company reported a surge in quarterly profit and revenue as the aircraft manufacturer works its way through a backlog of orders.
"i guessed the right direction for earns move on $BA," said racernic. "still holding. lotto $,"
It appears the government shutdown did not have a big impact on defense contractors. Rival Northrop Grumman (NOC) reported earnings and sales above expectations and raised its outlook for the year. Lockheed Martin (LMT) also reported strong results on Tuesday, sending its stock sharply higher.
Shares of Broadcom (BRCM) sank 3% after the chipmaker said Tuesday that sales will be below analysts' expectations in the fourth quarter. One trader said Qualcomm (QCOM) might be a better bet in the communications chip sector.
"$BRCM 52w low very possible today. want to invest in mobile chips? pick QCOM," said HookEM.
AT&T (T) reported earnings after the closing bell that topped forecasts. Sales were roughly in line with estimates.
So far, 80 of the 130 S&P 500 companies have beat expectations, according to S&P Capital IQ. But many analysts still expect relatively weak earnings for the rest of the year.
Related: Fear and Greed index is getting greedy
Shares of Corning (GLW) rallied after the company announced a $2 billion stock buyback, as well as a deal to take full control of a partnership with Samsung Display, which manufactures LCD glass used by makers of smartphones and tablets.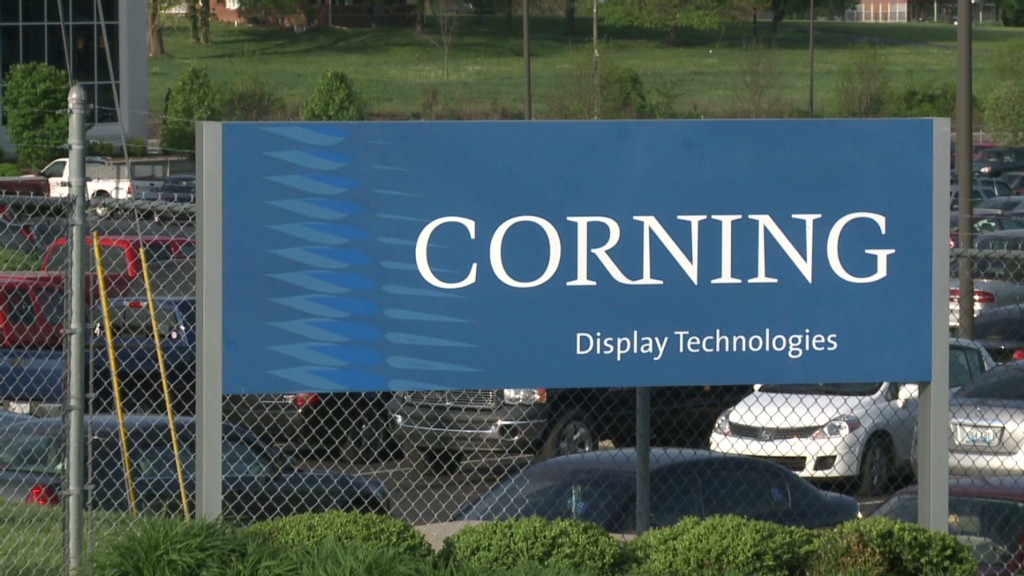 Netflix (NFLX) shares bounced back from a sharp decline Tuesday, even though hedge fund manager Carl Icahn revealed late Tuesday that he had reduced his stake in the company. Despite the rebound, some traders still see more downside ahead for Netflix shares.
"$NFLX If many longs decide to take some profits and follow Carl's suit, could see <$300 even with that positive ER. Still overvalued," said IjustGUESS.
Apple (AAPL) rose 1%. Icahn tweeted late Wednesday that he has sent a letter to Apple CEO Tim Cook, and that the letter will be available Thursday on a new website Icahn is launching. Icahn took a stake in Apple earlier this year and has been pressuring the company to give back some of its cash to shareholders through a bigger stock buyback.