The Dow Jones industrial average topped 16,000 for the first time ever Monday, while the S&P 500 briefly surpassed 1,800. But neither indexes closed above those milestones.
The Dow rose to an all-time high of 16,040.20 but pulled back as the day wore on. The S&P 500 rose to a record of 1,802.37 but finished the day lower.
The Nasdaq fell 1% Monday, but it too is on the verge of a milestone. The tech-heavy index is nearing 4,000, a level it hasn't hit since September 2000 -- just months after the tech market collapsed.
Stocks lost momentum in afternoon trading after Carl Icahn said he is "very cautious" on the stock market going forward. Speaking at the Reuters Global Investment Outlook summit, the billionaire activist investor said he could see a "big drop" in stocks. Icahn blamed earnings for his downbeat outlook, nothing that companies are boosting profits thanks to low borrowing costs instead of strong management.
Still, the Dow and S&P 500 are up more than 20% so far in 2013.
Experts say that this year's roaring bull market is due largely to stimulative monetary policies from the Federal Reserve as well as decent corporate earnings.
Investors will be keeping a close eye on the Fed in particular during the coming months. Current Fed chairman Ben Bernanke, the architect of the central bank's bond purchase program, will leave that role when his term expires at the end of January. Bernanke is likely to be replaced by Fed vice chair Janet Yellen, who just needs to be confirmed by the Senate.
The market has been encouraged by comments from Yellen during her Senate confirmation hearing last week about how the Fed's policies, particularly the $85-billion-per-month bond-buying program, can continue to help the market and economy.
But ultimately, Yellen is expected to scale back, or taper, the bond buying program at some point next year, raising questions about how much longer the nearly 5-year old bull market can last. In fact, there are some traders who think it's possible the Fed could announce it will begin tapering following its next policy meeting in December.
StockTwits user Learnstocks101 quipped, "$SPY What happens if Ben yells 'taper' in a crowded bull market?"
When Bernanke first hinted at tapering in May, the S&P 500 tumbled 6% over the subsequent four weeks. But stocks have since rallied back.
"$SPY, The only fear in this market is the fear to actually sell a stock and miss out on the greed," noted Hoyasparanoia. "Dangerous!"
Related: What will keep the rally going?
Are stocks overvalued? The big gains in stocks have also raised concerns about whether stocks may be in a bubble.
According to FactSet, the S&P 500 is trading at 15 times earnings expectations for the next 12 months. That puts the valuation of the stock market slightly above its 5-year and 10-year average.
A slightly different measurement also shows that stocks aren't overvalued. The S&P 500 is trading at 17 times earnings from last year, just slightly above the historical average of 16, according to Bank of America Merrill Lynch. In the bubble days of 2000, the index was trading at nearly 30 times trailing earnings.
Related: Fear & Greed Index: Flirting with Extreme Greed!
Whether or not stocks are in a bubble, experts aren't expecting the robust gains from this year to keep coming.
Historically, when the market has advanced more than 25% in a year, that gain has been followed by a rise of no more than 10% the year after, said William Riegel, head of equity investments at TIAA-CREF.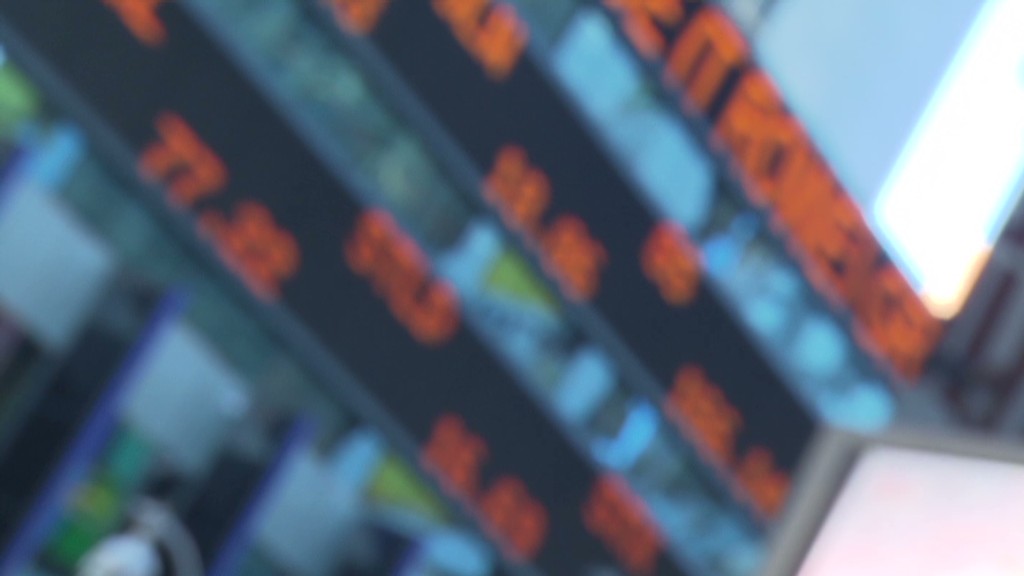 What's moving: Boeing (BA) shares rose Monday after the aircraft maker said it sold more than $95 billion of its new 777X at the Dubai air show. Boeing said it was a record launch for a new aircraft and was far more than analysts had been forecasting. Boeing has been the biggest gainer in the Dow this year, soaring more than 85%.
Tesla (TSLA) shares dropped 10% Monday, extending the slide that began last month. A series of battery fires have triggered a nearly 40% plunge in shares of Tesla since early October. Still, the stock is up almost 270% so far this year.
Following such a huge rise, StockTwits user jamesb13 said "$TSLA hype is over for now," and predicted that the stock price may on its way down to below $100 per share. It ended below $122 Monday.
Trader damnmaxims pointed out that even Tesla CEO Elon Musk has been saying that his company's stock price had been higher than it had "any right to deserve."
"$TSLA Well Elon Musk himself called this in a very kindly worded way," he said.
Even if Tesla shares do drop sharply lower, sogenerous said it could make a comeback like Netflix (NFLX), which has soared more than 270% this year, making it the best performing stock in the S&P 500.
"$TSLA even if it it ever goes to 70-80, it will be just like $NFLX and come back to 200+ easy money," he said.
Sony (SNE) shares rose after the company said it sold more than 1 million units of its new PlayStation 4 gaming console in the first 24 hours since the game console went on sale early Friday. The game system is Sony's first in seven years and is going head-to-head with Microsoft's upcoming Xbox One this holiday season. Shares of Microsoft (MSFT) slipped.
Related: Why China wants to dominate Bitcoin
Bitcoin price surges: While stocks continued to soar, so did Bitcoin. The price of the digital currency touched an all-time high above $675 Monday, up almost 30% from Friday's closing price of $528.32.
Since the start of October, the price of Bitcoin has more than quadrupled in value.
The latest surge has been fueled by the interest of new investors, especially those in China, who are becoming increasingly optimistic about the digital currency's potential growth.