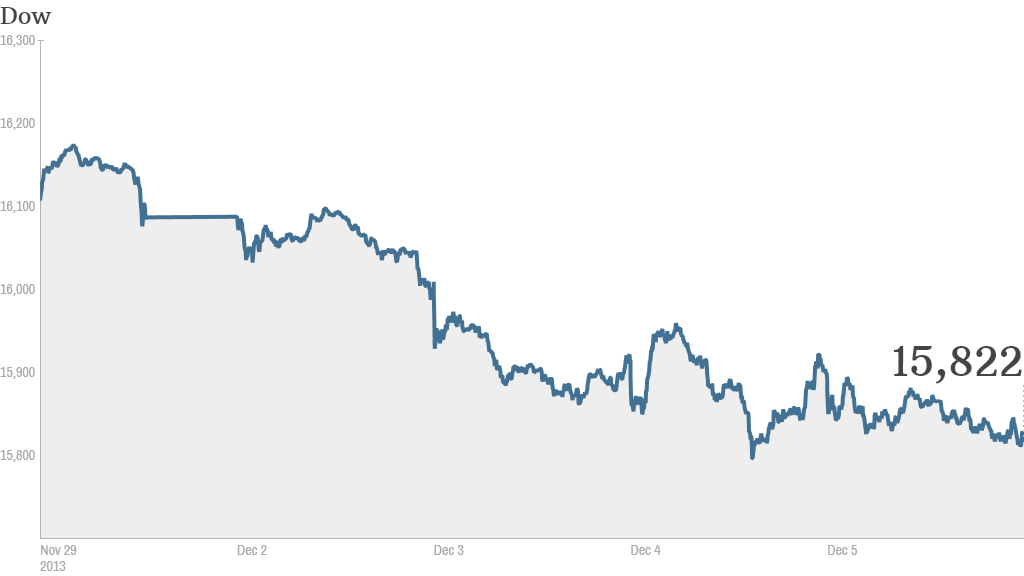 Good economic news put pressure on the stock market again as investors brace for the Federal Reserve to begin dialing down its stimulus.
The Dow Jones industrial average and the S&P 500 both ended lower for a fifth consecutive day. The Nasdaq has declined on three of the past four trading days.
The government revised its initial report on third-quarter economic growth to 3.6%, up from the previous estimate of 2.8%. The improvement was largely driven by inventory growth as companies restocked their shelves ahead of the holiday shopping season.
And the number of Americans filing first-time claims for unemployment benefits fell more than expected last week, the Labor Department said. Economists said the decline may have been distorted by the Thanksgiving holiday.
But the upbeat economic numbers failed to give the market a lift. Many investors believe that good economic news makes it more likely that the Federal Reserve will begin scaling back, or tapering, its monthly bond purchases.
The yield on the 10-year Treasury rose to 2.86% after the economic reports were released. Bond yields rise when prices fall. So bond investors are selling Treasuries in anticipation that the Fed may no longer buy as much going forward.
The Fed's $85-billion per month bond buying program has helped fuel the bull market since March 2009. But the central bank signaled earlier this year that it hopes to gradually reduce the purchases as the economy recovers. It has said that improvement in the job market could trigger this process.
The government's November jobs report is due Friday. Economists surveyed by CNNMoney expect that report to show 183,00 jobs were added last month.
Related: Where should you put your money now?
But not everyone is convinced the Fed will taper at its next policy meeting -- which wraps up on December 18. Alastair McCaig, market analyst for IG in London, said the holiday shopping season would be "a fragile time of year" for the Fed to pull back on its bond purchases.
"Trying to squeeze something in before the end of the year would start a little bit of panic, the tail end of December being just an incredibly important retail period," he said. "It would be a little bit dangerous to do something this year."
What's moving: On the corporate front, Apple (AAPL) shares rose following a report that the company is nearing a deal with China Mobile (CHL) to sell Apple's iPhone. China Mobile is the world's largest mobile carrier.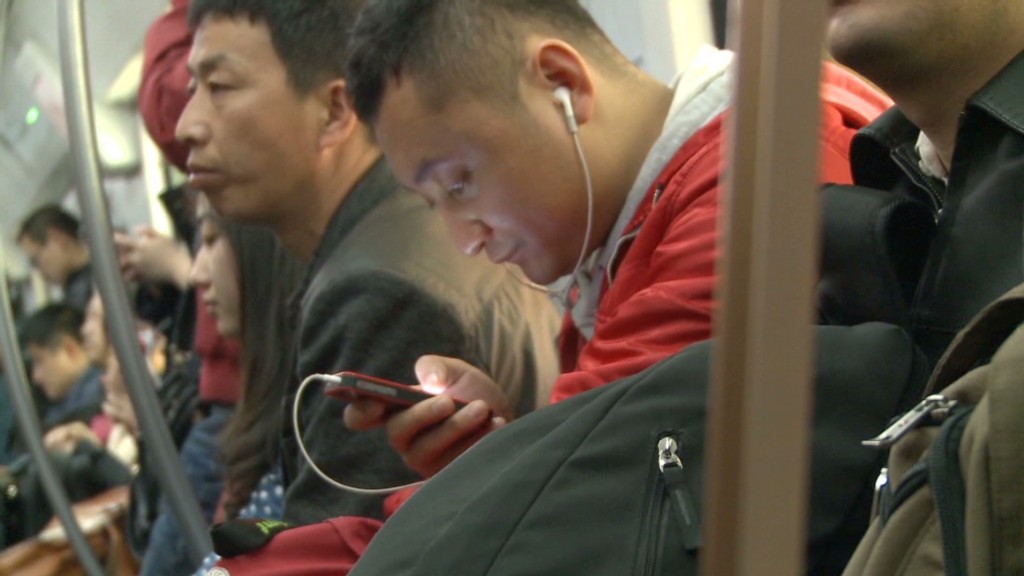 Shares of Apple have bounced back over the past few months, rebounding more than 50% from this year's lows in April. That's something traders on StockTwits took note of Thursday.
"$AAPL is at its 52-week high...it's been a long time since we've been able to say that," said DaddyBiscuits.
Microsoft (MSFT) shares tumbled on news that Ford (F) CEO Alan Mullaly is not planning to leave the company anytime soon. Mulally had emerged as one of the frontrunners to replace current Microsoft CEO Steve Ballmer once he officially steps down. The stock, which is up 40% this year, has gained 15% since Ballmer announced plans to retire in August.
"$MSFT 13 year highs....that Ballmer should quit every day," said howardlindzon.
Related: Investors brace for a big stock dip
J.C. Penney (JCP) shares fell 8%, extending Wednesday's losses as investors worry about the retailer's turnaround plan. Hedge fund manager Kyle Bass also told Bloomberg that his firm has sold its stake in J.C. Penney stock.
J.C. Penney is still the worst performing stock in the S&P 500 this year, but shares rallied in the run-up to Black Friday. Some traders were not sure why the stock was getting hit hard this week considering that the company reported strong sales growth in November.
"$JCP same-store sales climbed 10% during November, while its online sales were well ahead of year-earlier levels...why is this down???" asked ValueInvestor1.
"$JCP Absolutely ridiculous! I don't care about the $$, this is the most unexcused absurd downturn I've ever seen. Just Criminal!!! BS!!!" said TechTrader17.
Shares of discount retailer Dollar General (DG) rose 6% after reporting quarterly earnings that beat analysts' expectations and raising the lower end of its outlook for full-year profits.
Electronic Arts (EA) shares tumbled 6% on continuing worries about technical problems with the video game maker's "Battlefield 4" game.
Jos. A Bank (JOSB) reported a decline in quarterly net sales and net income, compared with the prior year. The clothing retailer has been in a bizarre takeover battle with Men's Wearhouse (MW), which originally rebuffed a hostile bid from Jos. A Bank before turning the tables and offering to buy its smaller rival.
Related: Fear & Greed Index still shows greed despite recent sell-off
European markets edged lower after the European Central Bank and the Bank of England both voted to hold interest rates steady. Asian markets ended mostly lower.