There's no holding back the Santa Claus rally.
The Dow and S&P 500 climbed 0.5% to new records Monday, while the Nasdaq jumped more than 1% to a fresh 13-year high.
Investors were feeling increasingly confident after the head of the International Monetary Fund, Christine Lagarde, said her organization was much more upbeat about the U.S. economic recovery.
"We see a lot more certainty for 2014," Lagarde said in an interview Sunday on NBC. She said the IMF would raise its forecast for the U.S. economy, in part because Congress had passed a budget and the Federal Reserve decided to begin reducing monetary stimulus based on the improving U.S. job market.
Related: Apple inks China Mobile deal
The day's gains build upon a strong performance last week. All three indexes jumped between 2% and 3% last week, thanks to a huge Federal Reserve taper-inspired rally and a stronger-than-expected reading on U.S. economic growth during the third quarter.
While a so-called Santa Claus rally may continue to fuel stocks into record territory, trading volume is expected to remain light due to the holiday-shortened week. The market is only open for a half-day trading on Tuesday (Christmas Eve) and is closed on Wednesday for Christmas.
Related: Fear & Greed Index stuck in neutral
What's moving: The market got a boost from Apple (AAPL)'s stock, which surged almost 4%, after the company announced it had inked a deal with China Mobil, the world's largest carrier with about 700 million subscribers. Apple is No. 1 or No. 2 in almost all other countries where it sells the iPhone, but has lagged behind its competitors in China.
Most traders on StockTwits seemed to like the deal.
"Deal with China Mobile is official signal that $AAPL will finally go above $1000/ share," predicted GoldenParachute.
And StockTwits user StrayTrader said, "$AAPL no matter how you slice it, this thing goes higher from here.
But a few traders worried that the China Mobil deal won't be enough to sustain Apple's stock rally.
"I dont see 100,000,000 iPhones sold next quarter even with ChinaMobile," said RealFanboy101. "Stagnant. Bearish."
AllEyesOnEd said he needs "to see some expansion into Central African Republic before I believe in this $AAPL pop."
Shares of Apple rival BlackBerry (BBRY) also continued to surge. On Friday, shares of Blackberry jumped 15% as investors dismissed the company's huge loss and cheered interim CEO John Chen and a new partnership with Foxconn. Shares gained another 3.6% on Monday.
"$BBRY John Chen is a fast mover," said TranscendAsset. "Good for the business."
TruthTrader said institutional investors like fund managers know there is more room for BlackBerry to run.
"People want more choices than Apple and Samsung," she added.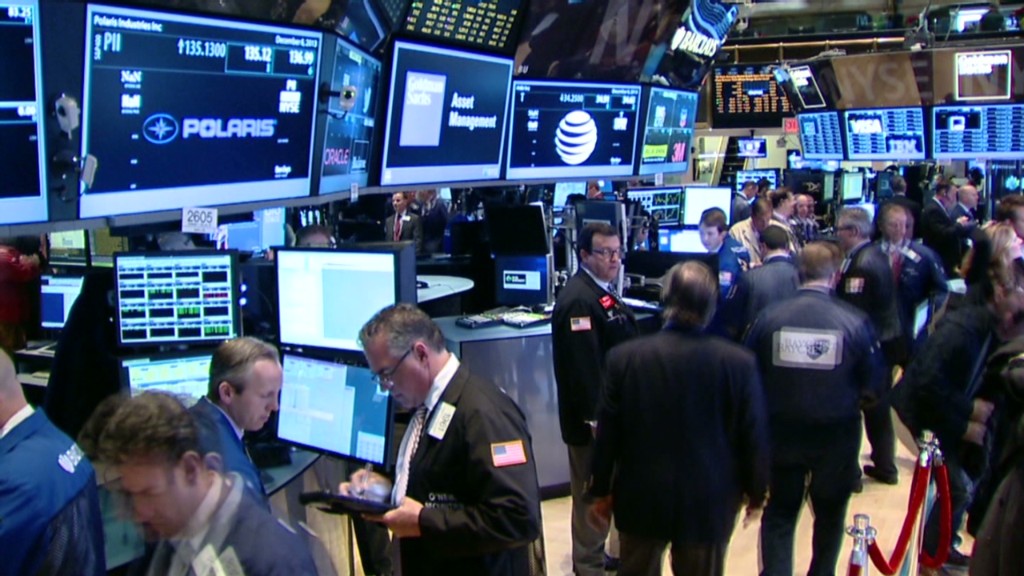 That market also got a lift from social media company Facebook (FB), which debuted as part of the S&P 500. Shares rose almost 5% as investors added the stock to their index funds.
Shares of retailers Men's Warehouse (MW) and Jos. A. Bank (JOSB) fell. Jos. A Bank rejected last month's buyout offer from Men's Warehouse.
Related: Countdown to Obamacare deadlines
In international markets, China has been grabbing the headlines as investors continue to worry about a cash crunch. However, the Chinese central bank said it had pumped liquidity into the system, leading Asian stock markets to notch up modest gains Monday.
The main European markets closed sharply higher. The Tokyo Stock Exchange was closed for a holiday.