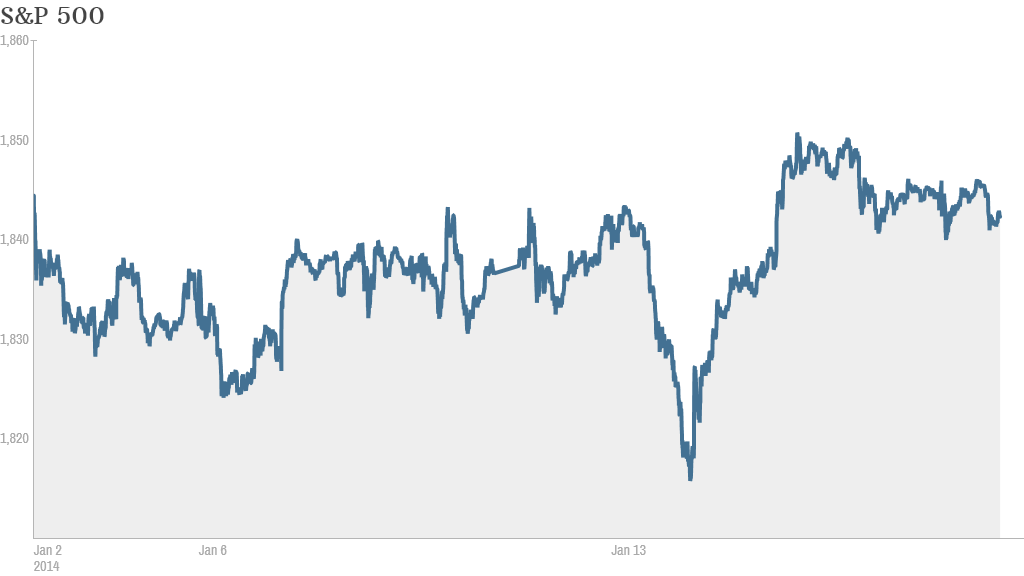 Investors will have another big dose of corporate earnings to wade through -- even though the U.S. stock markets will only be open for four days of trading.
The U.S. markets will be closed Monday for the Martin Luther King, Jr. holiday.
Stocks ended last week mixed, though it was a bumpy ride. The S&P 500 briefly moved into positive territory mid-week, before falling back into the red. The Dow Jones industrial average is also down for the year, while the Nasdaq has outperformed.
Banks were the main focus, with five out of the six largest U.S. banks reporting quarterly results that topped expectations.
But the week ahead brings quarterly reports from a more diverse group of companies, including Dow components Johnson & Johnson (JNJ), Verizon (VZ), McDonald's (MCD), Microsoft (MSFT) and Procter & Gamble (PG).
Related: Big banks beat expectations, but ...
In addition, investors will get fourth quarter results from two of last year's top performing S&P 500 companies. Delta Airlines (DAL) reports Tuesday. Netflix (NFLX), which surged nearly 300% last year and was the biggest gainer in the S&P 500, reports on Wednesday.
Starbucks (SBUX) and eBay (EBAY) are other big names to watch for this week.
Overall, earnings in the final three months of 2013 are expected to be up 6.1% versus the same period in 2012, according to FactSet Research. But there have been a number of profit warnings from some bellwether companies, including UPS (UPS)and Royal Dutch Shell (RDSA).
Meanwhile, the only economic data of note this week is Thursday's report on new home sales for December.
While the job market was much weaker than expected last month, most other indicators for December have been better than expected, including a solid report on retail sales last week.
Related: UPS warns Christmas delivery woes hit bottom line
After last year's spectacular rally, investors have been looking for signs the economy will be able to keep the bull market going in 2014.
In general, investors are expecting another good year for stocks, but not as strong as last year. Many are bracing for a correction, usually defined as a decline of 10% or more. But even then, investors seem confident that stocks will ultimately end the year higher than where they started.
"We do believe if a correction unfolds early in the year, it's more likely a buying opportunity than a sinister sign for the year and beyond," analysts at Schwab wrote in a report Friday.