A bad batch of economic data and lackluster earnings didn't keep investors from buying stocks Thursday.
The Dow gained more than 60 points, while the S&P 500 rose 0.6%. The Nasdaq gained almost 1%, logging its sixth straight day of gains.
The market was higher even though the government reported that retail sales unexpectedly fell in January. Economists were looking for no change last month, but sales dropped 0.4%. Excluding auto sales, sales were flat. Sales for November and December were also revised lower.
ING chief market strategist Doug Cote said that while the "unusual snowy and cold weather can bear some of the blame," online sales also dropped last month.
The weakness in retail sales indicates a slight softening of the economy during the end of the year, Cote added.
Higher-than-expected unemployment claims were also a negative.
And corporate earnings weren't particularly good either. Shares of Dow component Cisco (CSCO) fell after the company's weak revenue guidance disappointed investors. The stock was the worst performer in the Dow and the second biggest loser in CNNMoney's Tech 30 index. Despite reporting lower revenue and earnings, Cisco raised its dividend.
But cable stocks were moving dramatically after Comcas (CMCSA)t announced plans to acquire Time Warner Cable (TWC) in a $45 billion deal that would combine the two biggest cable companies in the United States.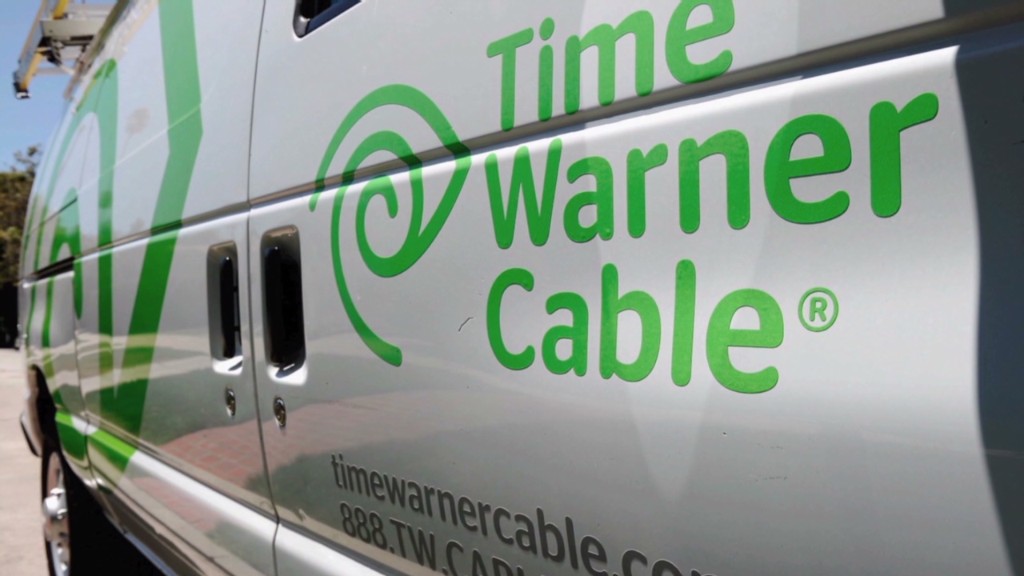 Time Warner Cable shares jumped on the news, while Comcast fell. Shares of Charter Communications (CHTR), a smaller cable company that had hoped to acquire Time Warner Cable, plunged. Shares of Cablevision Systems (CVC), which some feel could be the next cable company to be taken over, were also down after opening sharply higher.
The deal is subject to approval from regulators, including the Federal Communication Commission and either the Department of Justice or the Federal Trade Commission.
StockTwits traders were skeptical that the merger will get approved.
"Hard for me to see $CMCSA and $TWC merger going through," said mmeadows51. "But I am no FCC attorney."
User scheplick wondered if the government would allow a single company to have 30 million cable subscribers, or about 30% of the market: "Comcast merging with Time Warner will give them 30 million cable subscribers. That's larger than every other cable company combined. $CMCSA"
Related: Fear & Greed Index still shows fear
In other company news, shares of Whole Foods (WFM) fell sharply after the grocery chain's first quarter profit and sales figures fell short of expectations. The company also cut its earnings guidance for the year. That made Whole Foods a hot topic on StockTwits.
"Scaling the $WFM biz from here is hard, each new store is in a less desirable spot, takes longer to ramp, harder to monetize," said Estimize founder LDrogen.
Trader LSValue pointed out that even though Whole Foods focuses on organic and natural foods, it's a grocery store business, and in turn faces low margins: "$WFM Never understood why pay a high multiple for a Grocery Store. I don't care your groceries are Organic, its still a low margin business. Bearish."
Despite the current weakness, StockTwits trader sh34 remains bullish on Whole Foods' future: "$WFM When the weather gets better in the spring/summer, we should see more upside. Look at the Long term trend. Bullish."
Pepsi (PEP) announced an increase in quarterly profit and revenue, but missed sales estimates, sending shares lower.
Goodyear (GT) reported an increase in profit and beat estimates. Shares of the tire giant spiked more than 10%.
Netflix (NFLX) said it acquired the rights for the animated series "Star Wars: The Clone Wars." The stock rose nearly 2% and hit a new all-time high.
Bad weather on the East Coast led to light trading volume though. The snowstorm forced the Senate to postpone a scheduled appearance by Federal Reserve Chairwoman Janet Yellen. Her testimony in front of the House sent stocks sharply higher Tuesday.
European markets finished the day mixed, while Asian markets ended with losses, led by the Nikkei, which fell 1.8%.