The "TGIF rally" fizzled in the afternoon, capping a rocky week on Wall Steet.
The Dow was the only major US index to end the week in positive territory after a decent 60-point rally on Friday.
Things looked promising on Friday as the Dow had been up nearly 150 points in late morning trading, but the early gains were scaled back by the end of the day -- and week. Even the blue chips were only able to garner 0.1% for the week. The S&P 500 and Nasdaq edged higher for the day as well, but finished in the red for the week overall.
The dicey markets resulted in a lot of stock winners and losers.
Biotechs continued to get hammered with Gilead Sciences, (GILD) Biogen Idec, (BIIB)Celgene (CELG) all closing sharply lower.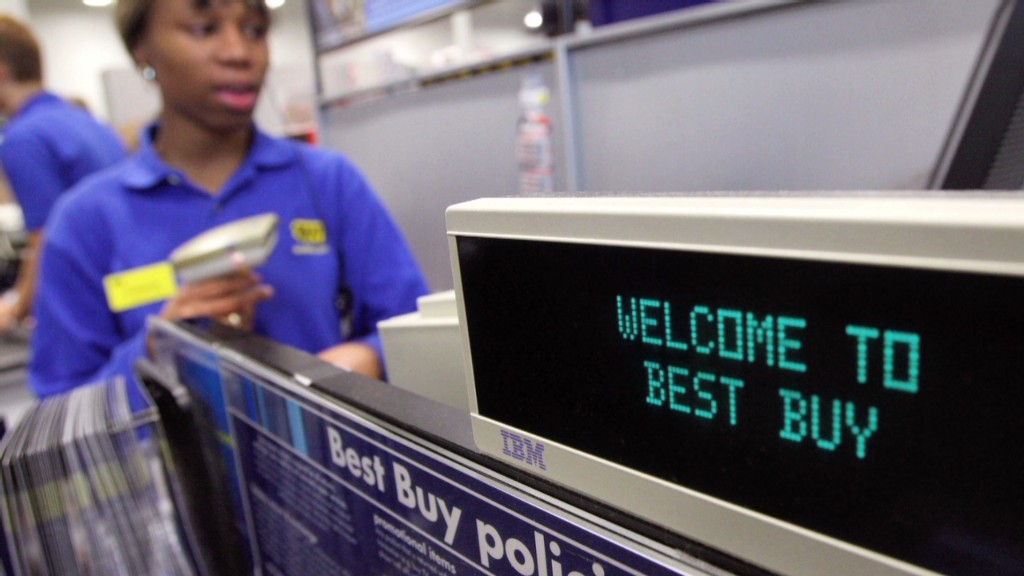 Microsoft (MSFT)was up sharply after it said Thursday that its Office software will be ready for use on the iPad. Trader MTNBIKEJON on StockTwits thought he had a hunch why "old tech" was prospering, " $MSFT What if the dot com bubble is over?"
Shares of Tesla (TSLA) were also higher. The company announced it will install fire shields under its Model S sedan.
Positive economic news. Better news on the U.S. economy and good reports from a number of major companies helped lift the market in the morning.
Consumer spending rose 0.3% in February, the biggest gain in three months. Personal income also gained 0.3% last month. In addition, this month's University of Michigan consumer sentiment index was in line with expectations.
Big week for IPOs. CBS Outdoor Americas (CBSO), the billboard arm of CBS (CBS), started trading Friday and was up more than 5% from its offering price of $28 a share to close at $29.50. From the looks of it, "old media" still holds a place in the hearts of investors.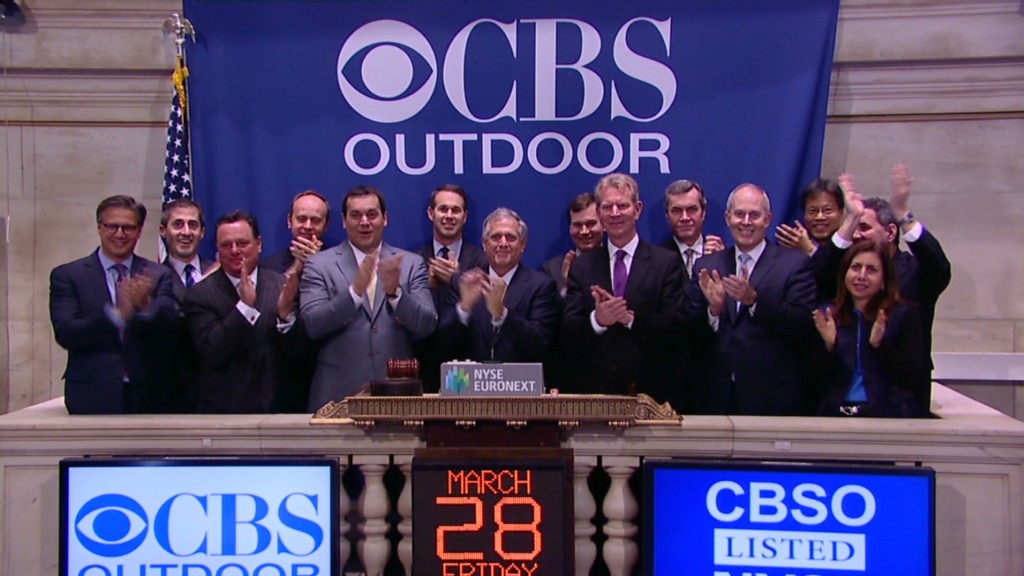 The IPO today with the biggest gain though was Energous (WATT), a wire-free energy routing company. Shares soared more than 70%.
Also an IPO winner: 2U (TWOU), a cloud-based education provider that rose more than 7%.
But it was a very different story for shares of Everyday Health (EVDY). Investors don't seem to have as good a prognosis for the online health-related content provider. Shares fell more than 3%.
And the most hyped IPO of the week, Candy Crush Saga maker King Digital (KING), continued to struggle. Shares fell another 2%.
BlackBerry continues to struggle. Shares of BlackBerry (BBRY) reversed course and fell more than 7% after surging this morning. The swing prompted Nightrade to say, "$BBRY just becomes Redberry!"
The mobile device maker reported a narrower-than-expected loss for its fiscal fourth quarter. New CEO John Chen is trying to reverse the company's fortunes, and said in a statement that BlackBerry is "on sounder financial footing today with a path to returning to growth and profitability."
Related: BlackBerry is one of the better performers this year in CNNMoney's Tech 30
But Smithatude is bearish, "$BBRY Is there anything left for Chen to sell? Copper piping? Sure isn't going to be telephones. Never too late to short BBRY. $3 Price target."
Still, DomDom spoke more favorably about the turnaround efforts, "$BBRY Chen has done an amazing job stabilizing the ship, but #'s are needed first and it will be some time before the stock moves on that."
More winners and losers. Shares of Restoration Hardware (RH)are climbing after the furniture goods seller reported better than expected fourth quarter earnings. sciuridae sounded pumped-up, "$RH Great company. Great breakout potential in here." But trader Kasaby was critical,"$RH Clearly an overreaction on weak fundamentals..."
Also on the radar, Wal-Mart (WMT) sued Visa (V) for $5 billion in a price fixing case related to credit card swipe fees. Retailers and credit card companies have been fighting over these fees for years, but this latest move comes with a potentially hefty price tag. Wal-Mart was essentially flat, while Visa was down 1.7%.
In the great "breakfast wars" McDonald's (MCD) took a swipe at Yum! Brands (YUM) and its Taco Bell unit by offering free coffee for 2 weeks. Taco Bell just started rolling out its first ever morning menu featuring the Waffle Taco. As abubnic said on StockTwits: "Those Waffle Tacos must be a threat. $MCD Fights Back With Free Coffee."
Related: Fear & Greed Index continues backslide into fear
European markets closed up, and most Asian markets closed out the trading day with gains, though the Shanghai Composite dipped by 0.2%.