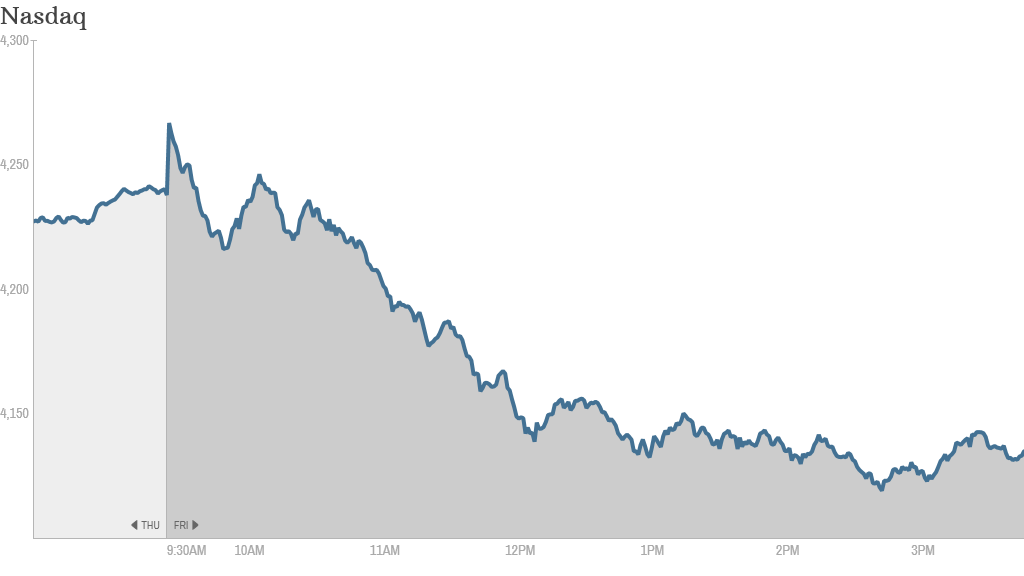 Investors rushed for the exits Friday afternoon.
The Nasdaq plunged 2.6%, and the Dow and S&P 500 fell around 1%.
After a bullish start to the week, gains evaporated on Friday. The Nasdaq is down more than 0.6% for the week, although the Dow and S&P 500 squeezed out weekly gains.
Momentum stocks got manhandled today. Netflix (NFLX), Facebook (FB), Priceline (PCLN), Amazon (AMZN), LinkedIn (LNKD), Tesla (TSLA) were all pummeled as investors began to question future prospects.
In case anyone needs another barometer of what Friday was like, CNNMoney's Fear & Greed Index started the day in greed mode, swung firmly into fear territory and now sits in neutral (although leaning toward fear).
In other words, investors were all over the place.
The other sector that couldn't seem to stop the slide was biotechnology. Biogen Idec (BIIB), Regeneron (REGN), Alexion Pharmaceuticals (ALXN) all took a deep dive.
Sharing in the biotech butchery were Amgen (AMGN) and Halozyme Therapeutics. (HALO) A late-stage test of Amgen's skin cancer drug disappointed researchers, and Halozyme plunged after it suspended a study of its pancreatic cancer drug due to patient safety concerns.
The "Friday fall" was the talk of the day on StockTwits, prompting this reaction from TradeTheHits,"$QQQ The recent violent shake really forces you to be humble. Throw everything you think you know out the window."
InvestingJungle said,"$QQQ This thing has to find support right here, right now, or it's gonna be a nasty flush into the close." And it was.
Related: Tech 30 Index down nearly 2%
Hard to believe this is the same day that started off with record highs. Shortly after trading began this morning, the Dow (16,629) and S&P 500 (1,897) both touched intraday all-time highs in response to the the March jobs report. But it didn't last.
"Wall Street expected a huge bounce, but they didn't see it", said Kristina Hooper, U.S. Investment Strategist at Alliance Global Investors. She characterized the jobs report as somewhat positive but,"not too positive that the Fed would alter its stance."
The much anticipated unemployment report today said 192,000 jobs were added last month, less than expected, and the unemployment rate held steady at 6.7%.
Wage growth is still weak, something you don't want to see in an economic recovery. A bright spot from the report is that January and February payrolls were revised higher, showing more job gains than first reported during the frigid winter months.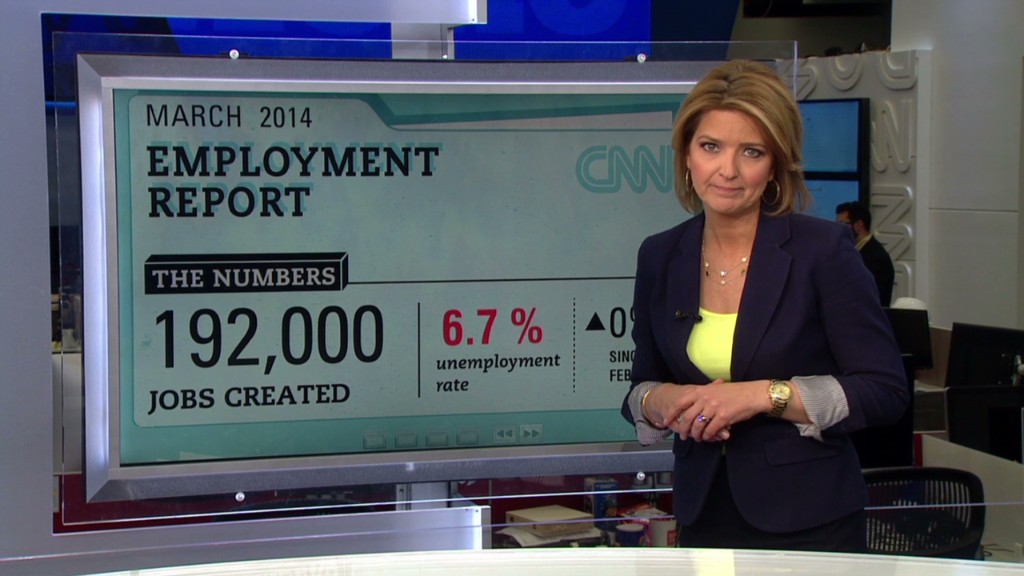 Still, the report probably won't influence the Federal Reserve to change its policy of slowly drawing down economic stimulus. The yield on the 10-year bond -- a key interest rate gauge -- finished lower at 2.73% following the jobs report.
Related: Fear & Greed Index in fear/neutral mode
One stock investors gobbled up was GrubHub. (GRUB) The online food ordering company priced its initial public offering at $26 a share and surged over 30% to end the day at $34.
On StockTwits, MaxDamage said,"$GRUB Another MOMO (momentum stock) load of junk with a $2 billion valuation."
NYCStox said,"$GRUB GrubHub now valued 20% more than the New York Yankees. Cool." But Gharris914 responded,"I've been using Seamless and GrubHub for 5 years now. They are a money making machine! They also have a monopoly over the NYC market."
Another stock also making its Friday debut was IMS Health (IMS). Shares of the healthcare information company closed up 15%.
Shares of Synnex (SNX) were are also sharply higher, up more than 23%. The computer hardware distributor reported better than expected earnings late Thursday. Brean Capital also raised its price target for the stock to $85 a share from $72 a share.
Unfortunately for CarMax (KMX), it's wasn't TGIF. Its shares skidded nearly 4%. The biggest seller of used cars in the U.S. reported weaker than expected earnings largely due to what the company referred to as an accounting correction.
European markets finished higher on Friday, likely fueled by the European Central Bank's pledge yesterday to do some sort of quantitative easing, if necessary. Asian markets ended the week mixed. China's benchmark Shanghai Composite rose 0.7%, while stocks in Singapore dropped 0.3%. The Nikkei was little changed at close of trading on Friday.