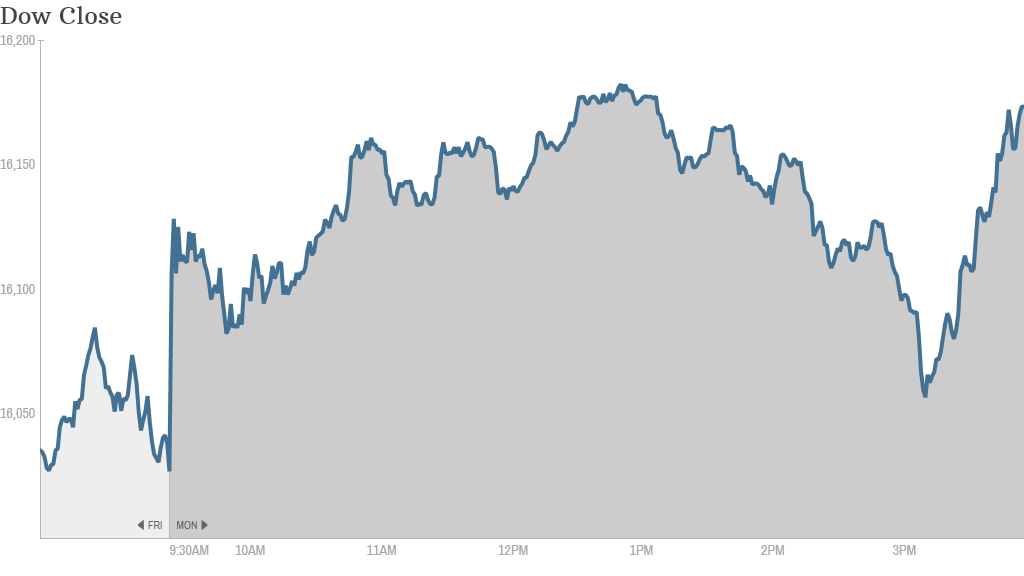 The stock market today felt a bit like a game of musical chairs with no one quite sure where it would end up.
Stocks ultimately finished higher, but about an hour before the close all bets were off as a late wave of selling hit the biotech sector hard pushing the iShares Nasdaq Biotechnology ETF into negative territory and dragging the Nasdaq with it, before both recovered.
In the end the Nasdaq finished up 0.60%, while the Dow and S&P 500 closed just shy of 1% gains. All three indexes are still down for the year.
"It looked like at the end of the day institutional investors were waiting to see if the rally fell apart but the Dow and S&P stayed positive. When they saw that, the Nasdaq closed with a gain," said Sam Stovall, chief equity analyst at S&P Capital IQ.
Much of the recent choppiness in the markets has been driven by so called "momentum stocks", the tech and biotech companies that had an incredible run in the past year, but have fallen sharply in recent days.
Related: Investors aren't bringing sexy back
But not today. New media companies like Facebook (FB), Twitter (TWTR), Amazon (AMZN), Netflix (NFLX) and biotech powerhouses Biogen Idec (BIIB), Gilead Sciences (GILD), and Alexion Pharmaceuticals (ALXN) all gained some ground.
"It's nice to see some green today, but investors are still shell shocked over what they've witnessed," said Brian Fenske, head of sales trading at ITG.
Right now it's all about earnings season.
Related: Can earnings save the day?
"As important as the actual earnings are, just as important will be how the stocks react. If Google beats expectations but the stock sells off, that's a worry," Fenske added. Google (GOOG), Yahoo (YHOO), IBM (IBM) and Intel (INTC) report earnings later this week.
Traders expect more volatility as earnings season kicks into full swing over the next few weeks. It's interesting to note that CNNMoney's Fear & Greed Index is still solidly in "extreme fear" mode.
The big earnings star today was Citigroup (C). It jumped more than 3%, helping ignite the morning rally in stocks. The third largest U.S. bank beat analysts' forecasts for first quarter earnings. Profits rose 4% from the same period last year.
Related: Things are looking up for Citigroup
Earnings from Bank of America (BAC), Goldman Sachs (GS), and Morgan Stanley (MS) come later in the week.
But one trader on StockTwits was skeptical of Citigroup's performance. JJSinghSTARR suggested that it had more to do with accounting than actual earnings,"$C For management... I'm not sure how smart it is to have these loan "write-ups" just after you failed a stress test. Counter intuitive?" Citigroup's capital plan failed a Federal Reserve stress test a few weeks ago.
MaxDamage echoed JJSinghSTARR,"$C Another day, another set of dodgy bank numbers. Look how they beat, and then you can see through the smoke and mirrors."
Related: Invest in the next Facebook ... for a few bucks
Another stock that took a pounding on Friday, but bounced back today was Herbalife (HLF). Shares of the multi-level marketer plunged after a report in the Financial Times saying the that the Department of Justice and the FBI had launched a criminal probe of the company. But Herbalife (HLF) said it had "no knowledge of any ongoing investigation by the DOJ or the FBI."
OPTIONSPAIDFORMYS550 was pessimistic, "$HLF The REAL question here is how SOON before one of the government agencies mentioned in Friday's article confirms the investigation."
But there were plenty of Herbalife (HLF) defenders like KiddoTrader,"HLF Bulls, don't be intimidated by some Ackman puppets on this board... use your common sense." Hedge fund activist Bill Ackman is a vocal critic of the company and has a billion dollar bet that the stock will go to zero.
Snoooop40 is another Herbalife (HLF) fan, "You may be unsatisfied with existing laws regarding MLM's (multi-level marketers), but $HLF will be found to be operating legally. The MUTHA of all bear-traps. Gulp."
Related: CNNMoney Tech30 Index
On the economic front, March retail sales posted their biggest gain since September 2012, up 1.1% as shoppers started returning to stores after the frigid winter months. Sales were exceptionally strong at auto dealers.
One of the biggest gainers in the S&P500 today was Edwards Lifesciences. (EW)That's because the company was granted a preliminary injunction limiting the sale of Medtronic's (MDT) competing heart valve system. Medtronic (MDT) slid on the news.
Related: Investors dip a toe back into emerging markets
European markets closed higher, but there was an air of caution regarding the growing threat of U.S. and European sanctions against Russia.
Russian stocks and the ruble dropped as the continuing strife between Russia and Ukraine ramped up to a fever pitch. Pro-Russian protesters seized a police station in Ukraine and the government threatened to oust them with a "full scale anti-terrorist operation."
"Even before this, the U.S. and Europe were threatening more sanctions as Russia forces remain amassed on the Ukraine border," wrote currency strategist Marc Chandler in a market report for Brown Brothers Harriman. "The position and weapons of those forces ... is leading NATO to conclude that Putin is seeking the full occupation of Ukraine."
Asian markets closed mixed.