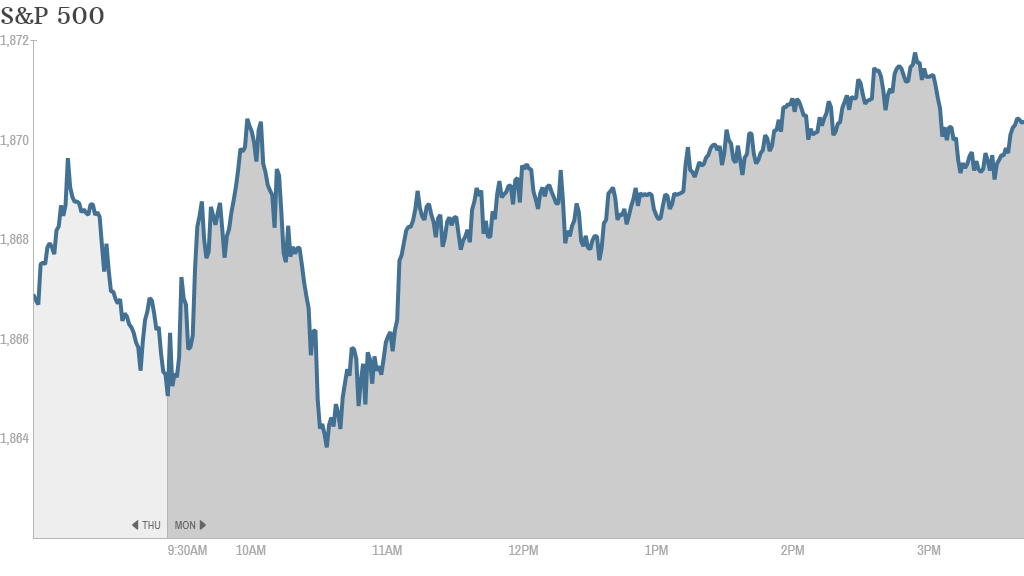 Stocks drifted higher Monday as U.S. investors got back into action after the long holiday weekend. It will be a week full corporate earnings reports, including well known brands like
Netflix

(NFLX),

McDonald's

(MCD) and

Facebook

(FB).

The Dow Jones industrial average, the S&P 500 and Nasdaq all ended the day with gains, albeit slight ones. The Dow was up only 0.25%. Trading volume was anemic with many professional money managers taking the day off.

U.S. markets were closed Friday for Good Friday. European markets and some Asian markets are still closed Monday for the Easter holiday.

The lack of excitement was palpable on StockTwits: "very dull morning...what is it they say...don't short a dull market... $SPY," said user howardlindzon.

Investors were looking ahead to corporate results due later this week, with 11 Dow companies and 161 of the S&P 500 scheduled to release quarterly reports.

Analysts expect overall earnings for the S&P 500 to have declined the first quarter, but results so far have been better than forecast. Of the 82 companies that have reported earnings as of last week, 66% have topped forecasts, according to Fact Set Research.

"This week should give us a better read on the earnings season," said Bill Stone, chief strategist at PNC Wealth Management.

Related: Americans still don't trust the stock market

But the earnings picture was mixed Monday.

Kimberly-Clark (KMB), a producer of consumer products including Kleenex, reported a loss that was smaller than the loss reported a year ago. The stock was down about 1.5%. Toy company Hasbro (HAS) also swung to a profit.

Halliburton (HAL) shares rose 3% after the oil field services company's earnings narrowly beat expectations. The company, along with others in the oil and gas industry, is riding a boom in domestic energy production.

"$HAL this shouldn't be a big surprise considering the outperformance in the energy sector as of late," said TarhiniTrade.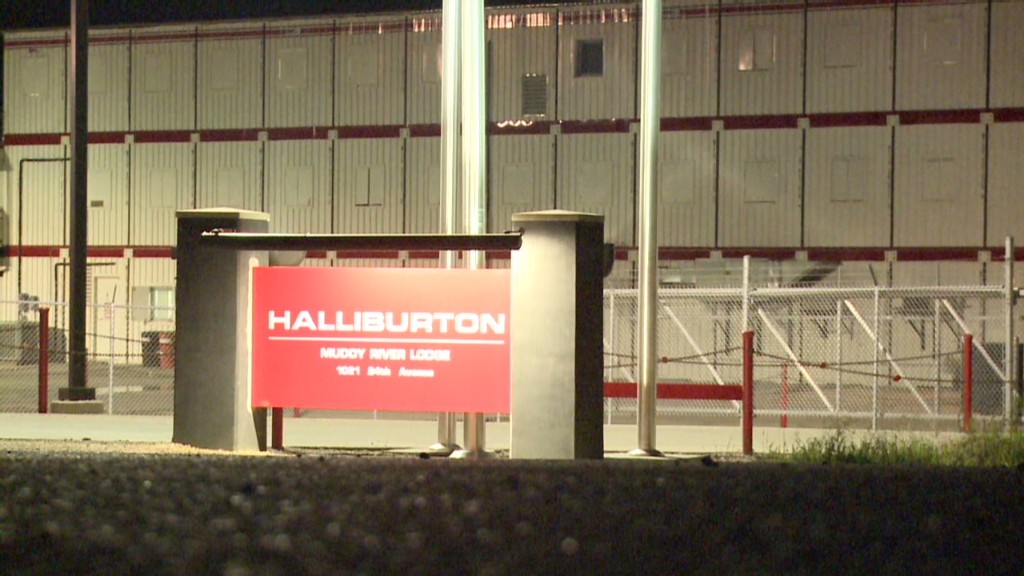 After the market closed, Netflix reported quarterly earnings that beat expectations. The company said it plans to raise prices for new customers by $1 to $2 in some countries later this quarter.
Netflix stock was up in after hours trading. It has been one of Wall Street's big momentum plays and the top performer in the S&P 500 last year, with an incredible 269% rise. But tech stocks have been volatile over the past several weeks, and Netflix shares are down 6% this year.
Related: Fear & Greed Index gripped by fear
Two of the biggest stock gains of the day were unexpected.
J.C. Penney (JCP) shares were rebounding from last week's losses. They finished the day up over 9%, although there wasn't a clear consensus on what was driving the upswing. Shares of Zillow (Z) were also up sharply (over 7.5%), adding to this year's 26% gain.
At least one trader on StockTwits said any surprises this week could help the market regain some momentum.
"Some strong earnings reports over the next few weeks have the POTENTIAL to end the recent Downtrend. $SPY $QQQ," read a post by DarvasTrader.
GM (GM), Apple (AAPL) and Stabucks (SBUX) are among the other big companies set to release results later in the week.
Lululemon (LULU) shares were under pressure following the company's analyst meeting Friday when some felt there wasn't a clear vision for how to increase sales. Over the weekend, a judge dismissed a challenge from shareholders who claimed they were misled about the quality issues at Lululemon last year.
TransCanada (TRP), which builds pipelines and other energy infrastructure, was down 3.7% Monday after the U.S. again push back a decision on the controversial Keystone XL pipeline.
Related: Keystone XL delay pounds TransCanada stock
Ford (F) shares were down slightly following a report that chief financial officer Mark Fields will replace chief executive Alan Mulally before the end of this year.
It was another sour day for Chipotle (CMG), which was the second biggest loser in the S&P 500 Monday. It continues to struggle after its earnings report last week as the company warned about rising food prices.
Shares of Newmont Mining (NEM) rose after Bloomberg reported that it's in talks to be bought by rival gold mining company Barrick Gold Corp (ABX). The report said negotiations hit a snag three days ago, but suggested that Barrick is willing to pay a significant premium.
Chinese social media company Weibo (WB), often compared to Twitter (TWTR), continued to rally following its initial public offering last week. The stock was up more than 13%.
Related: Weibo IPO leads Chinese stock invasion
According to one StockTwits user, Weibo now has a larger market value than its former parent company, SINA Corp (SINA), which has a market cap of $3.4 billion.
"Yes..at this exact moment $WB mrkt cap is now $1B more than the company it just spun from..$SINA," said Dlerch.