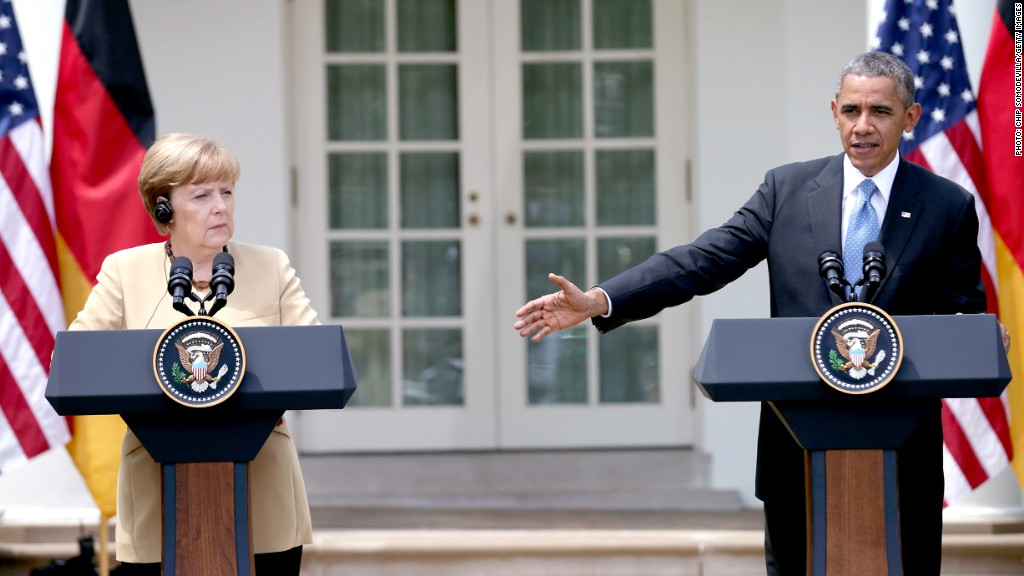 Is the West about to get tough with Russia?
President Obama and German Chancellor Angela Merkel say they are ready to impose sanctions aimed at sectors of the fragile Russian economy if Moscow's actions impede Ukrainian elections scheduled for May 25.
The United States and European Union have already targeted Russian officials with sanctions for annexing Crimea, and for stirring up separatist tensions in eastern Ukraine, where violence has escalated. The U.S. has also moved to freeze the assets of 18 Russian companies.
But neither Washington nor Berlin have moved yet to disrupt trade with Russia. Exports of energy and commodities -- the mainstay of Russia's $2 trillion economy -- are unaffected and financial sanctions have been limited to small banking groups.
Still, the risk of an escalation in the Ukraine crisis and tougher sanctions has raised uncertainty in the minds of investors, helping to fuel a flight of capital that has tipped the world's 8th largest economy into recession.
The ruble has fallen about 9% so far this year, and Russia's benchmark stock index is down 13%. Both have steadied slightly since hitting lows in mid March -- before the West unveiled its sanctions.
Related: U.S. presses CEOs to skip Russia's Davos
Borrowing costs for businesses and households are rising, further stifling investment and economic activity. The Russian central bank was forced to raise interest rates for a second month running last week after the nation's credit rating was cut to one notch above junk.
The International Monetary Fund has slashed its growth forecast for Russia this year to 0.2%.
Senior U.S. government officials concede that the measures taken thus far are unlikely to sway Russian President Vladimir Putin. But they argue that a graduated approach, including the threat of worse to come, gives him an incentive to seek a diplomatic solution.
Obama signed an executive order in March giving the U.S. the power to sanction Russian companies in sectors such as financial services, energy, metals and mining, defense and engineering.
He would not get into details about any further sanctions on Friday. But his remarks underscored how tricky it will be for the U.S. and Europe to design new measures that will hurt Moscow while containing the economic fallout.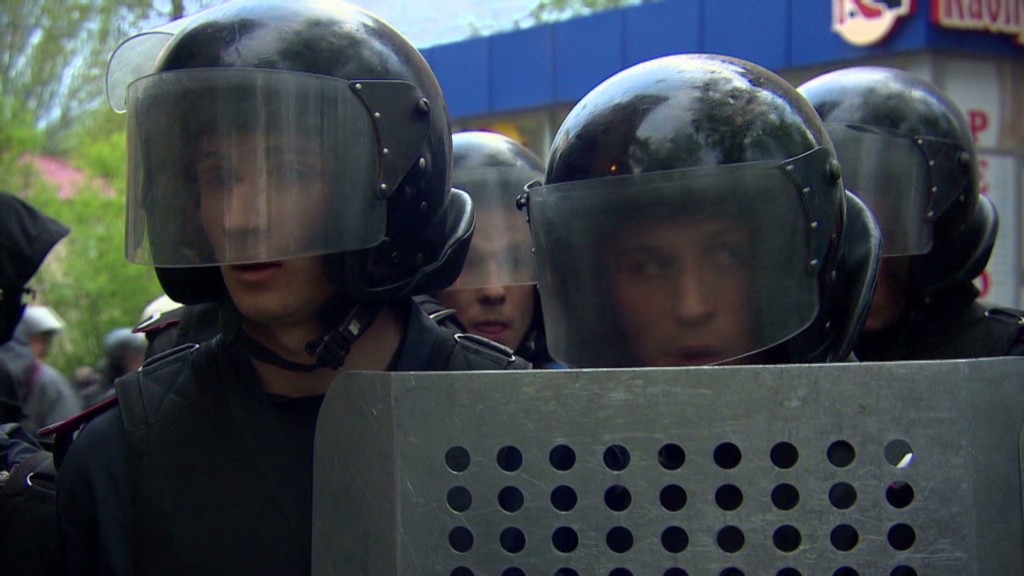 "The idea that you're going to turn off the tap" on all energy trade between Russia and Europe was "unrealistic," he said.
Related: Russia sets Ukraine gas bill deadline
Europe relies on Russian imports for 30% of its natural gas supplies, and Germany is particularly exposed. There are deep and long established ties between companies on both sides of the dispute.
"Short of a full energy embargo, sanctions against Russia would not hit the eurozone hard," wrote Berenberg chief economist Holger Schmieding in a research note. "However, a genuine war -- that is, Russian tanks rolling west to annex further parts of Ukraine beyond Crimea -- could be a major confidence shock for the eurozone."
Russia is the EU's third biggest trading partner after the U.S. and China. Trade in goods and services is worth more than $500 billion, more than 10 times the size of the U.S.-Russia relationship. Eurozone nations earn nearly 1% of GDP from exports to Russia.
It's almost impossible to judge how much pain Putin is prepared to take, but as long as oil and gas keep flowing, Russia will continue to rake in a stream of foreign currency that will help cushion the economy against the shock of sanctions in other areas.