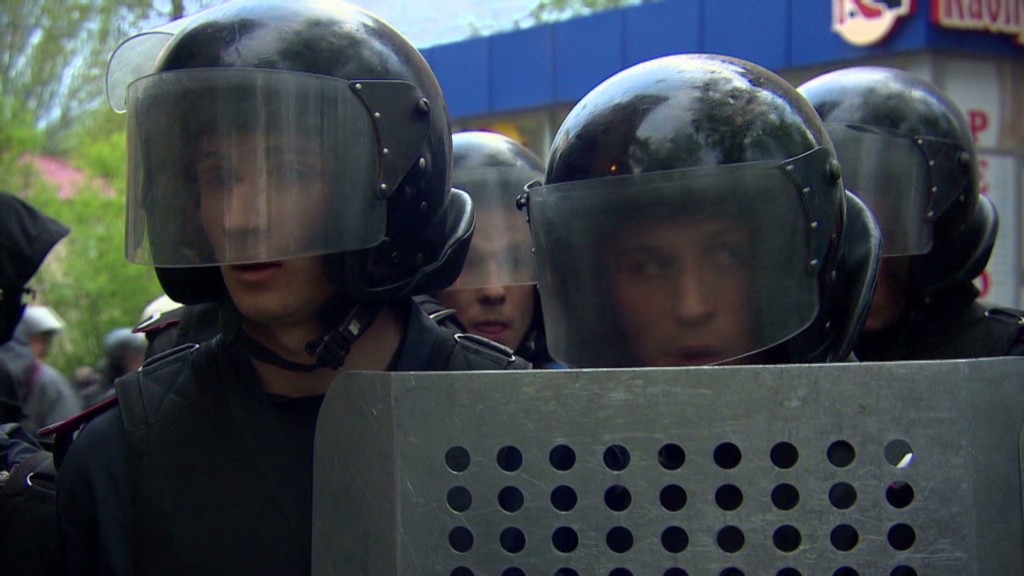 Russia has given Ukraine until the end of the month to make an advanced payment for natural gas or risk being cut off from June 1.
Europe relies on Russia for more than 30% of its gas, and half of that is pumped through Ukraine. Any significant disruption in supplies to Ukraine could hurt European companies and households.
The warning followed a meeting between Russia, Ukraine and the European Union in Poland on Friday. The talks were held in an attempt to avoid a repeat of gas cuts caused by previous disputes between Russia and Ukraine in 2006 and 2009.
Russian Energy Minister Alexander Novak said state gas exporter Gazprom (GZPFY)would issue the June gas bill on May 16. Ukraine would then have until May 31 to pay.
"If the bill is not paid till that date, Gazprom will have a possibility to limit gas supplies or to supply as much gas as is paid for till May 31," Novak said, according to Russian state media.
The gas dispute between Moscow and Kiev is escalating as violence flares in eastern Ukraine between government forces and pro-Russian militants.
Related: U.S. presses CEOs to skip Russia's Davos
Europe and the U.S. have imposed sanctions on Russia for its annexation of the Ukrainian region of Crimea. The West has warned of tougher measures to come if it fails to use its influence to calm separatist tensions in the east of the country.
Gazprom says Ukraine owes it nearly $3.5 billion for past gas supplies.
Last month, the company hiked the price it charges Ukraine by about 80% to $485.50 per thousand cubic meters of gas. By comparison, Gazprom charged European countries an average of $377.50 per thousand cubic meters in 2013.
Ukraine says the price rise is discriminatory and it can't afford to pay. The International Monetary Fund approved a two-year $17 billion bailout for Ukraine on Wednesday, saying it was ready to release $3 billion immediately.
Europe is looking at ways to reduce imports of Russian energy but many of them -- such as shale gas investment -- won't bear fruit for years.
European imports of Russian gas rose by 15% last year.