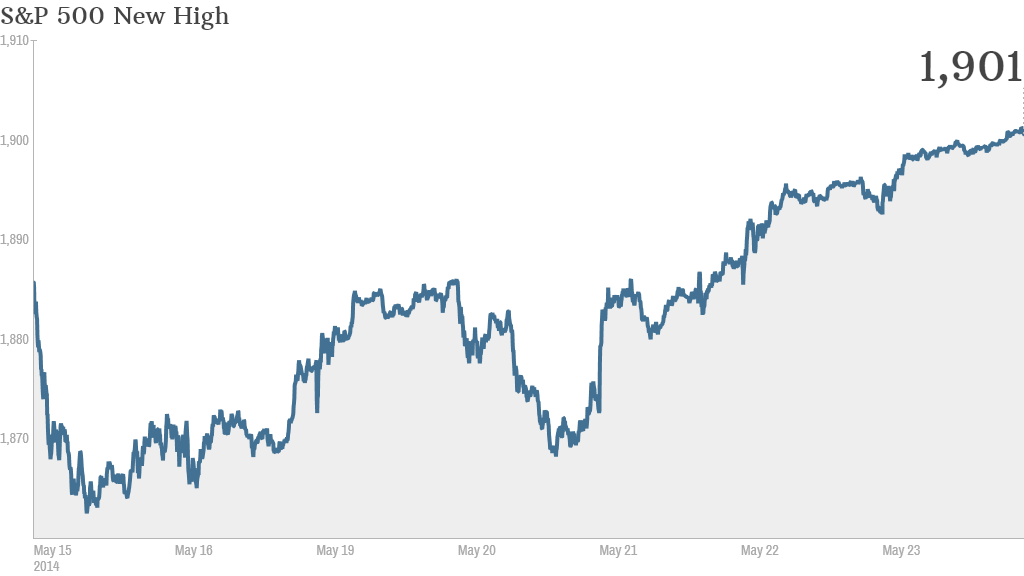 Investors ended the week on a high note before hitting the beach and barbecue for the long weekend.
Here's what you need to know before kicking off the holiday:
The Dow, S&P 500 and Nasdaq all rose on Friday. The S&P 500 closed at a new record of 1,900.5. The Dow ended the day up about 0.4% and the Nasdaq was up nearly 0.8%.
It's been a good week on Wall Street, with all three indexes finishing in positive territory, led by the Nasdaq's more than 2% gain.
1. Good day for shoes, not so pretty for clothes
In the corporate world, Foot Locker (FL) bounced over 1.5% after the retailer reported a 14% jump in first quarter sales. The company said its quarterly sales and profits were the highest in its history.
"Footlocker Q points to casual footwear trend remaining strong as ever...$FL," said retail_guru on StockTwits.
But things weren't all good in the world of apparel, as Aeropostale (ARO) shares plunged more than 24%. The clothing company reported a narrower-than-expected loss for the first quarter, but said comparable sales decreased 13%.
StockTwits trader oracleofla felt the stock's punishment didn't fit the crime.
"$ARO i think this is a bit excessive..i am gonna jump in," he said.
2. HP cuts jobs, but stock jumps
Hewlett-Packard (HPQ) is enjoying a nice rebound with a 6% pop on Friday. The tech giant fell Thursday in late trading. In an apparent error, the firm released its earnings report before the closing bell, which included plans to cut 11,000 to 16,000 jobs on top of the previously announced 34,000 job cuts.
StockTwits trader kaley didn't think HP's big jump Friday was warranted.
"$HPQ not seeing the enthusiasm for this company...they are doing a lot of cost cutting...not a good sign," she said.
Related: Did you work for HP? We want to hear your story
Apple (AAPL) finished the week at $614 a share, a 52-week high point for the company. Apple's Worldwide Developers Conference takes places June 2 to 6, which often bring the unveiling of new products. The stock is also set to split in early June with trading of the lower priced shares to begin on Monday, June 9.
"$AAPL finally doing what it is suppose to. Of all the stocks out there this is the most undervalued and underappreciated one," declared MarlonSilos on StockTwits.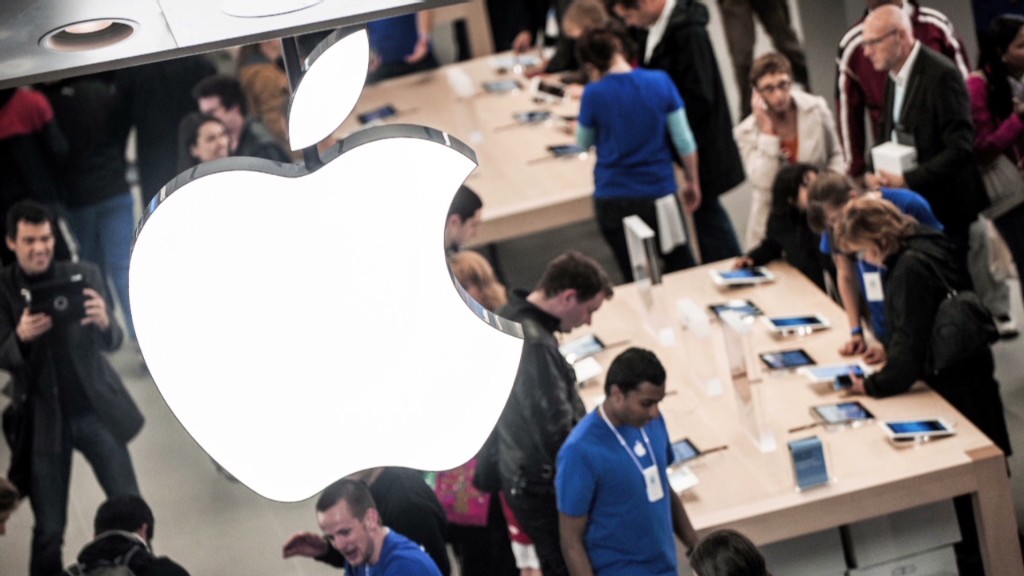 Shares of eBay (EBAY) recovered somewhat after taking a hit Thursday. The ecommerce conglomerate remains in the spotlight amid criticism that it was slow to inform customers about a hacking incident.
CNNMoney's Tech 30 index is up 1% Friday, although it's still down for the year, reflecting the roller coaster ride for many tech stocks so far in 2014.
3. Russia, Thailand: Big talk, not much market movement
On the international front, traders were keeping tabs on geopolitical developments. Speaking Friday at an international economic forum in St. Petersburg, Russian President Vladimir Putin warned of a "dangerous civil war" in Ukraine as fresh violence erupted ahead of this weekend's presidential election.
Still, European markets mostly finished in positive territory.
In Asia, shares of Thailand's main index slipped 1% and the baht dipped against the dollar after Thursday's coup. Fitch said any further escalation in political instability could cause lasting damage to the economy.
Other Asian markets ended with gains.