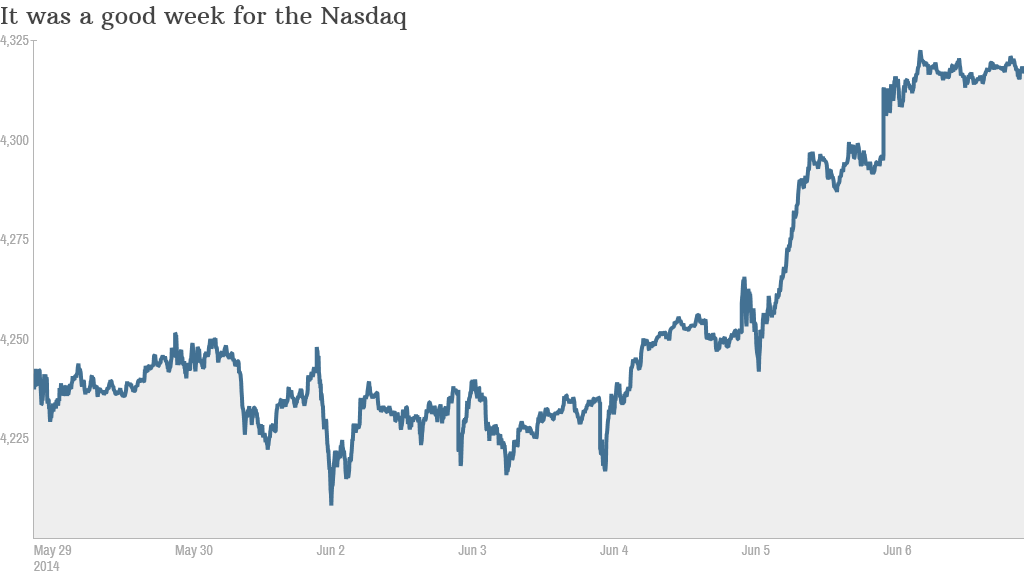 This is how to start your Friday off right: More money in your stock portfolio.
The stock market once again closed at record levels thanks to a stronger-than-expected jobs report on Friday morning.
The Dow Jones Industrial Average, S&P 500 and Nasdaq Composite all closed about half a percent higher for the day, with the Dow hitting 16,924.28 and the S&P 500 ending at 1,949.44.
This week has been a strong one overall for the markets. All three of the major indexes have gained at least 1%. The Nasdaq is up over 1.8% as tech stocks continue to rebound from the spring sell-off.
"The US economy says please have a quiet and enjoyable weekend," wrote Societe General's Kit Juckes in a note to investors.
Related: Oh, the places you'll go (for yield)!
Here were the top talking points from the trading day:
1. Jobs! Lots of 'em: Things are looking good in the job market. The government said the U.S. economy created 217,000 jobs last month, more than the 200,000 expected by economists polled by CNNMoney.
That's not as much as the 282,000 jobs created in April, but it's enough to get America back to where the labor market was before the recession. The unemployment rate also held steady at 6.3%. Now, the economy needs to create enough jobs for the additional folks who have joined the labor force since then.
Related: Has your stock portfolio recovered since the financial crisis?
2. Apple slices... Today was the last trading day before Apple's 7-for-1 stock split goes into effect. The stock closed at $645.6 today, down slightly for the day. It will be under $100 when it opens on Monday. The move doesn't change anything about the company, except making it easier for average investors to buy the stock.
David Ikenberry, a University of Colorado professor who studied stock splits way back in 1995, said stocks that split do tend to show gains after because the split is taken as a sign that management wants to keep things affordable for smaller investors so they can get in on the good times.
"When the stock price gets high, the story -- and it's just a story -- the stock price was perceived as expensive and outside the range of retail investors," he said.
Related: Do you own Apple stock? Do you plan to buy it after the split?
3. Afternoon snacks news: Green Mountain Coffee Roasters (GMCR) shot up 8.4% in late afternoon trading to lead the S&P 500, although a reason hasn't quite emerged. Competitor SodaStream (SODA), which traded pretty evenly throughout the day, enjoyed a tidy 2% bounce as well.
Diamond Foods (DMND) shares fell about 11%. Diamond, the company behind Emerald Nuts and Pop Secret, is out of favor with investors after delivering poor earnings and mediocre sales in its quarterly filing yesterday.
4. Stock movers: Bank of America, Amazon, Joy Global: Bank of America (BAC) is on the verge a deal with the Justice Department that could lead to a $12 billion settlement related to the bank's mortgage banking practice. Investors took this as a good sign with the stock finishing 1% higher.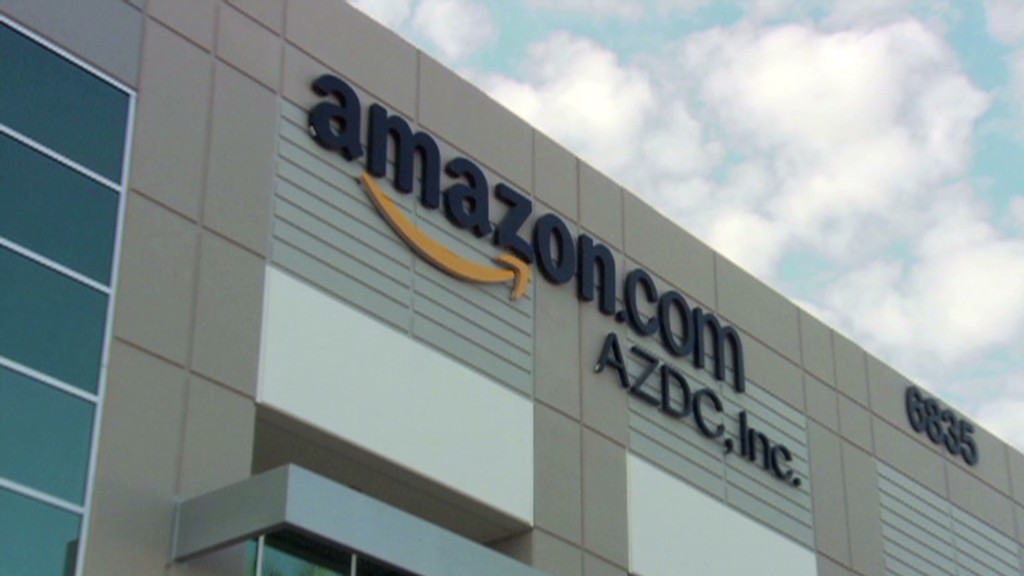 Amazon (AMZN), which is in the midst of a tiff over book publication rights with Hachette, ended Friday up 1.9%. The stock has rallied since unveiling a YouTube video to tout a new product launch on June 18. It's expected to be a smartphone with a 3D screen.
5. International markets: European markets did well on Friday, led by a 1.7% rise in Spain, as the ECB's stimulus package continued to bolster appetite for riskier assets. London's FTSE 100 climbed about 0.7%. The euro slipped slightly against the dollar.
Asian stocks were mixed. Chinese and Japanese stocks were modestly lower, but India's Sensex is still enjoying its Modimoon, closing up 1.5%.