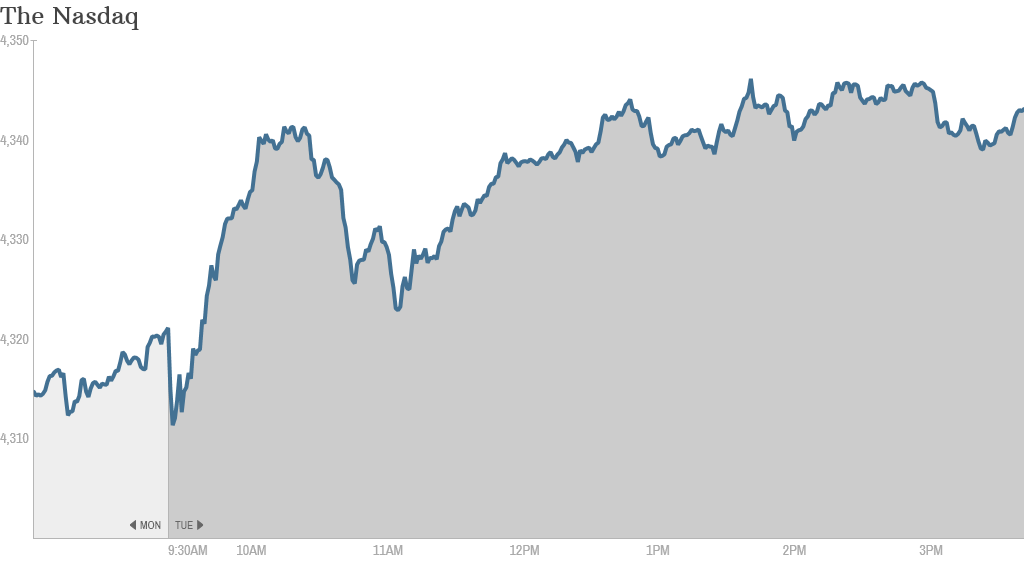 You don't have a grand slam kind of day every day, but any day that you finish ahead is a good one.
The Dow Jones Industrial Average, S&P 500 and the Nasdaq Composite all closed higher. The tech-heavy Nasdaq led the charge -- up almost 0.4% -- on the back of strong gains from Tesla (TSLA) and Netflix (NFLX), among others.
CNNMoney's Tech 30 Index ended a solid 0.7% higher.
Here's some highlights from today's trading:
1. A good day for Elon Musk: New Jersey's lawmakers passed a bill to allow electric car manufacturer Tesla (TSLA) to again be able to sell its electric cars directly to customers in the state. A recent decision by the state's Motor Vehicle Commission barred the practice.
"Tesla is pleased that the New Jersey State Assembly has sent an overwhelming message of support for consumer freedom of choice," said Diarmuid O'Connell, Tesla's vice president of corporate and Business Development.
The company's shares were more than 3% higher, building on momentum from yesterday's gains after the company said it would share its patent information. Tesla stock is up over 54% for the year.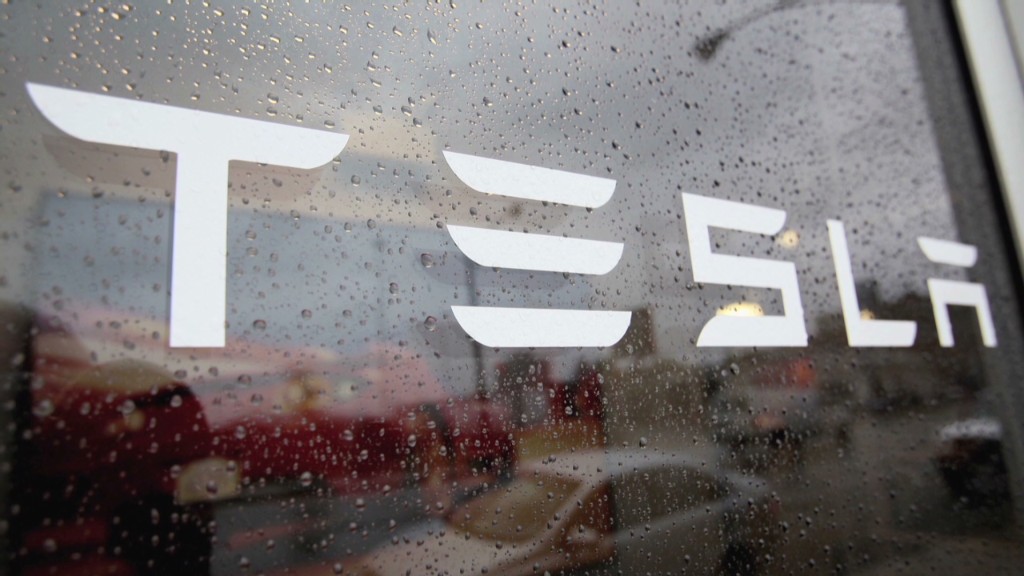 In a separate development, his green energy company SolarCity announced that it acquired solar panel manufacturer Silevo for $200 million in stock plus as much as $150 million more should the company hit certain output milestones. SolarCity (SCTY)'s shares popped more than 17.5%.
Related: The Fear & Greed Index is in Extreme Greed mode
2. Online Brokerages Flash Higher: Charles Schwab (SCHW), TD Ameritrade (AMTD) and E*Trade Financial (ETFC) shares are up after a U.S. Senate hearing where on high-frequency trading (HFT).
Senator Carl Levin (D-MI) was heavily critical of "conflicts of interest" among retail brokerages, who receive rebates from some HFT-friendly exchanges to route their orders there, and what he said equaled a depressed level of retail investor confidence.
"The conflicts of interest that we discussed contribute to that lack of confidence," he said.
Steven Quirk, senior vice president of TD Ameritrade's trader group, testified at the hearing. His firm received $236 million in order-routing revenue in 2013, which the company disclosed in a filing on Friday.
Apparently, the market thought the online brokerages came out okay. Charles Schwab stock closed 5.5% higher, TD Ameritrade was up about 4.7% and E*Trade shares were doing even better, finishing 7.7% higher.
Related: Get caught up on why the "Flash Boys" are in the hot seat
3. Inflation: Today's the first day of the Federal Reserve's big meeting, and investors hotly anticipated the latest inflation data from the Bureau of Labor Statistics. May consumer prices were up 0.4% from April and 2.1% annually, beating economist expectations.
The so-called "core inflation" (which excludes volatile categories like food and energy) rose 0.3% from last month and 2% annually, also beating expectations.
Although the Fed is keeping a close eye on inflation and unemployment, this month's price data likely won't be enough to cause any immediate Fed policy changes. Expect a lot of attention tomorrow on the "dot plot," the Fed's version of a straw poll, as investors try to deduce whether rates are going up sooner than expected.
Related: These dots could move markets
4. Tech Movers -- Netflix: Netflix (NFLX) stock had a terrific Tuesday. Shares finished up more than 3% after an upgrade by Morgan Stanley (MS), which now recommends overweighting the video company. The investment bank's analyst on the stock said it expected Netflix to double its customer base by 2020. Shares are now just $10 shy of the record close they saw back in March.
"$NFLX Look at that, just a stone's throw from all time highs," wrote StockTwits user 10handles.
Meanwhile, Amazon (AMZN) will reportedly give AT&T (T) exclusive access to its new smartphone. Amazon ended its day down slightly, while AT&T finished a bit higher than yesterday. T-Mobile (TMUS) CEO John Legere was not happy about it.
Related: T-Mobile CEO blasts AT&T and Amazon on Twitter
5. Foreign stocks mixed. Argentina on watch: Emerging market investors kept an eye on Argentina's stock market after yesterday's 10% drop. The benchmark Merval index closed 4.25% higher.
The US Supreme Court declined to hear a major part of the country's appeal of a lower court ruling ordering it to pay creditors from a 2001 default who are seeking full payment. Many fear the decision may push Argentina close to another default.
Elsewhere in the world, Asian stocks were mixed, with Chinese stocks lower, India's Sensex closing 1.3% higher and Japanese stocks positive. European stocks were also mixed, with the FTSE 100 index closing a hair higher.