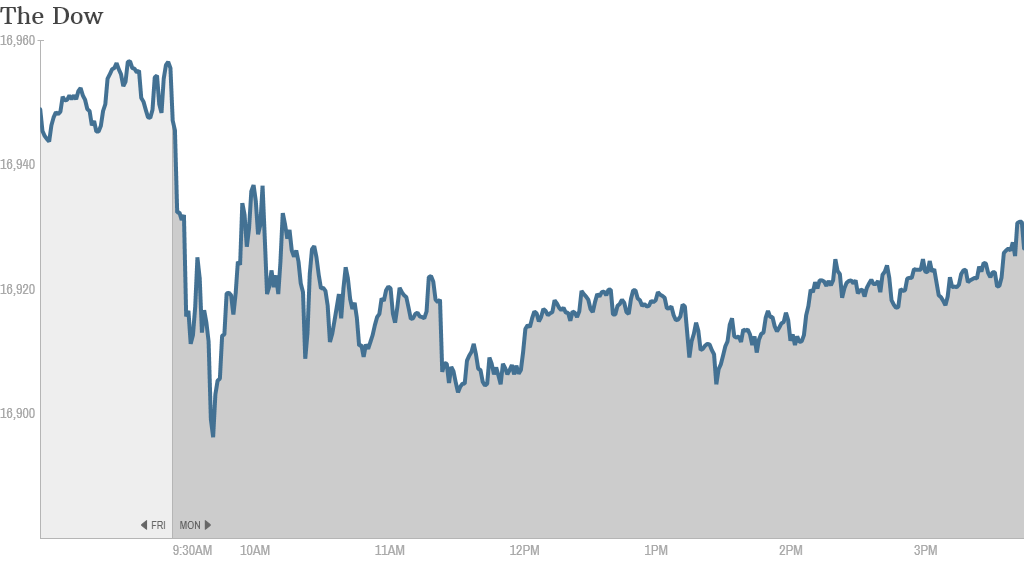 The first official summer trading day on Wall Street turned out to be a treading water kind of day. Stocks were flat, and there weren't many big movers. Insert a yawn here...
The Dow Jones Industrial Average closed fewer than 10 points lower (0.06% off). The Nasdaq ended the day slightly positive and the S&P 500 dropped slightly. By "slightly," we're talking 0.01%.
Many hope this could be the week the Dow cross the 17,000 mark for the first time, but it certainly wasn't today. It's largely a psychological barrier, but it would be another point in the market's phenomenal bull run that saw the Dow close above 16,000 for the first time just seven months ago.
Related: What does Dow 17,000 mean, anyway?
Here are some highlights from today's trading:
1. Worrying signs from Europe: Here's the conundrum: There's encouraging economic news in the U.S.. but discouraging news in Europe. It happened again Monday with the release of key manufacturing data in America, France, Germany and the Eurozone.
America's purchasing managers index (PMI) came in above expectations and is pointing toward growth in the sector the second half of the year. Additionally, the Federal Reserve Bank of Chicago released an index of economic activity that also pointed toward growth.
In Europe, however, things continue to slow. France, Germany and the Eurozone all saw their PMIs come in below expectations.
"At the end of the day, stock markets are driven by profit growth, and profit growth isn't following through on the economic data," said Mark Luschini, chief market strategist for Janney Capital. He said Europe's troubles are hindered U.S. equities.
CNNMoney's Fear & Greed Index in extreme greed
2. Turmoil in the fashion industry -- Lululemon & American Apparel: American Apparel (APP) board co-chairman Allan Mayer denied takeover rumors to Reuters, saying the company is not for sale. The retailer continues to deal with the fallout from firing its former CEO Dov Charney last week. Now Charney has fired back, writing a letter to the board challenging his dismissal. The company is struggling to turn itself around. Shares finished about 2.5% lower and continue to trade for less than $1.
"So much drama around $APP," wrote StockTwits user heythere. "I'm going to wait for things to settle, but will watch closely."
Lululemon (LULU) shares have bounced today after reports that the company's founder Chip Wilson hired Goldman Sachs (GS) to help him strengthen his role at the company, where he is the largest shareholder. Lululemon shares ended the day around 2.5% higher.
Related: American Apparel's ousted CEO fights back
3. Buying power in energy stocks: Wisconsin Energy (WEC) announced this morning that it will acquire Integrys Energy Group (TEG) for for $71 per share in order to increase its natural gas business and its footprint in the Great Lakes region. Wisconsin's stock is down more than 3%, and Integrys shares jumped over 12% to $68.35.
Tim Winters, a utility analyst for Gabelli & Co., said the deal makes sense as natural gas becomes a bigger part of the U.S. energy supply. He also said the deal would be a "mild positive" for consumers in Wisconsin Energy's service area, as they might see some savings borne out of reduced costs
4. Big deal for Micros: Computer giant Oracle purchased MICROS Systems (MCRS), one of its largest customers, for more than $5 billion. Micros specializes in providing software applications to the hospitality and retail sectors, and has worked with Oracle for more than 15 years. Oracle shares were flat, and Micros stock rose more than 3%.
Related: CNNMoney's Tech 30 index slightly higher Monday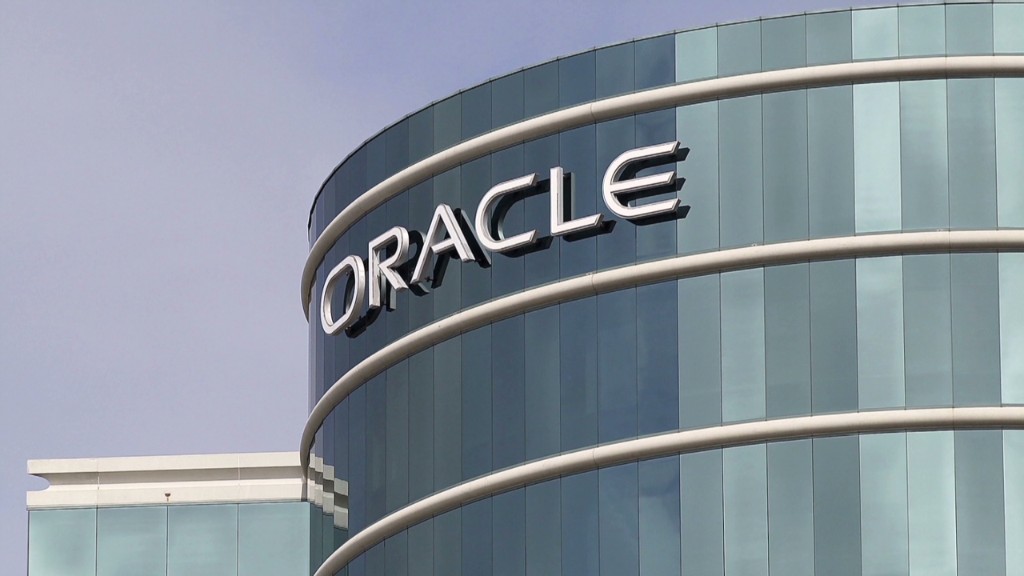 5. Oh la la -- GE finally snags French prize: General Electric (GE) has finally beat out Siemens and closed the deal on French company Alstrom (ALSMY) to the tune of $17 billion, much more than its initial $13.5 billion bid. The French government had opposed the deal because it was concerned the merger would lead to job losses and a dilution of Alstom's French Brand.
GE stock is down slightly, and Alstom's French shares closed more than 4% lower.
6. Real estate picks up: The National Association of Realtors released data Monday showing that the pace of May existing home sales rose to 4.89 million a year, which is above the market's expectations for an annual rate of 4.73 million. Homebuilder stocks like Toll Brothers (TOL) and PulteGroup (PHM) finished slightly positive. Lennar (LEN) ended the day a bit lower.
The NAR said that May's uptick, at nearly 5%, was the fastest month-to-month growth since August 2011.
"Home buyers are benefiting from slower price growth due to the much-needed, rising inventory levels seen since the beginning of the year," said Lawrence Yun, the NAR's chief economist. "Moreover, sales were helped by the improving job market and the temporary but slight decline in mortgage rates."
7. BNP Paribas on verge of settlement with U.S.: The bank is on the cusp of a $9 billion settlement with the U.S. Justice Department on allegations that it did business with off-limits countries. The French bank's shares ended the day nearly flat. There are fears that the fine could hurt BNP's credit rating.
8. Oil prices: As fighting in Iraq intensifies and Israel continues launching rockets into Syria in retaliation for the killing of an Israel teen, keep an eye on oil prices. After a steady rise last week, WTI crude oil has backed away from the $107 barrier and was down almost 0.7% for the day.
Related: Rising oil prices trigger economic growth concerns
9. International Markets: Argentina's benchmark Merval index, which is pretty volatile lately, surged more than 8.5% today on news that the country may be able to reach a settlement with its holdout creditors that would avoid a default.
European stocks are largely down, with the FTSE 100 closing 0.36% down. Asian markets are also a mixed bag. Chinese stocks did well after the country's manufacturing sector showed its first expansion in six months. The Hang Seng fell 1.7%, but shares traded in Shenzen were up nearly 1.1%.