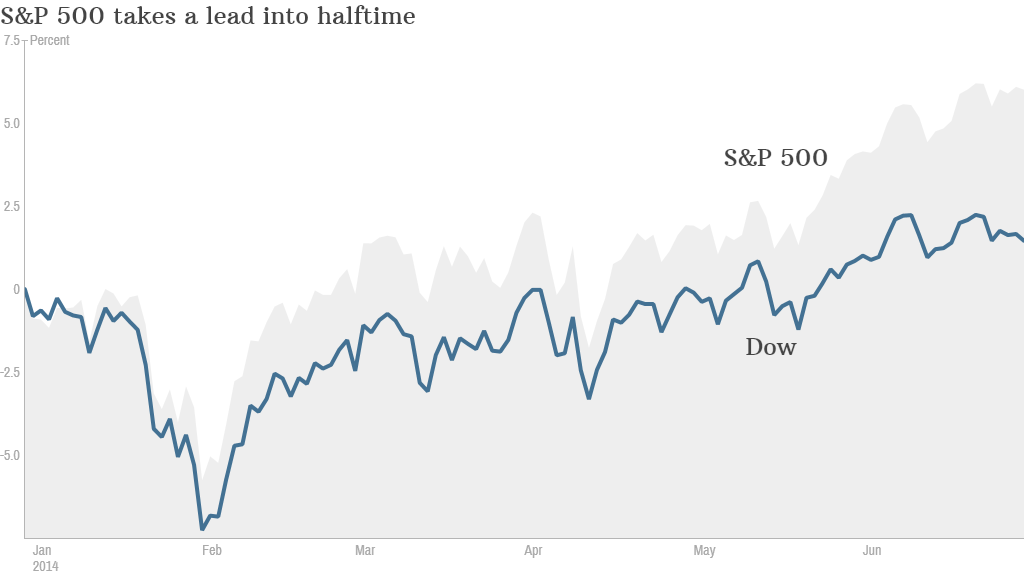 That's a wrap! The first half of 2014 on Wall Street is officially in the books -- and performance was solid despite a lackluster finale on Monday.
Here's what you need to know:
1. By the numbers: Both the Dow Jones Industrial Average and S&P 500 lost ground slightly on Monday after flirting with record highs previously.
But the S&P 500 has already logged 22 record highs this year alone, ending the first half up 6%. While that first-half rally trailed last year's performance, it still easily bested the Dow's narrow gain of just 1.5%.
Interestingly, that's the biggest halftime lead by the S&P 500 over the Dow since 2009 and the seventh-biggest since 1929, according to Bespoke Investment Group.
Related: The 2014 half-time report
Meanwhile, the Nasdaq landed safely in the green on Monday, leaving it up a healthy 5.5% so far this year.
Tech stocks outperformed on Monday, as evidenced by the 0.5% gain for CNNMoney's Tech30. Standouts included Apple (AAPL), SINA (SINA) and BlackBerry (BBRY). Then there was GoPro (GPRO), in a league of its own, continuing its red hot start as a public company. After zooming last week, the wearable camera maker popped another 13% today.
Related: Fear & Greed Index still extremely greedy
2. More housing hopes: Wall Street briefly cheered new signs of progress in the very important housing market. The National Association of Realtors said U.S. pending home sales jumped 6.1% in May, representing the biggest monthly increase since April 2010. Economists had been anticipating a more modest increase.
The bullish housing news lifted shares of home builders like Lennar (LEN) and PulteGroup (PHM).
3. Stock movers -- Yahoo, American Apparel, GoPro: Yahoo (YHOO) enjoyed a 2.5% bump after the Internet company was upgraded to "overweight" by Piper Jaffray.
Related: Yahoo's Marissa Mayer loves Alibaba
While Yahoo's core business remains "challenged," analyst Gene Munster said his bullish call is based on the belief that the company's stake in Alibaba is "undervalued." Last week, the Chinese e-commerce giant revealed plans to list its highly anticipated initial public offering on the New York Stock Exchange.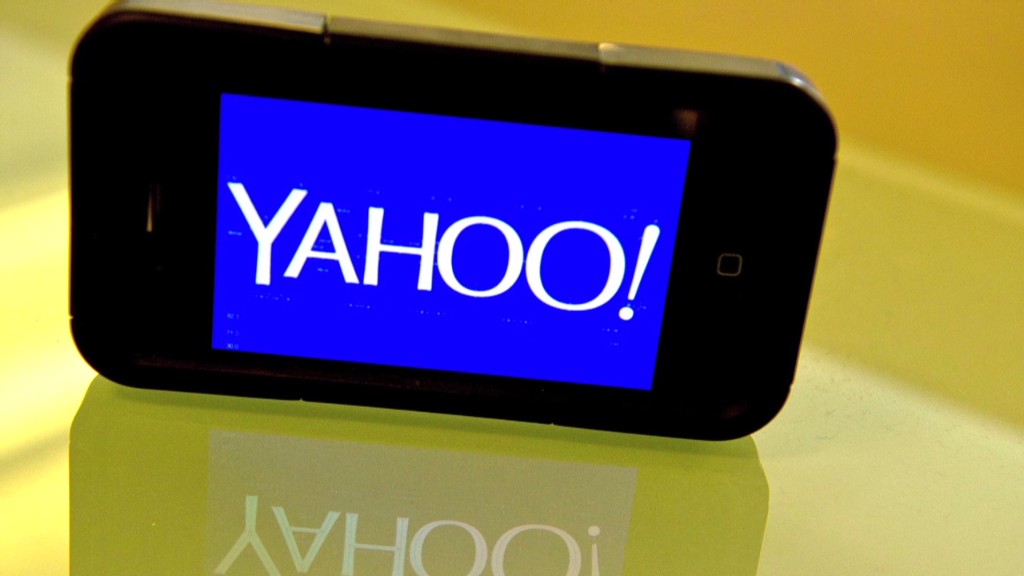 American Apparel (APP) dropped 6% after the company announced plans to adopt a shareholder rights plan in an effort to prevented ousted chairman (and founder) Dov Charney from seizing control. The sell-off follows a surge of nearly 30% on Friday.
Related: Founders in hot water at American Apparel, Lululemon
It was truly a great leap for MannKind (MNKD). Shares soared nearly 10% after the company said the Food and Drug Administration approved a powder form of insulin that is inhaled. The stock is up 113% year to date.
PPG Industries (PPG) logged a 3% gain after unveiling plans to acquire a Mexican coatings company for about $2.3 billion.
Bank of New York Mellon (BK) advanced 3.5% as activist investor Nelson Peltz and his Trian Partners revealed a $1.05 billion stake in the financial company.
Related: Adrenaline rush! GoPro surges again
4. Investors yawn at Facebook, BNP headlines: Facebook (FB) is in hot water after it was revealed the social network conducted a 'mood' experiment on users without their knowledge or explicit consent. Facebook's terms of service give the company permission to conduct this kind of research, but many users have reacted with anger.
Wall Street, however, was unmoved by the drama. Facebook's stock closed down less than 0.5% after posting gains earlier in the day.
The U.S. Department of Justice is expected to announce a multi-billion dollar settlement with French banking giant BNP Paribas (BNPQY) on Monday. The bank has been subject to a long running criminal investigation over accusations that it breached U.S. sanctions on Iran, Sudan and other countries. Shares of BNP rose ever so slightly in Paris.
5. Dubai crumbles, Bulgaria booms: Investors continue to give Dubai's stock market a big thumbs down.
The DFM General Index plunged 4.4% on Monday due to worries about property stocks, especially contracting giant Arabtec Holdings. Dubai plummeted 22% in June, its worst month since 2008.
On the other hand, Bulgaria's stock market raced almost 6% higher after the European Union gave the green light to the country providing $2.3 billion in state aid for banks. The move follows a series of arrests of men accused of fueling bank runs.
Both European and Asian markets closed mixed. The main loser of the day was Australia's ASX All Ordinaries index, which dropped by 0.9%.
Argentina's markets fell just modestly even as the country faces a Monday deadline to pay two groups of bondholders. The way things unfold from here will determine Argentina's ability to move past its 2001 default and regain access to foreign funds.