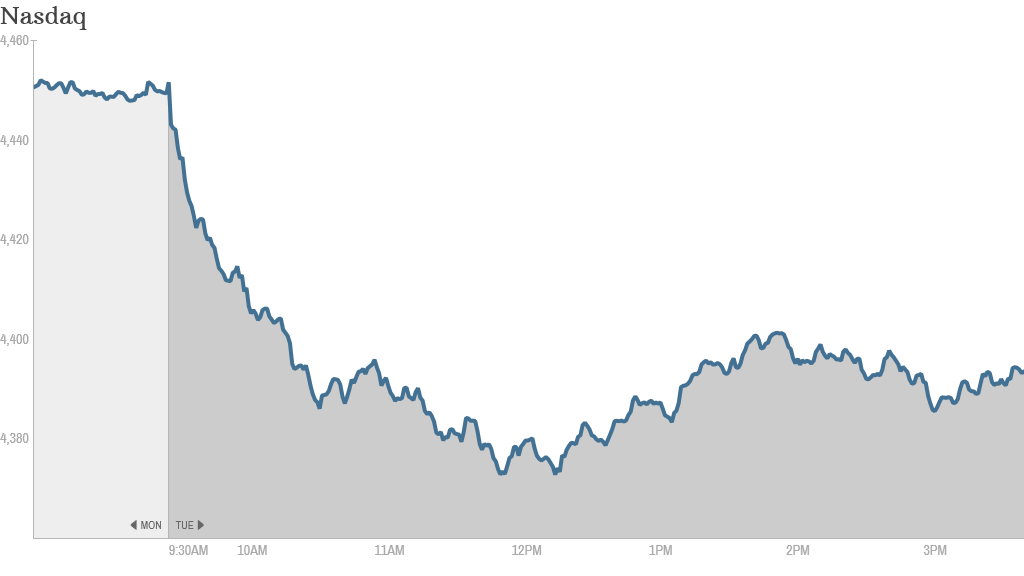 It might be a big World Cup day, but in the stock market, it was "World Slump" day.
Here are the key talking points:
1. Bad day for stocks: All three major U.S. indexes retreated with the Nasdaq losing 1.35%. This was the 30th trading day so far this year that the Nasdaq has moved more than 1% up or down.
The Dow Jones Industrial Average lost 118 points (0.7%) and the S&P 500 sunk 0.7%. There was a lot of excitement about the Dow cresting over 17,000 last week, but it finished the day a notch above 16,900.
Meanwhile volatility is creeping back into the market. CNNMoney's Fear and Greed Index, which tracks seven indicators of market sentiment, has moved from "extreme greed" into "greed."
Some of the pessimism could simply have been investors realizing their gains after the recent stock market rally. But there are deeper concerns about company valuations and whether the Federal Reserve will raise interest rates sooner rather than later.
2. Tech takes beating: Tuesday's sell-off was most pronounced in the tech world, where some of the big so-called momentum stocks pulled back. CNNMoney's Tech 30 Index ended down 2.1%, with Twitter (TWTR) as its most unfortunate victim. Shares of the microblogging service tanked over 7% Tuesday.
"$TWTR is done. Take the money and run very fast," said MickeTrader on StockTwits.
Linkedin (LNKD),Facebook (FB), Netflix (NFLX), and Amazon (AMZN) also lost big.
3. Earnings season is here! Alcoa (AA) unofficially kicked off earnings season Tuesday when it released its second quarter results after the bell. So far, so good. The aluminum producer rose in after hour trading after it beat analyst estimates.
Related: Corporate profits: Can they keep going and going?
With the S&P 500 index already up 6% this year, investors will be looking closely to see whether corporate profits can support stocks and to what extent markets have been relying on cheap money from the Federal Reserve to push indexes to new records.
Second quarter earnings are expected to grow 4.9% compared to the same period last year, though that estimate is down from the 6.8% prediction at the start of the quarter, according to data from FactSet.
Related: Fear & Greed Index in greed
4. Other movers: More drama at American Apparel: Shares of American Apparel (APP) plunged after the struggling company warned it received a notice of default from a lender related to last month's ouster of founder and CEO Dov Charney.
However, American Apparel disputed that default claim and is exploring ways to tap its revolving credit facility to repay the lender. The New York Post reported American Apparel has reached a preliminary deal to transfer control of the board to a hedge fund aligned with Charney.
Also on the fashion front, Guess (GES) rallied -- up almost 4% -- after the retailer was upgraded by analysts at Piper Jaffray, who pointed to strength in the company's European business.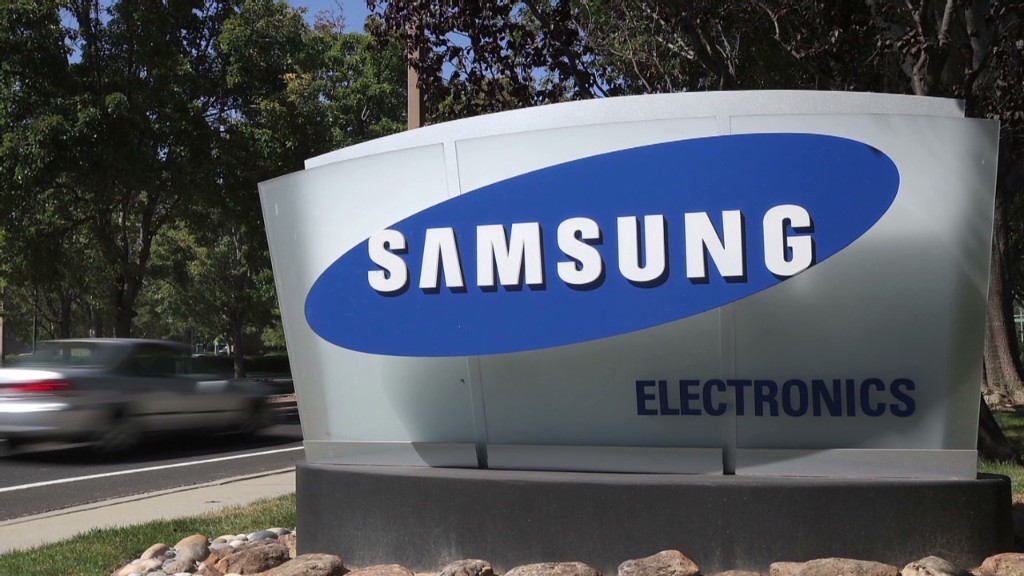 5. No help from overseas: European markets were weaker, with airline and banking stocks under pressure. Air France KLM (AFLYY)cut its earnings forecast due to overcapacity on routes to North America and Asia. In that vein, Delta Air Lines (DAL) dipped again. The stock is down over 9% in the past week after the company released revenue figures that showed weakness on certain overseas routes.
Some bank stocks took a hit from a New York Times report saying Germany's Commerzbank (CRZBF) and Deutsche Bank (DB) are next in line for punishment by U.S. authorities. Sentiment was also soured by weaker than expected German export data for May.
Asian markets ended mixed.
South Korean-based Samsung warned that revenue and profit will fall in the second quarter as the company struggles to find new smartphone buyers in an already saturated market. The electronics maker warned that operating profit could fall to 7 trillion won ($6.9 billion) -- a 26% decline from the previous year.
CNNMoney reporter Matt Egan contributed to this report.