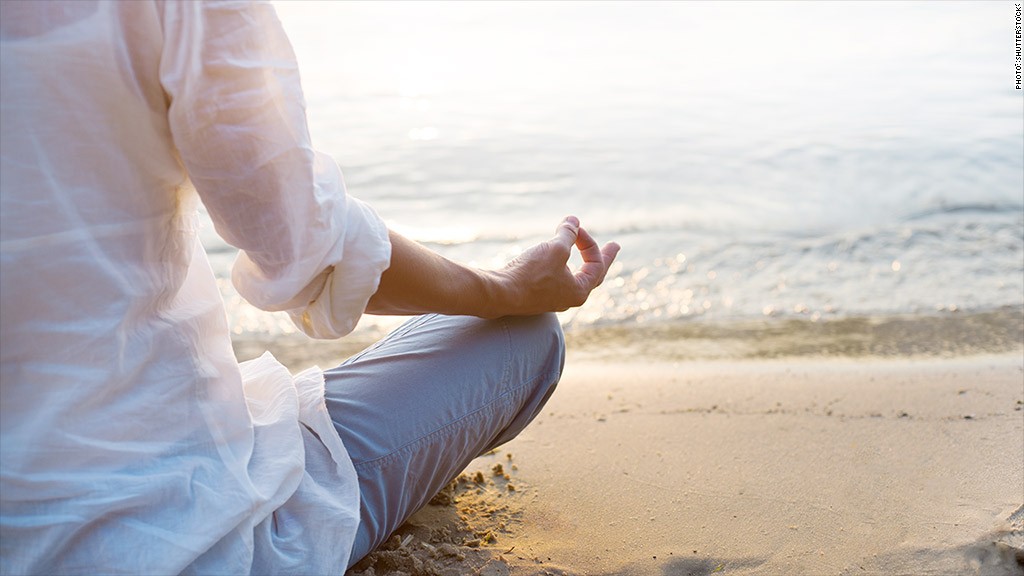 It feels like investors rolled out their yoga mats and took a deep breath Monday.
Calm is back in the stock market.
Not just calm, but some positive returns. The tech-heavy Nasdaq rose 1.35%, and the S&P 500 finished solidly higher as well (0.9%). It's the third straight day of gains for these indexes, leading to talk of a shift in momentum.
Even the Dow managed to eek out a 0.1% gain today, marking the first two-day winning streak for the Dow in a month. The index would have been even higher if it weren't for IBM (IBM).
Big Blue, as it is known, reported disappointing quarterly results this morning and also announced it sold its chip division -- at a loss. Investors reacted by sending the stock down 7%.
Related: IBM shares tumble after sale of chip unit
IBM is a large component of the Dow, which only has 30 stocks to begin with. So a bad day for Big Blue is enough to pull the entire index down, although it is holding on around breakeven.
But the bigger story on Wall Street today is that investors just aren't selling everything as they did for much of last week. They are starting to step back and look at where value remains.
In short, they're focused on America and earnings. We're back to seeing a healthy roster of gainers and losers as investors do their own version of bargain hunting.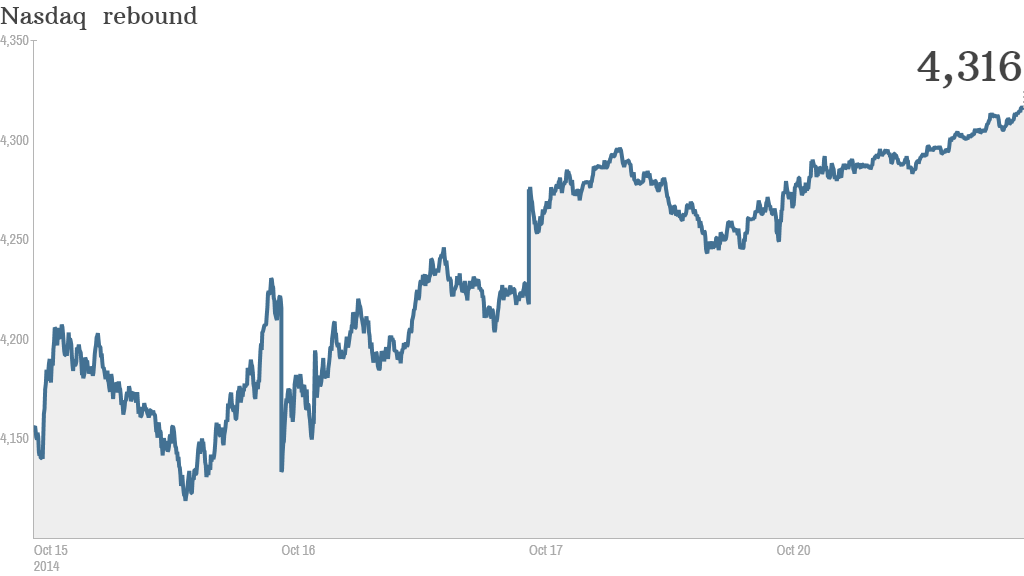 Related: Will earning end the nightmare on Wall Street?
Whiplash subsides: While European markets almost all closed in the red Monday, the U.S. didn't follow their lead. Even more important: Volatility fell substantially. The VIX Volatility Index topped 30 briefly last week -- often seen as an unofficial warning sign. Today the VIX is back down under 20. It's been moving steadily down since Thursday.
"While investor sentiment has clearly shifted, economic fundamentals remain relatively stable... This suggests the recent sell-off in stocks could present opportunities for long-term investors," wrote Russ Koesterich, BlackRock's global chief investment strategist in a note today.
CNNMoney's own Fear & Greed Index is still in "Extreme Fear" mode, but the current reading is 5. A week ago it stood at 0, the nadir.
Here come the big earnings: Investors are encouraged by the prospect of good earnings this week. After the bell today, consumer and investor favorite Apple (AAPL) reports. Given the iPhone 6 sale surge, there are high expectations, and the company delivered. Apple stock closed up over 2% Monday as the much anticipated Apple Pay platform debuts.
Chipotle (CMG)also gives the world a peek into its finances after the closing bell. The Mexican grill chain has been one of the hottest restaurant companies since its 2006 IPO, and it remains on a massive expansion drive. The stock is up 22% this year. If consumers continue to gobble up its burritos, it's a good sign that the middle class consumer is spending.
In another sign of a return to discernment on Wall Street, stocks like Expedia (EXPE) and Southwest Airlines (LUV) bounced as investors stop the panic selling and start to actually assess how deeply Ebola is likely to impact travel in the coming months. Ebola is one of many "fear factors" that spooked the market in the past month.
It remains difficult to know if Monday is the calm in the midst of a hurricane or a true return to the slow and steady gains that have dominated the market until mid-September.