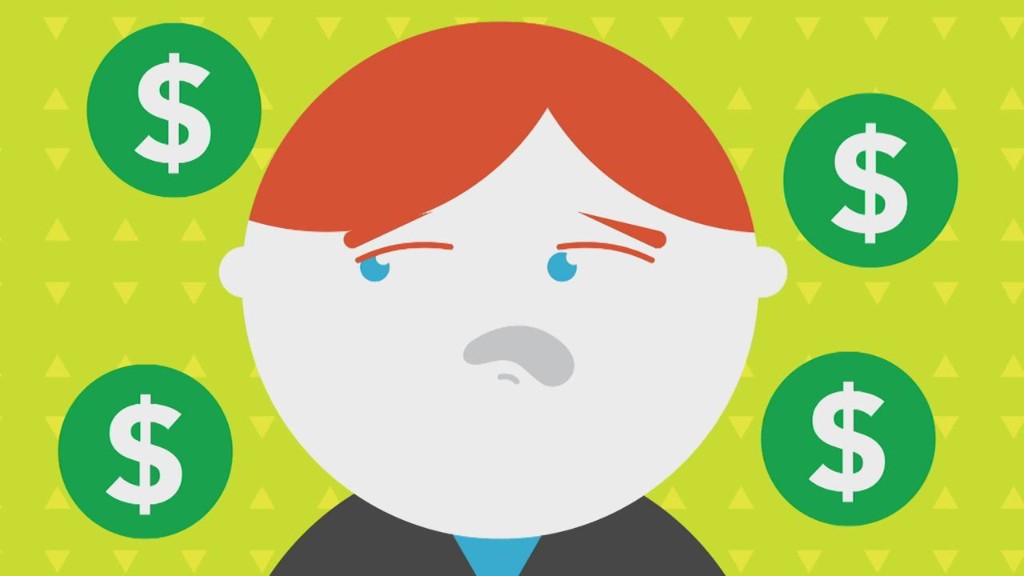 December typically brings a "Santa Claus" rally for stocks, but we've yet to see it this year.
For that, you can blame oil prices.
The Dow lost 268 points Wednesday. That's a 1.5% drop. Anytime the Dow suffers a triple-digit point decline, it's considered a bad day.
Investors are clearly nervous. The VIX (VIX), a measure of volatility often dubbed Wall Street's fear gauge, jumped more than 20%. CNNMoney's Fear & Greed Index, which looks at the VIX and six other indicators of market sentiment, swung back into Fear mode as well.
But there doesn't appear to be anything new that's spooking the market.
Oil's not well. The main reason for the sell-off? The continued slump in energy prices.
It looks like Kris Kringle's reindeer got stuck in an oil slick.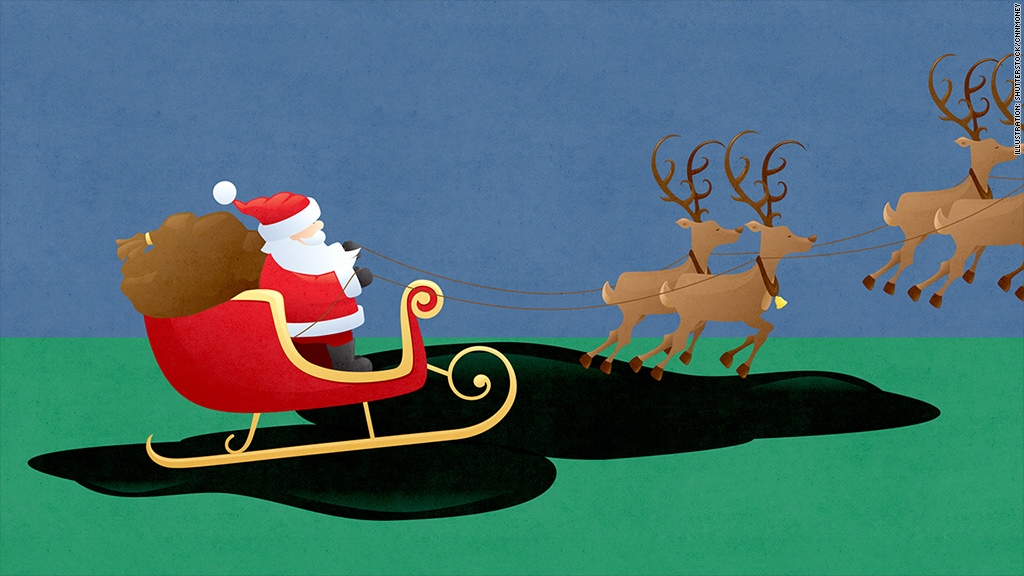 With crude tumbling below $61, Chevron (CVX) and Exxon Mobil (XOM) were the two biggest losers in the Dow Wednesday.
The Dow, S&P 500 and Nasdaq are all down about 1% this month.
Related: Wounded OPEC to feel more pain next year
"Oil is definitely driving things down right now," said Mark Spellman, a portfolio manager with the Alpine Equity Income Fund.
He said that the combination of a strong U.S. dollar, an abundant supply of oil and weaker demand from Europe and Asia is all leading to the huge pullback. And it could get worse before it gets better.
Nearly all of the worst-performing stocks in the S&P 500 were energy companies, such as gas utility ONEOK (OKE), drillers Nabors Industries (NBR) and Noble (NE) and oil exploration firms Denbury Resources (DNR) and Newfield (NFX). All of them were down at least 5%.
"Bad news continues to be bad news. Investors have not priced in the worst-case scenario with oil just yet," Spellman said, noting that more oil companies could cut their dividends like SeaDrill (SDRL) did and that more oil producers may pull back on capital spending like ConocoPhiliips (COP).
Related: Big Oil hits the brakes on shale spending
But this sentiment could change. Lower oil and gas prices could boost consumer spending.
"Consumers should have more money to pump, pardon the pun, back into the economy," said James Macey, portfolio manager with Allianz Global Investors, adding that airlines and retail stocks should do extremely well. Costco (COST), for example, hit a new all-time high Wednesday following a solid earnings report.
Tell us: How has cheap gas impacted your life?
And Chris Pultz. portfolio manager for the Kellner Merger Fund, said that if oil continues to fall, that should eventually lead to more mergers in the energy sector. That typically boosts stock prices.
Halliburton (HAL) has already announced plans to buy oil services rival Baker Hughes (BHI).
The rest: Europe, China and the Fed. Despite the turmoil in the oil patch, the Dow seemed poised to top 18,000 this week after Friday's strong jobs report. But investors have been hit with a cold reality check this week.
Greece reminded Wall Street that Europe is still an economic mess. China's volatile stock market shows that there are many question marks plaguing the world's second-largest economy.
And the good jobs news have also reignited fears that the Federal Reserve, which will hold a policy meeting next week, could signal that interest rate hikes may come sooner in 2015 rather than later.
Related: 6 ugly stocks that look sexy in 2015
But investors may be overreacting when it comes to the Fed.
We all know that interest rates are going up at some point next year. But it is highly unlikely that Janet Yellen and other policy makers are going to aggressively raise rates.
Any rate hikes are likely to be small and gradual. Rates have been near zero since December 2008. Yellen is probably going to take baby steps so the Fed doesn't risk slowing down the economy's momentum.
"Rates have to go up. But will that be a drag on the market? Not yet," said Brian Lazorishak, manager of the Chase Mid-Cap Growth Fund. "Rate hikes will not put the brakes on economic growth immediately."
It's also worth remembering that sell-offs like this are healthy and normal -- especially in a raging bull market like this one.
The Dow is still up 6% this year while the S&P 500 and Nasdaq are each up more than 10%. That's really impressive given how well stocks did last year.