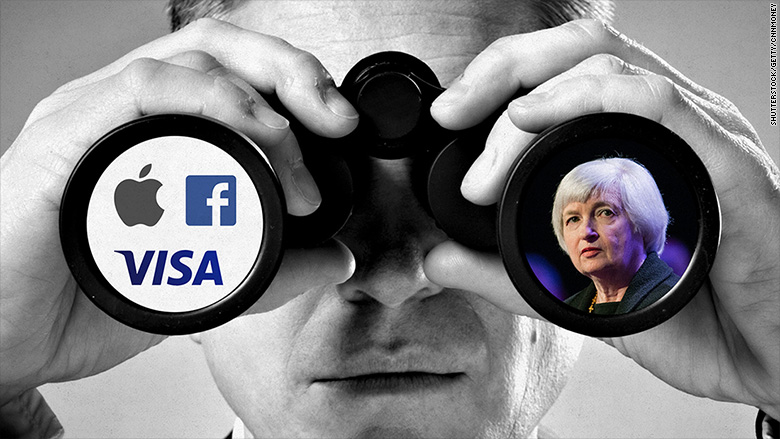 Buckle up for a big week in the stock market. Investors get to check Corporate America's pulse as over 140 S&P 500 companies report earnings this week and the Federal Reserve meets for the first time in 2015.
The market has swung wildly up and down since the start of the year. At this point, the Nasdaq is slightly positive, while the Dow and S&P 500 are down.
But investors may finally pick a direction. Oil's price plunge has stabilized for now, Switzerland's surprise currency move is done, and the European Central bank finally unveiled its stimulus program.
Now comes the earnings avalanche.
Tech stocks will take center stage with Apple (AAPL), Google (GOOGL), Microsoft (MSFT) and Facebook (FB) all reporting. The key number to watch is companies' future guidance for the year. Is Corporate America revising sales and earnings forecasts up or down for 2015?
"We'll have a much better handle on the strength of corporate America," says Art Hogan, chief market strategist at Wunderlich Securities in New York. "Guidance will give us a stronger reading on how the economy is doing."
Related: Tim cook on his way the billionaire club
Big tech week: Investors are looking to tech companies to lift the market higher now that energy firms and banks are struggling. It's been a record year for Apple, which reports earnings Tuesday. Analysts project its revenue grew 17% compared to the same quarter a year ago. This will be the first earnings to include Apple's new iPhone 6.
But the big winner in Silicon Valley is likely to be Facebook. CEO Mark Zuckerberg would be justified in sending a smiling selfie to all his haters this week. They lambasted Zuckerberg when he bought Instagram for $1 billion in 2012. Now Instagram is worth an estimated $35 billion and Facebook is expected to have 46% revenue growth when it reports earnings on Wednesday, according to analysts.
Related: Check out the new Microsoft's HoloLens
Just how strong is the U.S.? The key question for investors is just how strong the U.S. really is right now. America's economy is the bright spot in the world now that China, Japan and Europe are slowing down. But is it strong enough to withstand the global headwinds?
The number to watch this week is Friday's announcement on fourth quarter gross domestic product, a broad measure of economic activity. Third quarter GDP growth was 5%, the highest mark in over a decade.
The Commerce Department will also report the total GDP figure for 2014. Anything over 2.5% would be strong, but expectations are in the 2% to 2.5% range.
Related: 3 reasons why the ECB stimulus matters
The view from the Fed: Much has changed since the last Fed meeting. As America's top economic policymakers gather this week, they will have to digest the stunning move by the Swiss National Bank to lift its currency cap earlier this month and the ECB's stimulus.
The Fed is weighing when to raise interest rates. The U.S. economy just had its best year of job growth since 1999, and unemployment is basically back to normal levels now. Wages, however, remain stagnant.
The Fed's other goal is to keep prices stable. Much of the world is fighting deflation, especially as oil prices fall. The Fed wants to see around 2% inflation in the U.S., but it was a mere 0.8% in December.
Related: Obama says wages are growing. They're not
Rate date slipping on oil: Falling oil prices could delay when the Federal Reserve will raise its key interest rate, says Sharon Lee Stark, chief market strategist at D.A. Davidson. While the expectation is for a rate increase in the summer, some experts have pushed back their rate-hike date to the second half of 2015.
"The market has made a fundamental change in their expectations for the first rate hike," Stark says, noting the hike could come as late as 2016.
Related: Winners and losers in oil's plunge
The oil price bust could be a boon in earnings for American Airlines (AAL) and Jetblue (JBLU) Airways, both of which report this week. Other airlines, like Delta, already reported that they're saving billions on jet fuel with tumbling oil prices.
Vegas Hangover: There's also concern that consumers aren't spending as much. In Las Vega, Caesars (CZR) filed for bankruptcy earlier this month and analysts foresee earnings for Wynn Resorts (WYNN) dropping 20% when it reports Thursday. Wynn's stock is down 30% from a year ago to $145.50. It's not alone: Las Vegas Sands (LVS) -- stock down 33% on the year -- reports Wednesday. Sin City, among other retail and leisure companies, could be singing the blues this week.
Overall, investors will have a big picture look at the U.S. economy health going into 2015.
"We should get an idea of what we can expect in general in 2015," says Bob Landry, executive director and portfolio manager of USAA Investments in San Antonio. "With these earnings reports coming out, we'll have a better indicator of where the economy is."