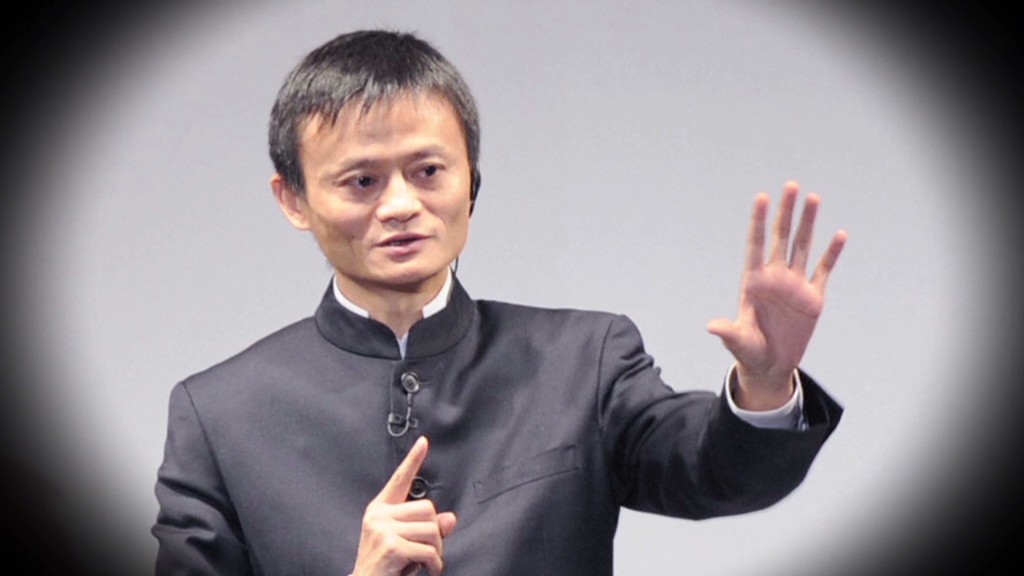 Alibaba was supposed to be the can't miss initial public offering of a lifetime when it debuted last year. So much for that.
Any investor that bought and held Alibaba (BABA) when it started trading on September 19 or shortly after that is sitting on a loss. Shares hit their lowest level -- just above $80 -- ever on Tuesday.
They bounced back to around $84 Wednesday, but it's still well below the $94 mark Alibaba closed at on its first day of trading.
So what gives? Is China's online retail market not yet ready for prime time?
Related: Jack Ma says Alibaba did nothing special in 2014
Nothing could be further from the truth. Alibaba has continued to report stellar levels of sales and earnings growth. And its top rival JD.com (JD) just reported healthy results for its latest quarter as well.
But there are some problems specific to Alibaba that could keep Jack Ma's company from staging a big comeback anytime soon.
1. The pirate problem. Alibaba has been plagued by accusations that Taobao, Tmall and many of its other sites are havens for counterfeit goods and fake orders.
Alibaba has maintained that it takes the issue of illegal merchandise seriously. But Chinese regulators have been tough on Alibaba. Investors are still nervous.
2. Expectations were too high. When Alibaba reported its latest earnings in late January, the good news was that profits beat expectations. But sales missed estimates.
That's unforgivable for a momentum stock that was, at that point, still trading around $100 a share.
Are estimates more reasonable now? Perhaps. Analysts have cut their earnings projections for the next fiscal year in the past few months. But shares are still trading at nearly 30 times fiscal 2016 forecasts. That's not cheap.
Related: Who the heck is Jack Ma? Meet the man who built Alibaba
Hesham Shaaban, Internet & Media analyst with research firm Hedgeye, even thinks Alibaba's growth could slow.
He notes that the company has relied heavily on affluent Chinese consumers to fuel its gross merchandise volume (i.e. the value of goods sold on its sites) and its revenue. As Alibaba adds more middle class customers, they are likely to spend less. And Shaaban said that will hurt revenue growth.
3. Competition is increasing. Alibaba may be the undisputed leader of China's e-commerce market. But there are other companies nipping at its heels. Investors should not underestimate JD, which has the backing of Chinese social media/mobile titan Tencent (TCEHY).
Related: Alibaba is a stock that CNNMoney readers love
The company also went public last year and has been a far better performer than Alibaba. Shares of JD are 32% above their first day closing price.
This year alone, JD is up nearly 20% while Alibaba's stock has fallen 20%.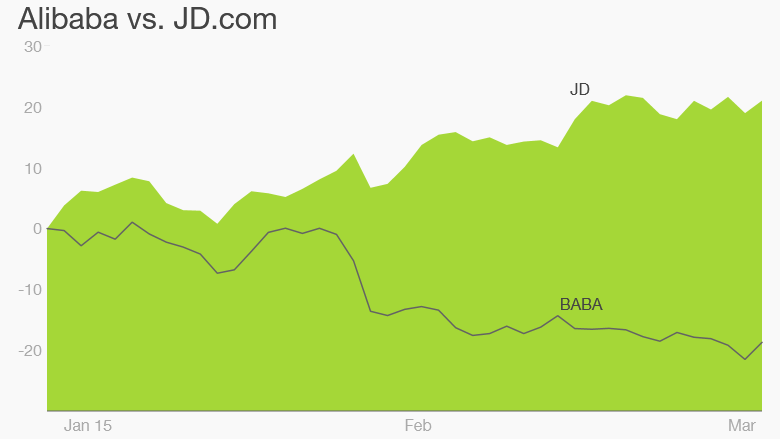 4. More big shareholders may be about to sell. Shaaban thinks investors need to be more nervous about the fact that a big lockup expiration period for Alibaba stock is about to expire. Insiders will be able to sell 429 million shares of Alibaba later this month.
Shaaban said that some institutional investors may look to cash in now that the stock is well off its highs. For many insiders, they can still sell at a profit. The offering price for Alibaba, after all, was $68 a share.
Related: Close Sesame! Alibaba plunges as sales miss
And don't forget Yahoo (YHOO) either. Yahoo announced plans in January to spin off its remaining stake in Alibaba to shareholders as a separate company later this year. That's another 389 million shares that will be hitting the open market.
5. Is Alibaba Mandarin for Amazon? Another criticism of Alibaba is that, like Amazon, it may be trying to do too much. Alibaba has stakes in a soccer team and movie studio in addition to a mobile video game unit.
And the company is also looking to expand beyond China. The United States is definitely one of Jack Ma's big targets. To that end, Alibaba announced Wednesday that its cloud services subsidiary Aliyun will open a new data center in Silicon Valley.
Related: Alibaba is using drones to deliver tea
That puts Alibaba squarely in the sights of Amazon (AMZN), as well as other U.S. tech heavyweights such as Google (GOOGL) and Microsoft (MSFT). But the cloud business is highly competitive. Is Ma biting off more than he can chew? It's a fair question to ask and another reason for investors to be concerned.
Still, it's premature to judge the success or failure of Alibaba a mere five months after its IPO. Remember how poorly Facebook did after its debut? And how great Twitter did?
If nothing else, the recent pullback in Alibaba should remind all investors how risky it is to invest in a company in the first year after it starts trading. Leave that to the pros.