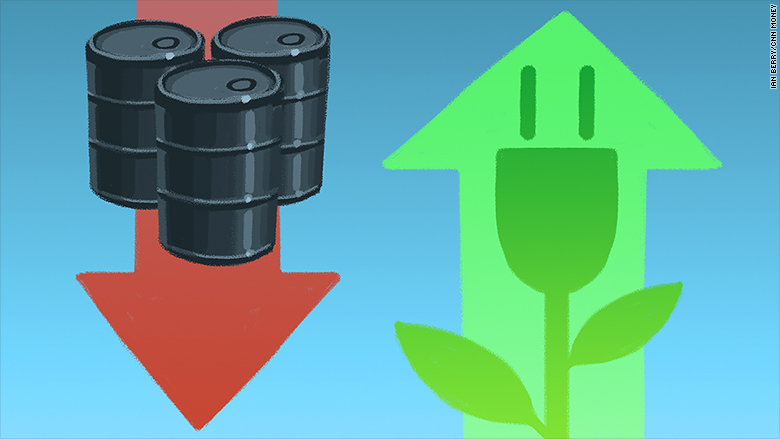 Here is some good news about the environment: Investment into renewable energy surged in 2014, despite record low oil prices.
The price of oil plunged nearly 50% since last summer, sparking fears green energy projects might be push aside.
But a new study commissioned by the UN Environment Program shows companies and governments invested $270 billion in renewable power and fuels last year, 17% more than the year before.
The boost came after two years of slowdown and was driven mainly by a green energy boom in Asia, the report said.
China and Japan have embraced solar energy in 2014, pouring a combined $74.9 billion in solar installations, while Europe saw a record $18.6 billion of investment into offshore wind projects in 2014.
The growth was especially strong in emerging markets, where investment jumped 36%. China, Brazil, India and South Africa were all among the top 10 investing countries.
In the U.S., $38.3 billion was spent on renewables, up 7% on the year but still well below its all-time high of 2011.
The new sources of energy add around 103 gigawatts to the global renewable generation capacity -- roughly equal to the capacity of all 158 nuclear reactors in the U.S.
Related: Cheap oil is killing my job
The boom helped curb greenhouse gasses emissions. Global carbon emissions didn't rise last year, for the first time during the times of economic growth, according to the International Energy Agency.
The agency said that there have only been three times in the last 40 years in which emissions have stood still or fallen compared to the previous year. And while all the three previous times happened during economic crises, 2014 saw the global economy grow by 3%.
The agency said the statistics suggest global efforts to slow climate change may be more effective than expected.
But the UN Environmental Agency warned the positive trend should not derail the green efforts. "The battle to curb emissions is looking more and more urgent," the report said.