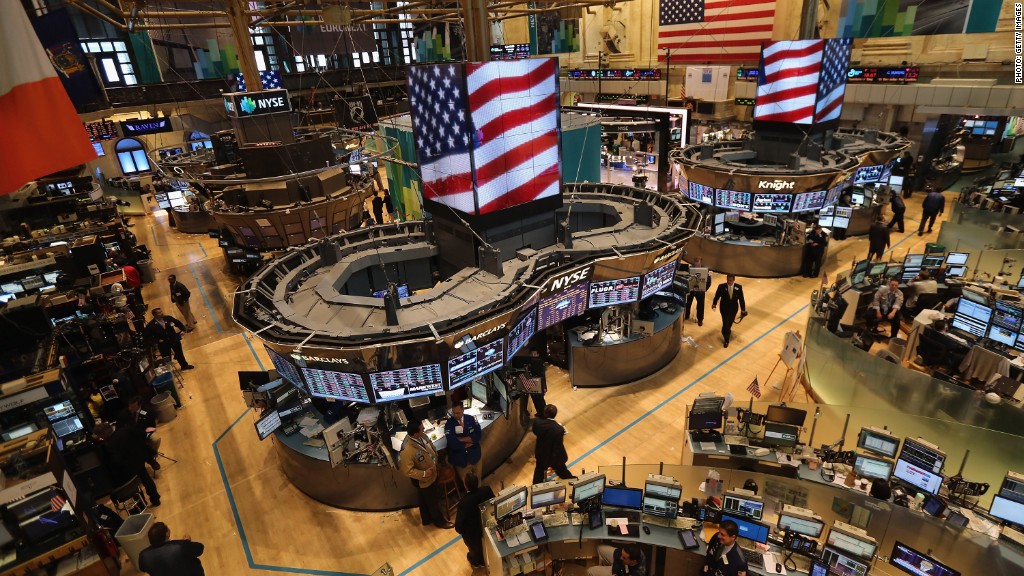 The markets pulled out an unexpected win on baseball's Opening Day.
After most on Wall Street believed stocks would fall after Friday's rough jobs report, the markets rallied.
Right after the opening bell, the Dow fell by more than 100 points but then pivoted and went up nearly 180 points -- about a 280 point swing. The Dow finished up nearly 118 points while the S&P 500 and Nasdaq both closed up too.
The big winner was energy stocks. Crude oil shot up 6% after Saudi Arabia said it was charging a higher price to some Asian nations. The energy sector was by far and away the top performing one in the S&P 500 Monday.
On the economic front, New York Fed President William Dudley also gave a speech Monday, easing investors' fears about the pace of the interest rate increases. It's looking increasingly like the first rate hike in a decade won't come in June.
Related: Look out Starbucks, David's Tea readies for IPO
The bad news: On Friday -- when the markets were closed for the holiday -- the Labor Department announced that the U.S. economy only added 126,000 jobs in March, well below expectations. It was the worst month of job gains since the end of 2013. It signaled that the long-hot U.S. job market might be slowing down in 2015.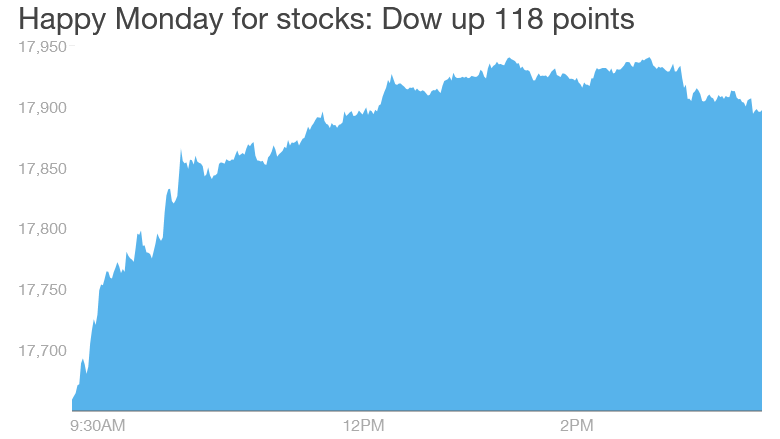 The markets interpreted the overall bad job news as a sign that the Federal Reserve likely won't raise its key interest rate in June, says Phil Orlando, chief equity strategist at Federated Investors.
"Bad news is good news here," says Orlando. "The March jobs number was so bad, it probably took a June [interest rate hike] off the table."
The weak job news took pressure off the Fed to raise rates in June, and it also devalued the dollar a bit Monday.
The good news: The strong U.S. dollar has made it hard for U.S. companies to sell their products overseas. Their foreign competitors can offer similar products -- from cars to candy -- at a cheaper price.
A slightly weaker dollar was encouraging for U.S. stocks, especially as companies start to announce their first quarter earnings later this week, experts say.
A weaker dollar helped push up the price of oil a bit, sending energy stocks, such as Transocean (RIG) and Diamond Offshore Drilling (DO), to the top of Monday's winner list.
Friday's jobs report, "took pressure off the dollar. That's been a real headwind in the first quarter," says David Joy, chief market strategist at Ameriprise Financial. The markets' reaction to the sub-par jobs report: "Weakness might be our friend for awhile."