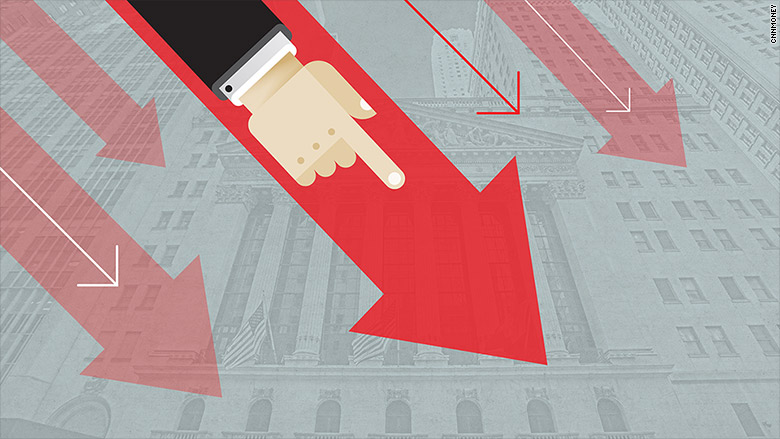 The Dow has lost almost all its gains for the year.
It plunged over 195 points Thursday, losing almost all its momentum for the year. But the Dow wasn't alone: all stock indices got hit hard Thursday.
The S&P 500 and Nasdaq both fell 1% after the selloff touched stocks of all stripes.
Apple (AAPL), Google (GOOG) and Starbucks (SBUX) all fell over 2%. Even Salesforce.com (CRM), one of the best performing stocks on Wednesday, was among the worst performers Thursday.
There are renewed concerns that America's economy is slowing down.
Related: U.S. economy cools in first quarter
The Atlanta Federal Reserve published its estimate that economic growth in the second quarter of 2015 would only be 0.9% well below early expectations and not enough to compensate for the weak first quarter.
It came one day after the Commerce Department said that America's gross domestic product, the broadest measure of economic activity, expanded by only 0.2% in the first quarter this year.
"The wind of weaker economic data continuing to blow in the last day of the month of April showed a minor correction is brewing," said Jeffrey A. Carbone, managing partner at Cornerstone Financial Partners.
Related: Don't expect a Fed rate hike soon
The negative estimate from the Atlanta Fed triggered a big sell off, especially in small cap stocks, which are much more sensitive to the U.S. economy than a major, multinational company. The Russell 2000 lost 2.1% Thursday, its second worst day this year.