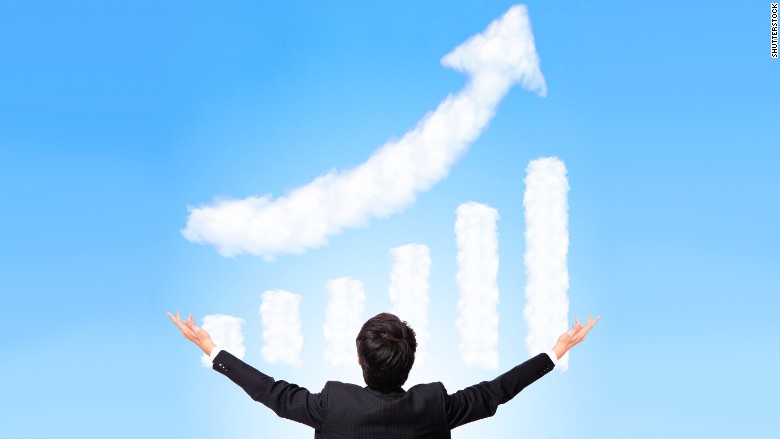 One of the biggest threats to the stock market is finally looking a bit less scary.
Rumors of a deal to keep Greece in the eurozone (for now, at least) helped catapult U.S. stocks on Wednesday.
The Dow soared 236 points and recaptured the 18,000 level, while the S&P 500 jumped 1.2% -- the best day for either index in a month. The Nasdaq raced 1.3% higher and is getting closer to a new record close.
The party started after Bloomberg News reported Germany may only require Greece to agree to one of the economic reforms urged by creditors before approving bailout funds.
The emphatic reaction shows that Wall Street believes that after weeks of ugly negotiations, a deal to avoid a chaotic and potentially disastrous Greek exit from the eurozone could be near. That would be welcome news, especially since Greece is so strapped for cash that it had to delay a payment to the International Monetary Fund on Friday.
It looks like Germany has "blinked," said Michael Block, chief market strategist at Rhino Trading.
"Given the bad behavior behind Greece and the Euro Group, all it was going to take was one stray smile to get things going again," he added.
Related: The 3 sticking points holding back a Greek deal
Hoping for the Greek headache to fade: The positive reaction to the news of a possible a Greek deal shows the level of concern among investors about this problem.
"Investors had been more concerned about Greece than any time in the last two years," said Dan Greenhaus, chief global strategist at BTIG, adding he's fielded tons of questions from clients lately about the subject.
Of course, even if Greece reaches a deal with its creditors, that doesn't mean the matter will be put to rest for long.
"Everyone assumes they will figure something out and 'kick the can' again. There is no reason to think otherwise," Greenhaus said.
Wednesday's big rally represents a nice rebound from several lackluster days on Wall Street. Despite the big gains, the S&P 500 is only up about 2.2% on the year, and is still trading over 1% away from its record closing high.
Related: A stock market 'leading indicator' is tanking. But why?
Oil is on the rise: Besides Greece, U.S. stocks have benefited from another rally in the oil patch. Crude jumped 2.1% to settle at $61.43 a barrel. That's oil's best closing level since early December and represents a big rebound from March when it dropped below $44.
While consumers hate to see higher oil prices, they are great news for the dinged-up energy sector and for investors who feared tumbling prices signaled a recession. The S&P 500 energy sector rallied more than 1% on Wednesday, but is still down almost 20% from a year ago.
Not spooked by bond chaos: Wall Street remains largely unfazed by the carnage in the bond market. A dramatic selloff in bonds has sent the yield on the 10-year Treasury spiking from 1.65% earlier this year to 2.47% today. That's the highest level since September.
While some investors have been unnerved by the bond turmoil, higher rates are a positive for banks. The financial sector rallied another 1.4% on Wednesday, and big banks like Citigroup (C) and Goldman Sachs (GS) advanced even further.