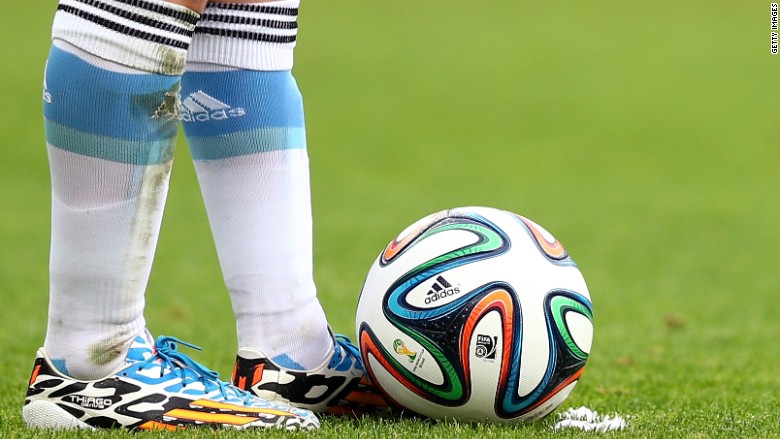 Adidas wants to make soccer cleats that never get thrown away.
The world's second largest maker of athletic wear announced its new "Sport Infinity" research project on Thursday. The company will use worn-out cleats and combine them with scrap materials from other industries to make new cleats.
Adidas began the project in June in an effort to practice what it calls "infinity-recycling." The aim is to eliminate waste while still giving customers the new gear they want.
"The football boots of the future could contain everything from carbon used in aircraft manufacturing to fibres of the boots that scored during the World Cup," Adidas said in a statement.
Related: Adidas lures James Harden (and his beard) from Nike
The shoes will be made using a special "3-D super-material." Because they're made without using adhesives, they can be remoulded again and again to fit the wearer's needs and will allow for greater customization.
"The new super-material will make every sports fan a product designer," Adidas said. "Whether to keep up with the latest trends or react to on-pitch needs, the football fan of the future will never wear old boots again."
Adidas is attempting to generate excitement around the project by recycling Lionel Messi's old cleats and into new cleats.
"I am proud that Adidas is working to make sure that all of their boots, including mine, are being made in a way that protects the environment. For me, this is the future of football," Messi said.
The research project is being piloted in Germany and funded by the European Commission. It will last for three years, at which point Adidas hopes to have a commercial product ready.