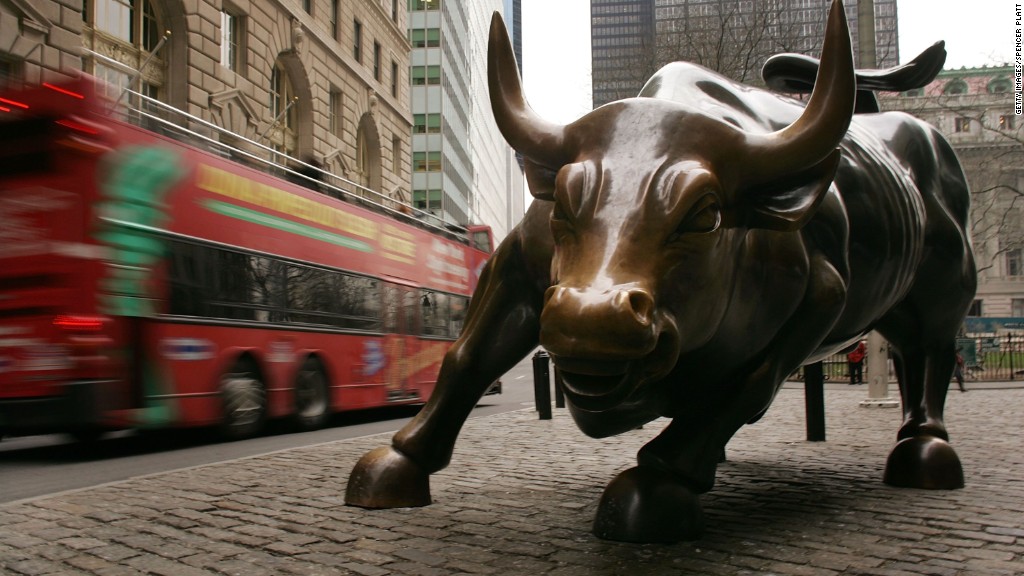 I'm not going to lie to you. There's little in the way of good news for investors so far this year.
Stocks have plunged due to worries about China's economy, the collapse in crude prices and a bubble in some high tech stocks like Amazon (AMZN), Facebook (FB) and Netflix (NFLX).
CNNMoney's Fear & Greed Index has been showing signs of Extreme Fear for the past week.
And some experts -- including billionaire George Soros and analysts at the big Scottish bank RBS --- are even starting to predict that 2016 could be another 2008. Yikes!
The Dow, S&P 500 and Nasdaq are now all more than 10% below their 52-week highs -- a phenomenon traders call a correction.
And this is the second time the market has been in a correction since August. So you could call this a double-dip correction.
Related: World is facing the worst risks in a generation
But as bad as things may seem for stocks right now, there are still many investors who believe that this is nothing more than just a blip ... an emotionally driven sell-off that people will look back upon as a good buying opportunity.
One reason for hope? The major market indexes are still above the lowest points they hit back on August 24 when investors went through their first round of their China freakout/panic. That's the day the Dow briefly plunged more than 1,000 points.
Unless the market breaks through those August lows, that should be a sign that this too shall pass. Here are the numbers to watch.
Dow: 15,370.30. It is currently about 6.5% above that level.
Nasdaq: 4,292.14. It's 6.3% higher than that right now.
S&P 500: 1,867.01. It is only 2.4% from that low.
It's a bit of a concern that the S&P 500 -- the broadest measure of large company stocks -- is this close to the August nadirs. It even dipped as low as 1,878.93 early Thursday morning before bouncing back above 1,900 later in the day.
As long as the S&P 500 and other indexes remain higher than where they were in late August, it's probably premature to be too worried about a bear market -- a 20% decline from a recent peak.
Related: Everyone hates stocks again. Time to buy?
But if the markets can't hold above those August lows, all bets are off on how much further they could fall. Investors could become even more nervous.
These are the levels that the major indexes would have to hit in order to be in bear market territory -- as well as the last time they were at that level.
Dow: 14,681.12 (June 2013)
Nasdaq: 4,185.56 (October 2014)
S&P 500: 1,707.78 (October 2013)
So we still have a little bit to go before the bear is officially growling once again on Wall Street.
But many individual stocks are already in their own bear markets. And the main index for small cap stocks is in one as well. The Russell 2000 (RUT) is down 22% from the peak it hit last June. Momentum is clearly on the side of the bears.
So it will be interesting to see if stocks fall even further between now and the beginning of March. That's when the current bull market will turn seven years old -- assuming it still is a bull market by then. Fingers crossed.