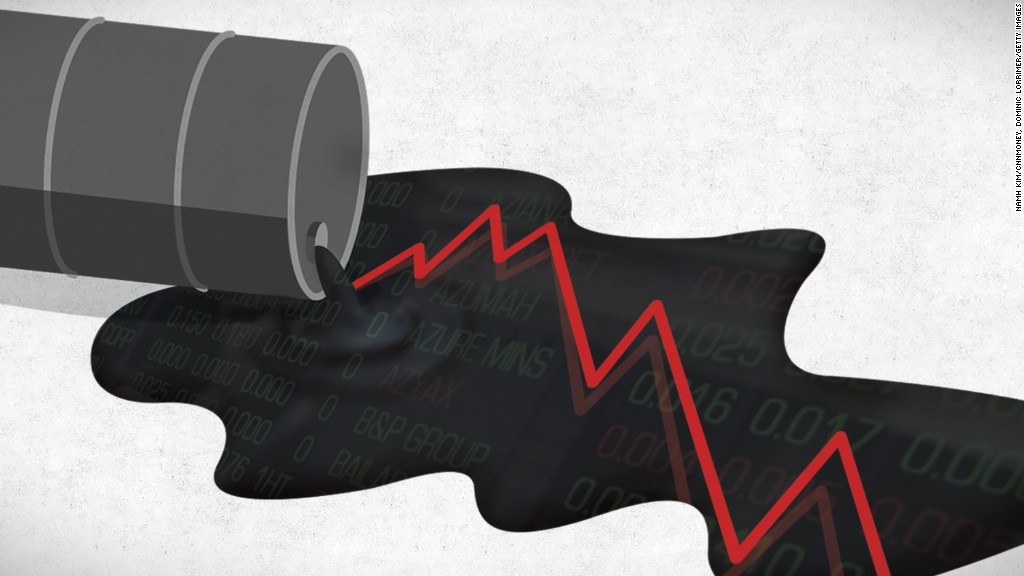 Stock markets are off to another bumpy start to the week.
Amid plunging oil prices and worries over the state of China's slowing economy, most Asian and European indexes fell Monday.
The Hang Seng in Hong Kong shed 1.5%, and Japan's Nikkei sank 1.1%. The losses followed a nasty end to last week in U.S. markets.
Trading was volatile in Shanghai, where shares dipped as much as 1.9% before recovering to close with a gain of 0.4%. The benchmark index has shed nearly 18% so far this year.
European markets opened the trading day higher, but have since fallen into negative territory.
Oil, meanwhile, is coming under further pressure as global investors prepare for Iran to kick up production and drive already-plunging prices even lower.
U.S. and European Union sanctions against Iran were lifted on Saturday, paving the way for Iran to put its copious oil supplies back on the global market for the first time in years.
Middle East shares were off to a calmer start Monday after a wave of oil-related selling on Sunday. Shares in Saudi Arabia were off 0.1%, the Dubai exchange was down 0.4%, and Qatar declined 2%.
Related: $10 oil: Crazy or the real floor beneath the oil crash?
Shares in the region were crushed by tanking oil prices on Sunday, led by declines of more than 5% in Saudi Arabia and 7% in Qatar. The Saudis are at the center of OPEC's internal turmoil, which has member countries locked in a stalemate over how to help oil prices recover.
Iran's oil minister, Bijan Zanganeh, told CNN that the country wants to increase its oil output by a massive 1.5 million barrels by the end of 2016. Shares in Iran were down 0.5% on Monday.
Related: Oil prices dive on Iran sanctions fallout
The country is poised to reemerge as one of the world's top oil producers. But the more oil it exports, the steeper it'll drive down crude prices.
"What can we expect in the near-term? A price war between Saudi Arabia and Iran, which causes oil prices to plummet further," said Giorgio Cafiero, the chief executive of Gulf State Analytics, a Washington-based geopolitical risk consultancy.
After months of decline, crude prices sank below $30 per barrel on Friday -- the lowest they've been in more than a dozen years.
The price dip triggered a sharp downturn in U.S. markets. The S&P 500, the Nasdaq and the Dow each shed more than 2% by Friday's close.
Oil fell further Sunday, slipping below $29 per barrel.
Correction: An earlier version of this article incorrectly reported that Saudi Arabia's stock market fell on Saturday. The Saudi stock market isn't open on Saturdays.