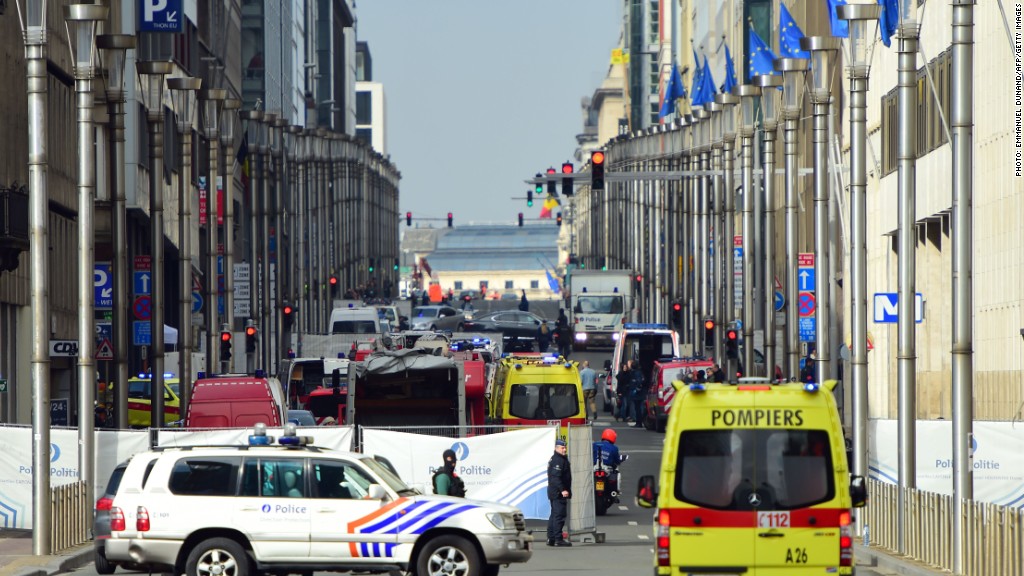 Global stock markets recovered after initially falling following terrorist attacks in Belgium.
Twin blasts hit Brussels airport early Tuesday. They were followed by an explosion in a subway station in the city.
The blasts killed at least 30 people and wounded 230.
Brussels is the de-facto capital of the European Union. Many European institutions and international companies are based there. The airport has been closed until Wednesday, and train and subway services have been suspended.
Related: Has your flight been canceled?
Here are four things to know:
1. International market overview: Global stock markets, from Europe to the U.S. opened lower but recovered later in the day.
Early on France's CAC and Germany's DAX index fell 2%. By the end of the trading day, most of the major European indexes ended flat to slightly positive.
The Dow ended the day down 41 points, while Nasdaq rose 0.3%.
PNC pointed out in a report that history shows there's no lasting impact on stock markets from terrorist activity -- it usually "fades within 10 days after the incident."
The report notes that "while these attacks certainly can take a horrible human toll, there is generally not a huge economic toll" because they don't hurt business in the long term.
2. Stock market movers -- Airlines, airports, hotels: Stocks of airline, airport and hotel companies fell sharply.
In the airline sector, stocks of Ryanair (RYAAY), EasyJet (ESYJY), Air France-KLM (AFLYY), Lufthansa (DLAKF) and British Airways operator IAG dropped by as much as 4%.
American Airlines (AAL), Royal Carribbean Cruises (RCL), Carnival (CCL), Marriott (MAR), Priceline (PCLN), United (UAL), Expedia (EXPE), TripAdvisor (TRIP) all fell as much as 2% each.
Hotels group Accor (ACCYY) is down about 4%, and shares in InterContinental Hotels (IHG) are also sliding by more than 2%.
Airport operators are also in the red. Fraport, which operates a major hub in Frankfurt is down 2%, and shares in Aeroports de Paris are down about 4%.
3. Earnings and economics: Krispy Kreme (KKD) and Nike (NKE) are both reporting third quarter results after the closing bell. Nike revealed self-tying sneakers last week.
U.K. inflation data is expected early Tuesday. The prestigious German Ifo institute will report on business climate and expectations.
4. Monday market recap: The Dow Jones industrial average and S&P 500 were each up 0.1% on Monday, and the Nasdaq gained 0.3%.