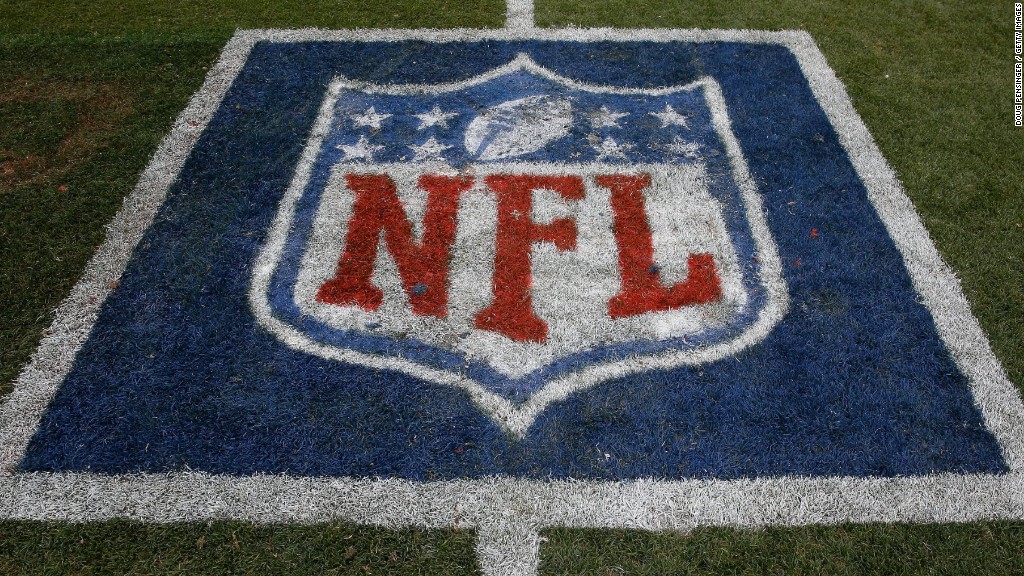 The NFL has its eye on Hispanic fans.
This week's "Monday Night Football" game will be played in the Estadio Azteca in Mexico City -- the first time the NFL has held a regular season game south of the border since 2005.
Over the last decade, the Hispanic audience for football has boomed. NFL viewership among Hispanics has increased 28% in the past five years alone, according to Nielsen.
The NFL estimates it has about 22 million fans in Mexico, and Mexico City has the seventh largest fan base of any city in North America. (The six other cities are all in the U.S.)
The NFL airs nine games live every week in Mexico.
"The passion of the Mexican fans is consistent with the burgeoning U.S. Hispanic fan base," the NFL said in a statement.
Tickets for this Monday's game between the Oakland Raiders and Houston Texans, which will be held in a stadium with 76,000 seats, sold out in less than a day.
Related: NFL's Roger Goodell: Would shorter games boost lousy ratings?
In the U.S., football is the top sport for Hispanic fans, and their devotion to the game is growing.
That's especially important since sports leagues across the board are fighting to attract people to stadiums, versus watching from home.
"Hispanic sports fans value going to the game more than non-Hispanic viewers," said Elizabeth Lindsey, a marketing expert at Wasserman. "They still value the live experience."
According to "The Hispanic Playbook," a proprietary Wasserman study, 23% of Hispanic sports fans say they attend games "all the time" or "often." That's compared with 17% of non-Hispanic fans.
Among Hispanic Millennial sports fans, 31% of those with children will attend live events. Lindsey said that's key for the NFL as these fans are "building future generations of fans."
Hispanic fans are also more likely than their non-Hispanic counterparts to engage with their favorite teams on social media.
Both the Texans and the Raiders, located in areas with large Hispanic audiences, have big fan bases.
The Carolina Panthers have taken steps to appeal to their Hispanic fans with a Spanish-language website and a special radio broadcast in Spanish. Two commentators call the games with all the drama of a traditional soccer broadcaster.
Related: NFL vs. NBA: The battle for world supremacy
The decision to return to Mexico is also part of the league's push to expand the NFL's international presence.
"When you're the Number One sport in the U.S., there's only so much you can grow within the country, so you move out," said Lindsey.
This is the fourth game this season that the NFL has played outside of the U.S. But, unlike with games in the U.K., playing in Mexico provides fewer challenges. It's closer, has similar time zones as the U.S. and fans seem to have a better understanding of the game.