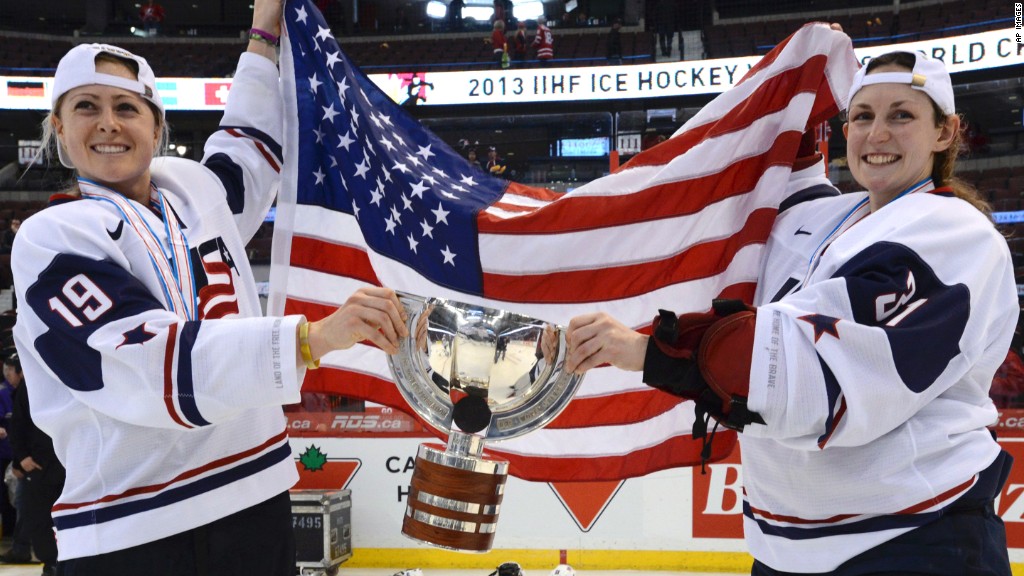 USA Hockey will field a women's team in the upcoming world championship games -- with or without the current members of the women's national team.
The women who were originally named to the team have vowed to sit out the International Ice Hockey Federation World Championship games to protest for fair pay.
In addition to a living wage, they also want the same treatment as the men's team when it comes to equipment, staff, per diems, publicity and travel.
USA Hockey spokesman David Fischer said the organization hasn't contacted any replacement players yet, but that it will if it has to.
Fisher says the group has already reached out to existing team members to see whether they plan to play or join the protest.
The women were given a deadline of Thursday to respond but said in a statement that they let it pass and are committed to their stance.
Related: U.S. women's hockey team will sit out world championships in pay protest
"We hope the players we named to the national team will play," Fischer said. "But we will field a team to represent our country."
The world games, which begin March 31, are being hosted by the U.S. in Michigan. The current members of the women's national team are the defending champs.
"We have heard that USA Hockey is attempting to field an alternative team to play in the World Championship games," the women's team said in a statement. "We regret that they have not instead chosen to reconsider their treatment of the current World Championship-winning team."
The women said they would play if their negotiations with USA Hockey make enough progress.
"We are extremely hopeful that we will be in Plymouth, Michigan at the end of the month to defend our title as world champions," national team player Meghan Duggan tweeted on Thursday.
Related: Carli Lloyd and Alex Morgan head overseas amid US fight for 'Equal Play, Equal Pay'
Fischer said USA Hockey believes in equitable treatment and is the world leader in women's hockey. He said the organization is working to build the sport among men and women.
But, he made it clear USA Hockey is a governing body -- not an employer that will pay athletes.
"We provide training stipends," Fischer said. "They are not going to be full-time employees of USA Hockey and if that's their end game, it's just not gonna happen."