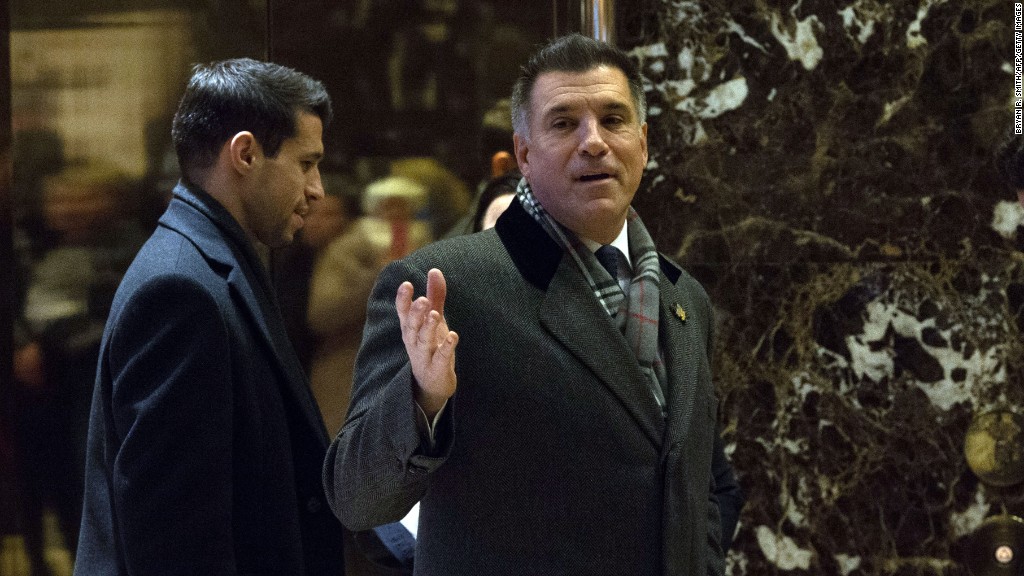 There's no shortage of rich people in the Trump administration. But the president will have fewer tycoons around him than he had planned.
Todd Ricketts, whose family owns the Chicago Cubs, withdrew his nomination for deputy commerce secretary on Wednesday.
"He wanted to serve, but couldn't untangle all of the finances," a person close to Ricketts told CNN.
Ricketts follows three other mega-rich nominees who have pulled out of consideration for Trump administration posts: Vincent Viola, who Trump nominated for secretary of the Army; Andy Puzder, who was to join the cabinet as secretary of labor; and Philip Bilden, who Trump nominated for secretary of the Navy.
Viola, a New York billionaire who owns the Florida Panthers, also said he had trouble extricating himself from his businesses.
Puzder, the former CEO of the company that owns Hardee's and Carl's Jr. fast food chains, dropped out after taking a political drubbing. But he also struggled with his divestment paperwork, which delayed his committee hearing.
Bilden also withdrew from consideration because his business interests created complications. He had recently retired from a private equity firm he helped found.
The trend highlights the difficulty of nominating wealthy individuals for public office. The longer and more illiquid an appointee's assets, the more arduous the divestment process becomes.
Related: Jared Kushner is still selling off his business assets
Of course, it's not impossible. Wilbur Ross, Betsy DeVos, Gary Cohn and Jared Kushner all made it.
Ross, a billionaire investor known for buying up distressed and failing companies, was successfully confirmed by the Senate as Trump's Commerce secretary. He promised to sell his position in 80 companies as a condition of confirmation.
Neither Kushner, a New York real estate magnate, nor Cohn, the former president of Goldman Sachs, required Senate confirmation for their jobs. But they still have to sell holdings and agree to ethics restrictions.
Financial disclosure forms released by the White House earlier this month highlight the extent of their wealth. Kushner and his wife, Ivanka Trump, the president's daughter, had combined assets that could exceed $700 million. And Cohn netted up to about $75 million last year alone.
But they made it work. Both are still in the process of unloading pieces of their business holdings.
-- CNN's Jeff Zeleny contributed to this report.