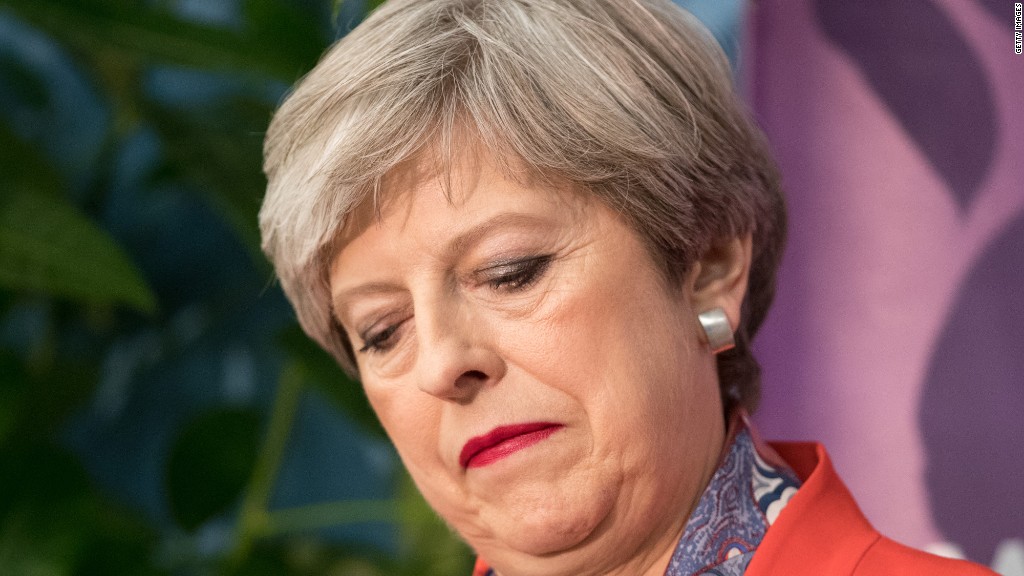 Keep calm and carry on. That's Wall Street's motto -- despite concerns that the latest U.K. election results threaten to delay the Brexit process.
U.S. stocks rose Friday even though Theresa May's Conservative Party lost its majority in parliament. This could make it difficult for the U.K.'s official Brexit negotiations, scheduled to start on June 19, to begin on time.
The Dow still popped about 100 points to hit a new all-time high.
The S&P 500 and Nasdaq notched records as well -- although several high-profile tech stocks took a big tumble in mid-afternoon trading following a Goldman Sachs report that questioned the run in the largest tech companies.
The Goldman report focused on the five tech giants that dominate the S&P 500 and Nasdaq -- Facebook (FB), Amazon (AMZN), Apple (AAPL), Microsoft (MSFT) and Google owner Alphabet (GOOGL). The Nasdaq was down 2% in late trading Friday.
But CNNMoney's Fear & Greed Index, which looks at seven measures of market sentiment, even briefly moved into Greed territory before shifting back to Neutral mode.
Investors are not only shrugging off any worries about a much more chaotic Brexit -- and the implications that it could have on the U.K. economy and eurozone.
They are also showing no signs of concern about former FBI director James Comey's Senate testimony about allegations that Russia tried to influence the U.S. elections to help President Trump win.
This market is like an old Timex watch. It takes a licking but keeps on ticking.
Now it's understandable if all of this seemingly not great news has you pulling a Liz Lemon from "30 Rock." What the what?
How can stocks continue to trudge higher in light of all of this uncertainty in the U.S. and the U.K.?
Related: U.K. businesses urge politicians to get it together
Simply put, investors are continuing to view all the political noise as just that -- noise.
The bottom line is that drama in Washington and London has yet to have a negative impact on what really drives the markets -- consumer and business spending.
The first-quarter earnings of companies were very strong. Corporate America notched its best growth in profits since 2011.
As long as American consumers and big U.S. multinational companies keep spending, stocks could very well go even higher.
It also helps that the Federal Reserve is likely to not raise interest rates too aggressively either.
Related: Gold is surging again thanks to political turmoil
The Fed is expected to boost rates again next week, but probably by just a quarter of a percentage point. That would leave rates in a range of 1% to 1.25% -- that's still extremely low.
Low rates should keep consumers and businesses happy -- and the economy on track to grow at a decent pace.
That's key since it's starting to look as if Trump's promises to boost the economy with a massive stimulus plan, tax reform and deregulation could be put on hold until next year because of the fallout of the Comey drama.
It's true that political instability in Washington is not going away anytime soon. It's possible that calls for Trump's impeachment or resignation could grow louder once again.
But presidents often get too much credit (or blame) for the market and economy. The stability at the Fed has gone a long way toward placating the market.
Related: Dow hits record high in the midst of Comey hearing
Investors went from celebrating an expected Hillary Clinton win last summer, to cheering Trump and his pro-growth agenda, to brushing off concerns about Trump turmoil.
Why? The one constant is that Yellen is doing everything she can to keep Wall Street happy.
Trump has gone from bashing Yellen on the campaign trail to praising her for keeping rates low. He has even acknowledged there's a chance he could reappoint her as Fed chief when her term expires next year.
Cue the Alanis Morissette. Isn't it ironic? Don't you think?